Study: Customer Experience Drives Supply Chain Innovation
Get great content like this right in your inbox.
Subscribe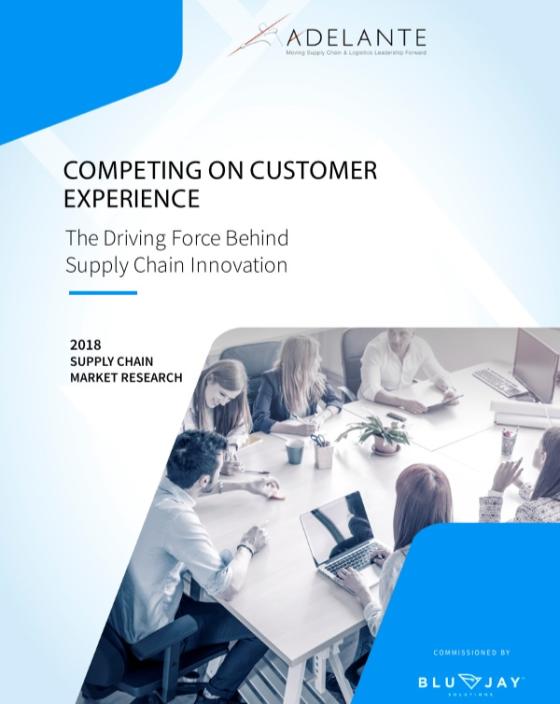 The customer experience is critically important when it comes to supply chain innovation and competitive differentiation — although much-hyped concepts like blockchain and drones are not priorities among companies, according to a new research study from BluJay Solutions and Adelante SCM.
Titled, "Competing on Customer Experience: The Driving Force Behind Supply Chain Innovation," the study examines the pitfalls of outdated supply chain solutions and provides historical views on recognizing disruptive technologies. The level of importance companies place on cost-efficiency is also explored.
"The most important lesson learned from companies that have been `disrupted' is the danger of becoming too complacent," said Doug Surrett, chief product strategist at BluJay Solutions. "It's not just about getting goods from point A to point B at the lowest cost. It's about innovating with a clear objective to optimize the overall customer experience. This requires an approach that considers the entire supply chain ecosystem."
The report identifies the affinity between above average performers and innovators. While both groups rank customer experience as a top factor driving supply chain innovation, average or below performers measure it much less and identify cost reduction as the driving factor.
The data finds that logistics service providers are champions of customer experience. They seek to differentiate, competing less often on cost (which can lead to commoditization). Cost is a top factor among shippers (manufacturers, retailers and distributors), where cost reduction or competitiveness is still considered a key indicator of success.
Innovators/early adopters seem less concerned about existing systems. They emphasize concepts like flexibility and working with other functional groups. Additionally, they have adopted an integrated solution for supply chain management. Laggards, meanwhile, are still focused on updating antiquated systems and behind in adopting integrated solutions. For instance, most laggards still rely on Excel spreadsheets.
Findings suggest that driving faster, more efficient supply chain innovation requires flexible, future-proof solutions (i.e. cloud infrastructure, open architecture). Laggards need to replace outdated IT systems with ones that eliminate the barriers separating systems and processes.
Looking ahead, the five supply chain investment priorities that received the most kudos were transportation, visibility, warehousing, business intelligence/analytics, and trading partner connectivity. (This was not too surprising, since many respondents are involved in transportation.) And many investment areas, especially visibility, will continue to be critical as more companies look to optimize operations, decrease costs and improve the customer experience.
In other findings, despite the hype surrounding blockchain, drones, and driverless trucks, these technologies ranked near the bottom of the list of tools expected to deliver the greatest benefits over the next five years. Rather, mobile devices and apps, control tower visibility and warehouse automation/robots will lead.
These technologies are further along the maturity curve and have more established benefits than ones lower on the list. There is some skepticism among supply chain executives regarding certain technologies.
The study queried 140 executives from industries including manufacturing, retail, and logistic service providers.
A provider of supply chain management software and services, BluJay Solutions ranked among the top providers of supply chain execution solutions in CGT's 2018 Reader's Choice Survey. Adelante is a research firm and networking community for supply chain and logistics professionals.