Readers' Choice Survey 2018: Supply Chain Execution
Get great content like this right in your inbox.
Subscribe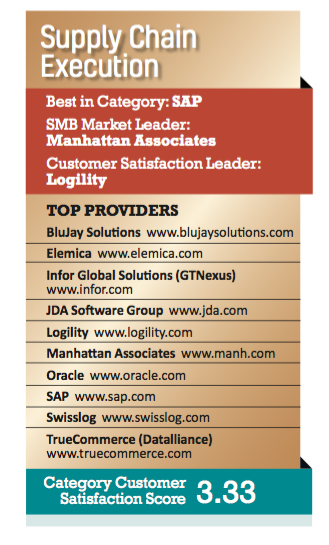 Best in Category: SAP
One of the most consistent results from CGT's annual survey is that SAP will emerge as "Best in Category" for Supply Chain Execution. (We stopped our historical check at 2009, by the way.) The company's customers accounted for 39% of all responses in the category this year. Clients include Beiersdorf, Colgate-Palmolive and Hillshire Brands.
The primary platform is SAP Logistics and Order Fulfillment, which encompasses tools for warehouse and transportation management and tracking/ tracing, each of which can be implemented individually. "SAP's suite [is] highly customizable in order to modify functionality to meet industry-specific or customer-specific requirements," IDC summarized in a recent "Marketscape" report. The key focus now is building out "Real-Time Supply Chain" solutions.
SMB Market Leader: Manhattan Associates
Last year's Customer Satisfaction leader extends its customer service beyond technology solutions to include industry recognition: The Manhattan Supply Chain Leaders program seeks to help the clients gain recognition for their vision and leadership via business media, industry events and other public opportunities.
Last May, the company launched Manhattan Active Omni, a unique "omnichannel-as-a-service" solution that unites order management and store fulfillment applications with next-generation, point-of-sale and clienteling applications on a single, cloud-native platform. The tool includes a process for optimizing direct-to-consumer orders. Also new in 2017 was Manhattan Active Distribution, which features what the company claims is the first warehouse management system to fully embed an option for waveless ordering. SMB clients include Carhartt, Kurt Geiger and 14 Degrees.
Customer Satisfaction Leader: Logility
Logility's Customer Satisfaction score was well above a category average that (let's be honest here, folks), leaves a lot to be desired. So the company must be doing something right. "They actually deliver the results," is how one client pithily explained it. Clients include Ingram Micro, Fabri-Kal and Rockline.
The Readers' Choice perennial (it also earned "Customer Satisfaction" honors in 2015) has been helping clients move toward "dynamic allocation and replenishment" models that let them rethink the plan as close to real-time as possible. The fall 2017 acquisition of Halo Business Intelligence will help clients (which include Aldo Group, Hostess Brands and Spanx) analyze social sentiment — both the positive and the negative — to build more predictive and prescriptive plans. The addition also boosts Logility's artificial intelligence and machine learning capabilities.
Noteworthy: JDA Software Group
Another regular on the Supply Chain Execution list (the SMB Market Leader in 2017 and 2015), JDA's Intelligence Fulfillment platform can drive profitable distribution decisions by proactively planning within execution constraints and leveraging holistic visibility to identify risks and re-planning opportunities, thereby maximizing supply chain agility and efficiency. Clients include Grupo Modelo, Michelin and PepsiCo.
Early 2017 was all fun and games for JDA: Mattel tapped the vendor to drive digital improvements to end-to-end supply chain processes that would accommodate new routes-to-market (like e-commerce), new consumer segments and emerging international markets; Lego Group similarly adopted new digital solutions to build a more agile, synchronized system from manufacturing to retail.