08/28/2018
Serta Sleeps Easier Online with Tuft & Needle Purchase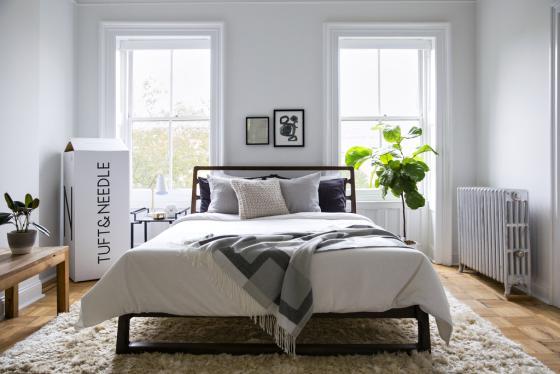 Serta Simmons Bedding has reached a deal to merge with e-commerce mattress marketer Tuft & Needle to create the industry's largest mattress company — but more importantly, to give the traditional manufacturer a much stronger presence in the direct-to-consumer market.
Terms of the agreement have not been disclosed. The transaction is expected to close in 60 days.
Phoenix-based Tuft & Needle is a six-year-old direct-to-consumer mattress and bedding brand. Following the merger, the $170 million company will spearhead an initiative to help transform Serta Simmons into an omnichannel player, expanding its direct-to-consumer offerings and creating operational efficiencies. Atlanta-based Serta currently markets one direct-to-consumer brand, Tomorrow Sleep, which launched last year.
"Tuft & Needle is the original disruptor in the direct-to-consumer mattress industry and is a rare example of an economically healthy, fast growing start-up," said Michael Traub, Serta Simmons' chief executive officer. "Combining [the companies] will greatly accelerate our growth and innovation in the direct-to-consumer segment and significantly enhance our e-commerce capabilities."
Tuft & Needle co-founders J.T. Marino and Daehee Park will join the Serta Simmons leadership team and report to Traub.
"We started Tuft & Needle because we saw a clear opportunity for the mattress industry to put the customer at the center of everything," said Marino. "The industry is evolving faster than we could have imagined. We're proud to have been the catalyst and driver. We look forward to leveraging each organization's strengths. Tuft & Needle will continue to build our brand and culture in our unique way, infusing our capabilities into the broader Serta Simmons organization."
Each company's brands will remain independent in the market, offering distinctive products and differentiated omnichannel experiences. In addition, Tuft & Needle will provide Serta's traditional retail partners with new omnichannel marketing tools, including advanced consumer insights, avenues for generating higher foot traffic, and consumer-centric innovations. A formal program is set to launch in early 2019.
Direct-to-consumer bedding sellers have been growing rapidly, although traditional brick-and-mortar mattress retailers still command the lion's share of an estimated $29.1 billion market. Four-year-old Casper quickly gained popularity with its online-only "mattress in a box." In May 2017, Target invested $75 million in Casper, creating a partnership that put the brand's sheets and pillows in Target's physical stores.