In Pursuit of Project Success

More than 75 percent of IT projects are deemed to fail, according to Gartner. The impact is significant, as the hard costs associated with project failure is often minimal compared to the cost of an organization not capitalizing on an opportunity to drive competitive advantage. While some might argue with these research findings, it is fair to say that we could all do a better job of driving benefit through our strategic investments in IT. There is too much focus on "on-time, on-budget", and not enough emphasis on the ability to drive true value for the business. To combat this, organizations must understand that strategic initiatives require a different recipe for success, an approach that considers the alignment of the organization, an agreed upon definition of success and engagement of the stakeholders throughout.
Organizational Alignment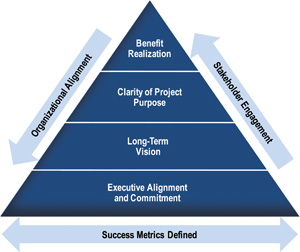 When first embarking upon a strategic initiative, it is critical to ensure that all facets of the organization are working together and supporting each other to achieve the overall objectives of the project.
Is my executive team aligned behind the goals of this project?
Have these goals been communicated throughout the organization?
Do all stakeholders understand what is expected of them?
Have team dynamics and their ability to work together been considered?
To help drive this alignment, a fully developed project brief is critical; one that is agreed upon at all levels and functions. This brief should include a detailed scope statement, with clear articulation of what is in and out of scope, the identification of all stakeholders and their expected roles, critical timelines to be reached and common language for the project.
Success Metrics Defined
It is said that "Satisfaction equals Expectation minus Perception". In practical terms, there needs to be a clear understanding of what the project will deliver and what it will not. Expectations and behaviors must reflect this, with a focus on business needs versus individual wants.
Ensure that you have short term metrics that sustain forward momentum and serve as proof to leadership you are on track.  
Metrics need to be achievable and based upon an honest assessment of the benefit the system could provide.  
Acknowledge that there is risk associated with non-action rather then building expectations around unreasonable ROI calculations based on soft benefits.
Define metrics that account for a long-term vision versus simply what is a fit for today's needs.
Stakeholder Engagement
Successful initiatives must focus on organizational behaviors and have a clear understanding of the upstream and downstream impacts of the project. There needs to be a clarity of the roles as the project evolves, understanding the value the new system will drive for them as individuals and how it will allow them to realize their personal goals and objectives.
Change management needs to be considered at the onset, not simply lumped together as part of the training phase of the project.
Since the success of the tools depends so heavily on user engagement, it is critical to deploy a continuous feedback loop within the organization, building in time for iterative design and development.
Reinforce ownership concepts throughout, relying on change champions for training and support.
Project success is achievable, however it requires an approach centered on the "softer" dynamics outlined above.  Consideration of these metrics will allow your organization to realize a greater likelihood of driving the expected value and return to the business today and tomorrow.
This article was coauthored by Richard Cross and Rick Baker, partners and cofounders of The RiverHorse Group, a consultancy dedicated to assisting clients in strategy development, optimizing execution, driving leadership excellence, culture evolution and improving organizational effectiveness.