P&G Acts as a "Green" Change Agent for Consumers
Get great content like this right in your inbox.
Subscribe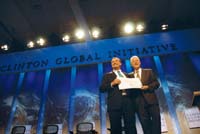 When it comes to consumer attitudes toward greener living, a recent national poll from Ipsos Public Affairs revealed that a lack of information about what to do prevents 37 percent of respondents from leading a more environmentally-friendly lifestyle. At the same time, 74 percent report they would switch to another brand if it helped them conserve resources without having to pay more.
So what's a consumer goods company to do? Perhaps take a cue from sustainability leader The Procter & Gamble Company (P&G) (www.pg.com), which is helping the mainstream consumer save water, waste and energy at home through its Future Friendly initiative.
"Future Friendly is directly related to P&G's overall sustainability vision," says Kirk Perry, vice president, North America, P&G. "The company's publicly stated goal is to sell a cumulative $50 billion in sustainable innovation products between 2007 and 2012. Future Friendly is one of the ways were going to make that goal happen."
Future Friendly has operated as a multi-brand effort in the United Kingdom and Canada since 2007, and was introduced to U.S. consumers during a pilot executed in Cedar Rapids, Iowa, on Earth Day in April 2009. Results from the pilot and extensive consumer research built a strong case to take the initiative nationwide in March 2010.
A full media platform was deployed to provide conservation education to at least 50 million U.S. households by the end of 2010. Trusted brands, like Tide, Pampers, PUR, Duracell and others, carrying a Future Friendly seal to indicate their energy-savings capabilities, started appearing on store shelves in April 2010.
A television campaign began airing nationally the week of March 29, 2010. Meanwhile, the initiative was further supplemented by a full suite of digital and social media engagement initiatives; a P&G employee communications campaign; signature event sponsorships and more.
"Early results have been excellent," says Perry. "People really respond to the idea of practical conservation tips versus confusing discussions on this or that ingredient."  
Thus far, the Future Friendly Facebook page boasts 43,000 fans and growing. Plus, more than 16,000 retailers participated in the first wave of in-store marketing.
This Fall, a second wave of the initiative will expand its reach. "We're continuing to add products and participating retailers," says Perry. "The fundamental Future Friendly message will remain unchanged: Mainstream consumers can use the brands they love to save water, save energy and reduce waste. Little changes in behavior will add up to a big difference to our planet."  
---
FAST FACTS 
Green Product Sales
Future Friendly aims to help P&G sell a cumulative $50 billion in sustainable innovation products between 2007 and 2012. 
Getting the Word Out
The April 2010 edition of P&G's brandSaver newspaper supplement, which is sent to more than 50 million households, featured information about and coupons for Future Friendly products. 
Strength in Numbers
To support the Future Friendly conservation education platform, P&G formed two partnerships with leading organizations in the environmental landscape -- National Geographic and Earth Day Network.  
Words of Wisdom
"Be authentic in everything you say and do."
--Kirk Perry, Vice President, North America, P&G  
Seal of Approval
U.S. Future Friendly products passed an extensive review of their sustainability claims by NSF International, an independent, not-for-profit organization. 
Future Friendly Lineup
P&G's Future Friendly program brings together the power of trusted brands, like Tide, PUR and Duracell, to help mainstream consumers live "greener" lifestyles.