04/24/2018
P&G Acquires Merck's German-Based OTC Brands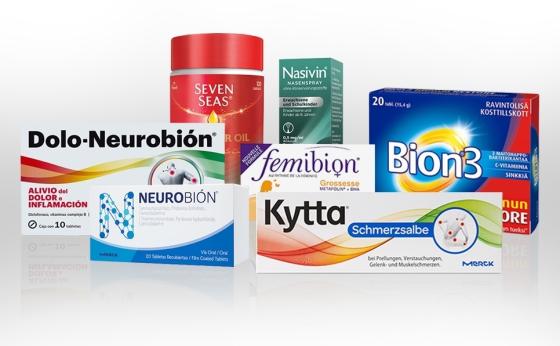 Procter & Gamble last week signed an agreement to purchase the consumer health business of Darmstadt, Germany-based Merck KHaA for $4.2 billion. Merck is a global supplier of over-the-counter remedies.
The deal will allow Cincinnati-based P&G to expand its geographic scale, brand portfolio and category footprint in most of the world's top 15 OTC markets. Merck's OTC labels complement P&G's existing healthcare business, which includes such household names as Vicks, Prilosec, Metamucil, Pepto-Bismol, Crest and Oral-B.
Merck's $1 billion consumer healthcare business involves more than 900 products marketed mainly in Europe, Latin America and Asia. Brands include Neurobion, Dolo-Neurobion, Femibion, Nasivin, Bion3, Seven Seas and Kytta. Products are used to treat back, joint and muscle pain, colds and headaches, as well as to support physical activity and mobility. The acquisition will replace the PGT Healthcare joint venture involving P&G and Teva Pharmaceutical Industries, which was launched in November 2011.
"These brands and the great employees of Merck will complement our [business] well," said Tom Finn, president of P&G's global personal health care unit. "This acquisition helps us continue to drive sales and profit by providing the capabilities and portfolio scale we need to operate a winning global OTC business without a health care partner."
The PGT Healthcare joint venture will end July 1 pending regulatory approvals. Under the partnership, P&G and Israel-based Teva had combined their OTC operations in all markets outside of North America. Product assets will return to the respective parent companies to re-establish independent OTC businesses.
P&G said the joint venture has delivered "disproportionate top and bottom line growth," but that "priorities and strategies were no longer aligned."
The company has faced other challenges and has tried to improve its financial position. Since the beginning of 2014, it has divested more than 100 products, eliminating 43 brands in a $12.5 billion deal with Coty, selling Duracell batteries to Berkshire Hathaway for $4.7 billion, and selling its pet food brands to Mars for $2.9 billion.
In one sense, this has worked, since net earnings climbed to $15.3 billion during fiscal 2017 (ended June 30, 2017), after plummeting to $7 billion during that same period in 2015, then rising to $10.6 billion during the similar 2016 time frame. But 2017 year-end sales were relatively flat at $65 billion; during fiscal 2014, they had hit $74.4 billion.
One big challenge is that during the financial downturn of 2008, many consumers began buying private label or budget brands instead of the premium labels offered by companies like P&G. According to many observers, P&G also could not compete with new online manufacturers like Dollar Shave Club (acquired by Unilever in mid-2016 for $1 billion). 
While P&G has benefited from divesting itself of unprofitable products, it has not used the savings to launch successful new ones, a move which could increase sales and drive growth, according to Fortune. 
Procter & Gamble ranked 3rd on CGT's list of the "Top 100 Consumer Goods Companies" for 2017 with $65.3 billion in revenue.