The Online Grocery Race
With sites like Amazon Fresh, Fresh Direct and Delivery.com on the rise, it is no surprise that Forbes recently shared that digital grocery shopping appeals to one in three grocery shoppers.

Retailers like Whole Foods and Wal-Mart are even joining for a piece of the grocery delivery service category. So, CGT sat down with Richard Demb, CEO and Founder of Abe's Market (named by Forbes as one of The 25 Most Innovative Consumer and Retail Brands) to discuss the growing online grocery shopping trend, and provide best practices on how to differentiate from the competition.

Describe how Abe's Market works and what makes it different from its major competitors.
Demb: Headquartered in Chicago, Ill., Abe's Market is a natural and organic e-commerce marketplace that helps consumers find foods that are the best fit for their dietary needs, and then delivers the food right to their doorsteps.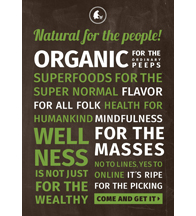 Unlike Whole Foods and FreshDirect, Abe's Market is available to everyone across the country. Abe's believes in natural for the people and that shopping organic shouldn't be a geographical privilege, so whether you live in a big city or a small rural town they provide access to healthy foods. It is a grocery store curated with an aisle just for your lifestyle and dietary requirements, and then delivered right your doorstep.

Due to a lack of government regulations regarding the word "natural," it can be confusing for consumers with specific questions about a product. So, we help to make it easier to be informed. Consumers can chat directly with the sellers on abesmarket.com on every product page to ask any specific question.

How does Abe's Market support smaller brands?
Demb: Smaller brands sometimes lack overall resources and retail/marketing support, and need a better platform to sell and succeed. Small natural and organic brands are championed and provided a platform that delivers marketing, logistical and back-end support while connecting sellers directly with the right audience.

We also offer valuable data and learnings in selling product on Abe's including statistics and metrics outlining intent to buy, audience geography, comparison to competing brands, etc. This type of data helps brands get ahead of the game with investors and retailers.

With campaigns such as the new "Try for $2" program, Abe's Market aims to revolutionize traditional B2C sampling programs. This program lets consumers try products for $2 each, with no shipping costs, eliminating the risk in trying something new. It is highly beneficial for the participating brands because they get to place their products into the hands of a very targeted audience and they receive customer feedback and data that would not be available with other traditional methods of sampling such as in-store demos.

Are there any up-and-coming smaller suppliers you are working with that are worth mentioning?
Demb: We work hand in hand with hundreds of remarkable brands, they are all worth any attention we can help them capture. Here are a few top sellers as of late: Quinn Popcorn, I Heart Keenwah, Health Warrior, Bitsys Brainfood and Barnana. These brands are of course backed by strong owners with powerful missions, and are equally as passionate about changing the landscape and accessibility of healthy food.