Ocean Spray Creates a Healthy Marketing Plan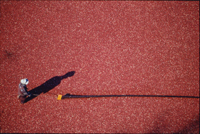 Did you know that the cranberry is one of only three fruits native to North America? Like the fruit it produces, Ocean Spray (www.oceanspray.com) is a unique entity as it established a successful business around this single type of berry. For 80 years, the combination of excellent marketing and great new products caused demand to skyrocket. Yet, to continue to grow, increasing the accountability of its marketing efforts was a key factor.
"The complexity of today's environment required that we have improved insights to be able to make the best decisions," says Larry Martin, vice president, Marketing for Ocean Spray.
The company had leveraged traditional marketing mix studies in the past to manage marketing spend, but Ocean Spray found that it also often used incomplete and old data that did not take all of its channels into consideration.
In 2008, Ocean Spray chose a software-as-a-service platform from M-Factor (www.m-factor.com) to evaluate its marketing investment performance and determine the optimal allocation of future investments.
"Frequent updates and the ability to model different scenarios have allowed Ocean Spray to take an even more fact-based approach to our marketing investment decisions," says Martin. 
---
Growing Pains
To grow in the competitive beverage category, Ocean Spray required new product innovation across multiple product lines and increased accountability for its marketing efforts.
Company at a Glance
Ocean Spray, an agricultural cooperative owned by 600+ cranberry growers and 100 grapefruit growers, has been the best-selling brand name in the canned and bottled juice category since 1981.
Marketing Success
Predictive analytics now allows Ocean Spray to leverage insights to evaluate the marketing mix for new products.
Words of Wisdom
"Timely analysis and the measurement of lift and ROI can pay dividends as decisions are made on the tactical execution of different vehicles within your marketing plan."   --Larry Martin, Vice President, Marketing, Ocean Spray.