01/16/2019
MilkPEP, Chicory Offer First Digital Dairy Aisle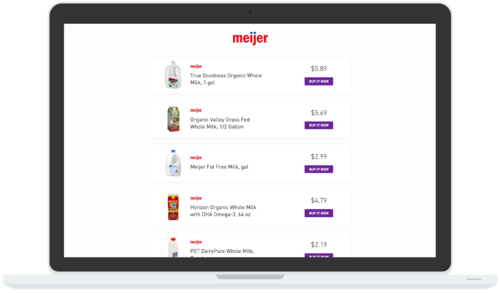 The Milk Processor Education Program (MilkPEP) and New York City-based tech company Chicory have teamed to launch a first-to-market "digital milk aisle" experience aimed at recreating in-store browsing while driving e-commerce growth in the dairy category.
A marketing board funded by the nation's leading fluid milk processors that's devoted to educating consumers and increasing consumption, MilkPEP is utilizing Chicory's in-recipe ads and network of 1,000-plus influencer food sites to promote milk and discoverability to recipe viewers. Chicory designed the digital milk aisle for MilkPEP with help from Campbell Ewald as lead strategic agency and Arc Worldwide as shopper marketing agency.
According to the media release announcing the click-to-cart experience, MilkPEP's goal is to "transform how people think about dairy milk in an age of energy drinks and plant-based alternatives."
Here's how it works:
Consumers who view a recipe calling for "milk" will see a "shop now!" ad that leads to an "interstitial digital milk aisle page" listing all of the milk products and brands available at a nearby featured retailer.
Once products are selected, the items are added to the user's digital cart.
An initial launch test will use the shoppable ads to promote either Meijer or AmazonFresh (depending on location), but the program will later roll out to additional retailers.
According to its website, Chicory never attempts to change consumer behavior, but rather uses its recipe network to reach shoppers organically by appearing on sites that they "already love and trust."
"The opportunities for digital aisle tech are huge," said Chicory chief executive officer Yuni Sameshima in the aforementioned release. "The digital aisle gives the consumer a good look at all of [her] options and allows boards like MilkPEP to equitably represent all of their partners."
Chicory has partnered with companies including Peapod, Campbell Soup, General Mills and Avocados from Mexico to use its shoppable recipe platform and conduct in-recipe ad programs. MilkPEP is the first client to take advantage of the digital aisle technology.