LG Makes Power Move with Amazon Dash
Get great content like this right in your inbox.
Subscribe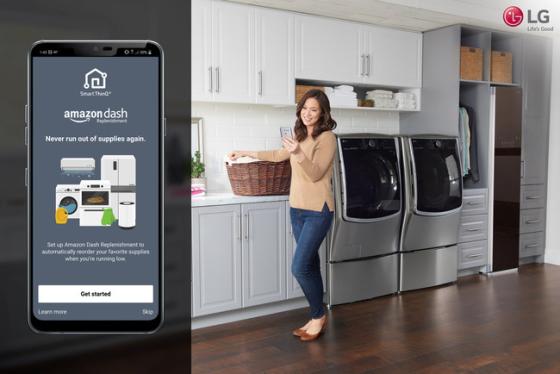 LG Electronics USA has integrated Amazon's Dash replenishment functionality into its entire new portfolio of connected smart appliances as it aims to improve customer convenience beyond the products themselves.
Like the original Dash replenishment button, the compatible, Wi-Fi-enabled smart appliances including dishwashers, washing machines and dryers allow users to set up automatic reordering of detergent and laundry supplies from Amazon when supplies run low.
"More customers are experiencing the convenience Dash replenishment offers and we are thrilled to team up with LG to integrate dash replenishment into LG's broad selection of smart appliances," said David Jackson, general manager, Amazon Dash in a media release last week. "With Dash replenishment, you never have to worry about running out of household essentials like dishwasher soap, laundry detergent or dryer sheets, because your appliances can do the work for you and automatically reorder supplies, the moment you are running low."
Here's how it works:
Using the LG SmartThinQ mobile application, customers connect Dash replenishment to LG smart laundry and dishwasher appliances.
Customers then link their Amazon account and set up Dash replenishment for their desired dishwasher and laundry supplies, like detergent.
After set up is complete, LG smart appliances automatically signal Dash replenishment to reorder and deliver pre-selected items right to the customer's door.
Customers can control key features via a single smartphone app or with voice commands using Alexa or the Google Assistant on select models, according to the release.
"Our new smart features are now helping make mundane tasks like doing laundry and washing dishes easier than ever with Dash Replenishment compatibility while delivering a seamless experience in collaborative technology," said David VanderWaal, senior vice president of marketing, LG Electronics USA in the release.
Despite representing what LG says is "the industry's largest assortment ever of Dash replenishment-compatible smart appliances," the manufacturer is hardly the first to integrate the service in home appliances. In early 2018, Whirlpool was the first major appliance manufacturer to join Amazon's experimental replenishment program. GE Appliances followed their lead, being the first to launch a Dash-compliant dishwasher which was soon joined by washing machines and dryers.
Similarly, Amazon announced a slew of new Alexa-enabled devices last summer, including a microwave with an integrated Dash replenishment service that can order more popcorn when supply runs low using voice commands.
While Amazon continues to take over the home, LG's commitment to integrating its expansive smart home appliance portfolio – which includes full kitchen suites, laundry appliances, air purifiers, air conditioners, vacuums and more –  is evidence that the manufacturer is embracing the concept.