Johnsonville, Albertsons Offer 'First Brats' of Spring
Get great content like this right in your inbox.
Subscribe
Sausage maker encourages consumers to get a jump on grilling as weather allows
More Information
Brand: Johnsonville
Retailer: Albertsons
Key Insight: March can be a confusing month for bratwurst lovers as spring temperatures make brief appearances but winter weather still abounds. A sunny day can be cause for an outdoor celebration.
Activation: An account-specific "First Brats" photo contest featured entry on a promotional site and was supported by display ads and in-store merchandising.
Sheboygan Falls, Wis. — For bratwurst lovers in certain markets, March can be a confusing month. Spring temperatures make brief appearances but winter weather still abounds. "There's a collision of impatience and hope," says Marc Bennett, Johnsonville Sausage shopper marketing manager for the Western region, noting that even one sunny day can be cause for an outdoor celebration.
Armed with this insight, Johnsonville found a way to "spark the season" – a term used for its off-season promotional efforts – by encouraging its primary loyalists to celebrate the impending arrival of spring by grilling brats.
The "First Brats" program, developed in late October 2016, invited Johnsonville consumers to participate in a photo contest in which they shared scenes from their first cookout of the year, whether in rain, snow or shine.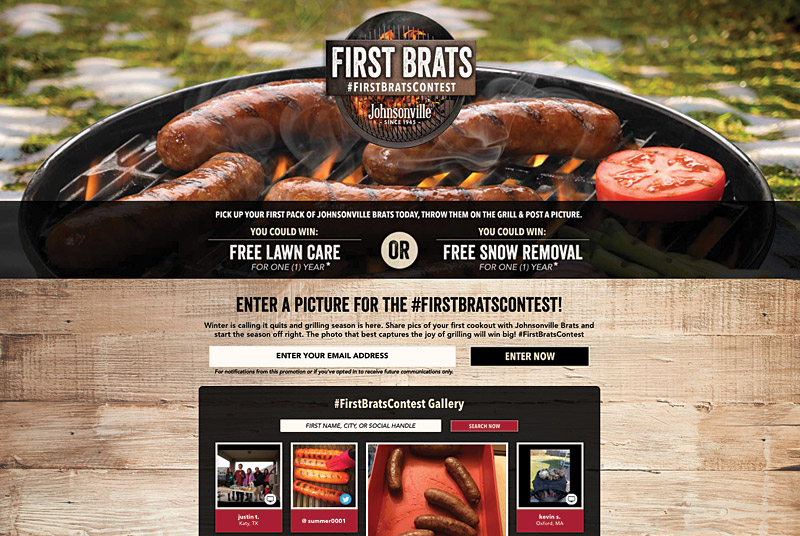 When Johnsonville looked for a retail partner, Albertsons Cos. was top of mind for both its geographic reach and because it was one of Johnsonville's earliest partners in the "Bratsgiving" campaign, another off-season promotion running in the fall. "It was a natural decision to work with them to get consumers excited for the grilling season," Bennett says.
The contest, which ran March 8 to May 15, featured two pools. A dedicated promotional site aimed at Albertsons shoppers, JohnsonvilleFirstBrats.com, allowed participants to submit their photos directly to enter the first pool. Consumers gained entry to a second pool by either sharing their photo on social media with the #FirstBratsContest hashtag or submitting it through a separate promotional site, FirstBratsContest.com.
Prize Logic, Southfield, Michigan, administered the contest and Milwaukee-based Crescendo Collective handled the websites' design.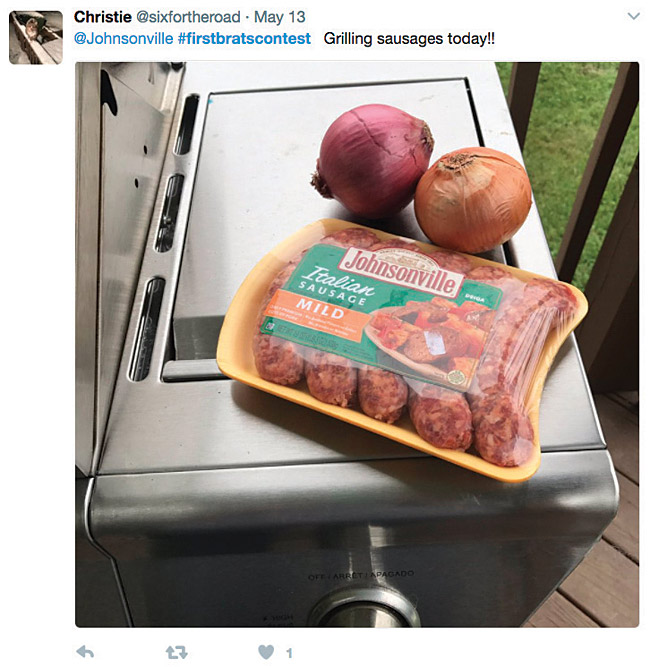 One winner from each pool with the most creative and relevant photo was awarded either a year of free snow removal or lawn care. In addition, 14 winners from the first entry pool won a $100 gift card to an Albertsons store of their choice and a Johnsonville prize pack.
Johnsonville promoted the contest through banner and display ads on chain websites via Winooski, Vermont-based MyWebGrocer as well as social media ads on Facebook, Instagram and YouTube targeting fans of Albertsons and Safeway. All of the ads linked the promotional site.
The manufacturer also utilized weather-triggered media in areas including Albertsons markets in Chicago, Denver and Boise, Idaho. Where seven-day forecasts showed above-average temperatures, Johnsonville ran radio spots and online video ads leading into the weekend. Although the ads didn't directly tie in to the contest, they ran concurrently to build on the spring grilling momentum.
In stores, the campaign came alive through a meat cooler display contest that ran March 8-22 at approximately 2,300 locations across the Albertsons network. "We find these programs give meat managers a reason to be engaged with our brand," Bennett says.
Managers received POS kits produced by Johnsonville to create displays that plugged the contest and directed them to the entry site. In many cases, the displays also incorporated outside elements such as grills and balloons that showcased the spirit of spring.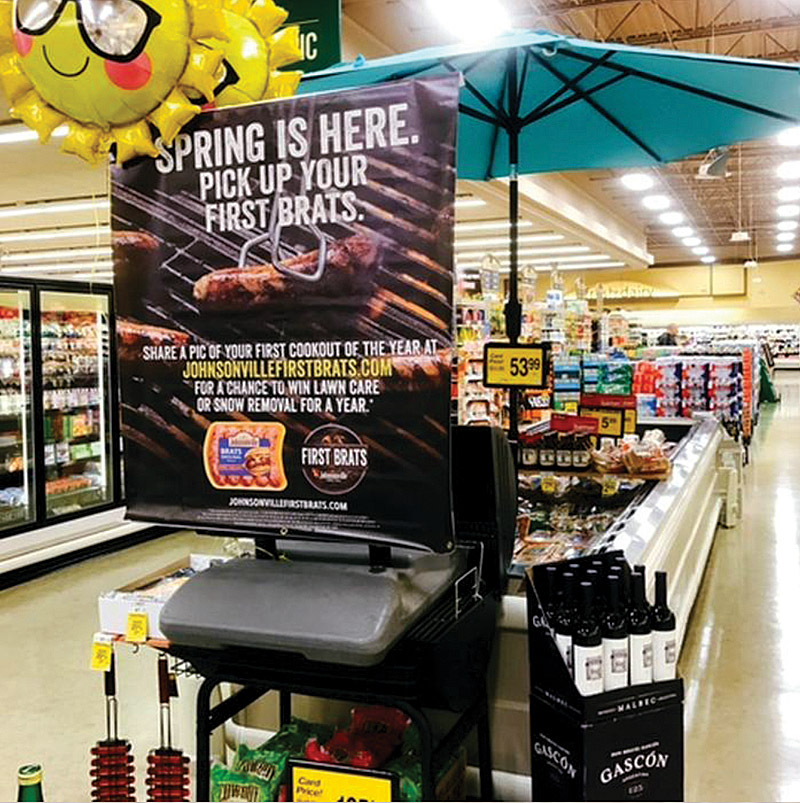 Managers uploaded photos of their displays on FirstBratsMeatManager.com to be judged by Johnsonville based on creativity, humor and visual impact. A total of 42 winners (three in each of the retailer's 14 divisions) received a $200 coupon code for Johnsonville's online "Swagville" store, while 75 others received a "swag pack" containing branded merchandise such as oven mitts and aprons.
"We wanted to get banners in competition with each other for bragging rights," says Holly Gandara, business manager for Albertsons relations at Johnsonville.
Johnsonville had previously staged manager contests based on year-over-year sales, but this was the first "true display contest" in which the main aim was to get displays up earlier in the season and encourage shoppers to grill, Gandara says.
Even so, stores with the manager-created displays have seen a 10% unit increase year-over-year. Due to these results, Albertsons has already agreed to participate in next year's program. "They love the ideas we come to them with," Bennett says. "They don't see these from other category brands."