It's Business Unusual for CPGs
Get great content like this right in your inbox.
Subscribe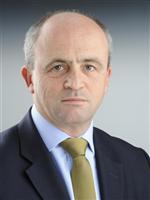 The global power brands that have long defined the consumer packaged goods industry are no longer untouchable. Research from Nielsen finds that, last year, the top 25 U.S. food and beverage companies drove 45% of category sales — but only 3% of growth. The remaining 97% of sales growth was driven by smaller players.
Disruptors have turned "business as usual" on its head, creating new models on agile operating structures that engage in a larger ecosystem and accelerate innovation to satisfy growing consumer demand for low cost, personalized products and services. With change comes a constant need to adapt and respond, so what is preventing the incumbents from making the move to become modern CPG companies?
Growth drivers have undergone a rapid and massive transformation. The lines between those who make, those who sell and those who buy are blurring. We're also seeing an emerging trend toward brand democratization, where technology is eliminating historical barriers to entry and enabling smaller companies to engage directly with consumers.
Digital transformation in consumer industries is not a new concept. There's an estimated $2.95 trillion in untapped value at stake, and disruptors are taking more than their fair share. However, it appears that traditional CPG leaders are struggling to make the link between digital transformation and financial performance.
In previous eras, CPG companies led the way in driving innovation and pushing the boundaries of what's possible. So why is there still some reluctance to adapt to the new world order in which they now find themselves? We only need to look at retailers to understand that disruption is here and failure to respond and adapt is simply not an option. We don't need to see the detailed financial metrics, as success is self-evident.
The challenge for CPG companies is that the financial impact can be subtle and there's no one-size-fits-all path to success. They must carefully balance transforming core businesses while scaling new ones, which demands new talent, new skills and a new mindset.
To better understand the interplay between digital and financial performance, Accenture developed the "Digital Performance Index," a cross-industry assessment of 45-plus CPG companies across geographies. The index provides an "outside in" view of a company's digital strengths and weaknesses, illustrating the great disparity in digital performance across companies. Not surprisingly, CPG disruptors and non-CPG industries outperform traditional CPG companies in terms of digital performance.
Although 83% of CPG incumbents recognize the impact of digital on the industry, according to research from Accenture and the World Economic Forum, they're failing to align transformation initiatives with corporate strategy and operations. Accenture's research reflects this trend, with 22% of incumbents failing to set and report on specific financial key performance indicators (KPIs) aligned to digital transformation. Without the evidence that these initiatives are improving the bottom line, there's a risk that those holding the company purse strings could be reluctant to invest further.  
Although we see many CPG companies investing in e-commerce, the Index shows that just over half (51%) of CPG companies are failing to provide consumers the ability to order online or submit a request via social media. Clearly there's still some work to be done in transforming product, sales and merchandising approaches that historically have served offline channels.
To master their digital journey, CPGs should focus their time, effort and investment on four areas:
Plan:

Identify the untapped value, follow the money and act decisively to ensure strategies and budgets for digitization are aligned.

Sell:

Digitally engage consumers through multiple integrated channels and deliver a seamless experience throughout.

Make:

Use digital technology to design and build products and services, as well as to streamline visibility and activity across the supply networks.

Manage:

Improve operating efficiency through digital infrastructure that is flexible, adaptable and aligned with the employee ecosystem.
While there are some examples of companies leading the way in digital performance, there's no single role model. Rather than an integrated strategy, we're seeing the implementation of incremental initiatives supported by a digital operating model. By contrast, new business models have equipped disruptors with the speed and agility to shape how they produce, drive consumer expectation and manage internal operations. Market-leading disruptors combine strong digital with strong financial performance.
While disruptors have the advantage of coming of age in the digital world, incumbents have their own set of advantages: scale, financial resources, existing consumer bases, strong retail trade relationships, and deep experience in product development and branding. These assets provide the basis for incumbents to transform the way they work, supporting the right balance of agility and scale. This is vital for CPG companies that must embrace change and be proactive in building businesses for the future.
Digital technologies are enabling organizations to create new levels of efficiency, new sources of growth, and new experiences that satisfy the growing demand among individual consumers for relevant, convenient and cost-effective products. CPG companies need to identify the untapped value, follow the money and embrace a move toward the modern, huge opportunities that await.
About the Author
A 15-year Accenture veteran, John Zealley is senior managing director for products growth & strategy. In this role, he is responsible for driving strategy, innovation and investments across the operating group, including ventures & acquisitions. In addition, Zealley serves as strategy lead for the consumer goods & services industry, responsible for people development, offerings and thought leadership, and ensuring profitable growth.