Hotshot Coffee Sales Heat Up Via Amazon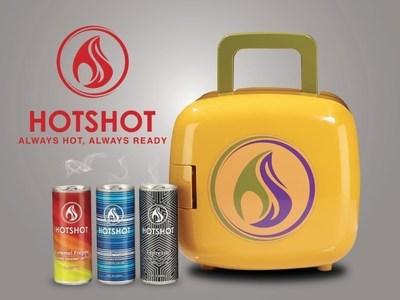 Following years of limited distribution, Hotshot hot canned coffee and hot chocolate is now selling nationally through Amazon.com. Since the e-tailing giant is handling fulfillment, Amazon Prime members will receive free two-day shipping and can register for subscription fulfillment.
Patterned after a concept popular in Japan, Hotshot uses a special hot "fridge" (called a "hot box") that keeps the beverage at a constant 140° Farenheit all day long. Packed in aluminum cans, the products can be heated up in 90 minutes. Alternatively, the products can be chilled in conventional refrigerators. 
"Hotshot's appeal is due to the fact that it provides delicious coffee to time-crunched consumers while offering the only 'plug and play coffee system' that creates an immediate revenue stream for retailers seeking to offer a coffee experience," said Chuck Miller, the brand's vice president of sales.
Hotshot was launched about a decade ago via Kickstarter. It was then featured on Shark Tank— although, while the Sharks liked the coffee's taste, none would invest. The product has mainly been sold through a subscription service, but in recent years gained some distribution in convenience stores as well as through sports, casino, resort and entertainment concessions including Madison Square Garden in New York and Walt Disney World's Swan Dolphin Resort. Additionally, Bed, Bath & Beyond will test-stock Hotshot during back-to-school season this fall. 
Hotshot is the brainchild of entrepreneur Danny Grossfeld. He was first exposed to hot coffee in a can on a trip to Japan, where it is a $15 billion industry. The product's grab-and-go nature, he said, continues to expand its distribution in convenience stores and at concession stands. 
Coffee flavors include black and French vanilla. The aluminum cans, which are made of 70% recycled content, have a shelf life of about three months. The portable Hot Box is said to be highly energy efficient.