Home Depot, Pinterest Expand 'Shop the Look'
Get great content like this right in your inbox.
Subscribe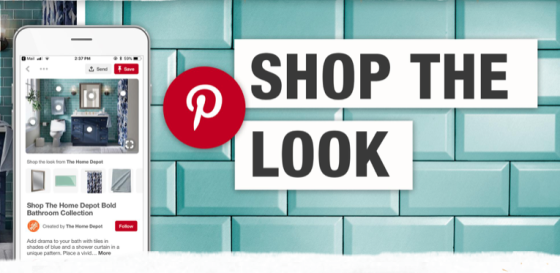 The Home Depot and Pinterest have joined forces in a major expansion of Shop the Look, a digital visual discovery feature that could help the retailer grow its market share in online furniture and home decor.
Shop the Look involves more than 100,000 Home Depot products, ranging from furniture and bathroom vanities to tabletop and lighting. Consumers can easily search for and buy merchandise similar to what is shown in Pins. To shop a Pin, smartphone users simply tap a white circle on a product to view similar items for sale.
Atlanta-based Home Depot's partnership with Pinterest builds on a video campaign launched by the duo earlier this year. Called "Built-in Pins," the initiative showcases before, during and after home improvement projects and includes how-to guides and tip sheets.
Home Depot's partnership with Pinterest is part of the retailer's plan to be a comprehensive online resource for furniture and home decor. It follows the company's December 2017 acquisition of The Company Store's online home business from Weehawken, NJ-based Hanover Direct. That deal provided Home Depot with product development and sourcing capabilities to help achieve the goal.
Decor-oriented merchandise currently represents about $25 billion, or 25%, of Home Depot's sales. But decor alone makes up only $2.9 billion, or 3%, of sales, according to USA Today. Much of the home category is fragmented, creating an opportunity for the home center chain and potentially increasing its appeal to more affluent, older women shoppers.
Home Depot expects website visits to exceed 1.8 billion this year.
Unveiled in February 2017, Pinterest's Shop the Look uses computer vision and human curation to make product recommendations. Since the service's debut, Pinterest has partnered with Curalate, Olapic and ShopStyle Collective, allowing U.S. consumers to shop from retailers like CB2, Macy's, Neiman Marcus, Target and Wayfair. Visual search is one of Pinterest's most frequently used features, with millions of searches conducted monthly.
Earlier this month, Pinterest also announced it would make its "Shopping Ads" feature available to retailers, following a pilot with several chains last year. Shopping Ads allow retailers to upload their product dossiers and show merchandise in context — a lamp in a furnished bedroom, for example. Shoppers see the ads in their Pinterest search feeds and can click on them to buy on the brand's site.