Hall of Fame Profile: Jody Kalmbach
Get great content like this right in your inbox.
Subscribe
Jody Kalmbach, vice president, digital experience, Kroger, is one of three 2019 selections for the Path to Purchase Institute Hall of Fame. We interviewed her in March at Kroger's HQ in Cincinnati.
If you've ever been annoyed by perplexing app interfaces, irrelevant buying suggestions or illogical e-commerce policies, take heart. Jody Kalmbach is listening.
Officially, as vice president, digital experience for Kroger, Kalmbach has a complex array of management, design, analytics and strategy-setting responsibilities across the enterprise. Boil it all down, though, and she's basically shaping how millions of shoppers transact digitally every day – and mostly likely, tomorrow as well.
While a product development expert, Kalmbach nonetheless feels our pain as shoppers, is fluent in engineer-speak and can translate it in ways that actually simplify the path to purchase for shoppers. All of which helps explain how Kroger has vaulted from being almost nowhere digitally five years ago to the envy of the industry today.
In May, Kalmbach – along with April Carlisle, VP, shopper marketing, Coca-Cola Co.; and Peter McGuinness, chief marketing & commercial officer, Chobani – was honored at the Path to Purchase Institute's 26th Hall of Fame induction ceremony in Fort Lauderdale, Florida. The event was part of the Path to Purchase Summit.
In March, Bill Schober, Peter Breen and P2PI president Terese Herbig interviewed Kalmbach at Kroger's offices in Cincinnati.
Jody Kalmbach
Title: Vice President, Digital Experience
Company: The Kroger Co.
Years in industry: 28
Years with current company: 4
Career path: AT&T, Brand & Product Management (1991-1997); The North Face, VP of Marketing (1997-2000); Amazon.com, Director of Product Management (2000-2006); EZPrints, VP of Product Development (2007-2012); Vitacost.com, SVP of Merchandising (2012-2015); Kroger, Vice President of Digital Experience (2015-present)
Education: University of Rhode Island (bachelor's)
Community/industry activity: NRF Digital Council, Google Retail Advisory Council
Tell us a little about your background.
KALMBACH: My dad was a lifelong AT&T employee, so we moved many times while growing up. When you show up [to school] in September and don't know anyone, you learn a lot of lessons about adaptability in whatever situation you are put in.
What was your first job?
KALMBACH: My first job was at a Haagen-Dazs ice cream shop; I became extremely popular because everybody wanted a free scoop. But after freshman year, I had serious summer jobs all through college via the intern program at AT&T. I filled my days at AT&T by focusing on consumer marketing and quickly realized I was fascinated with understanding customer needs and was eager to find ways to serve them. After I graduated from college with a degree in psychology, my first job out of school, not surprisingly, was with AT&T.
What were your responsibilities
at AT&T?
KALMBACH: At the start, I was focused on customer retention, but then shifted to partnership marketing, where I worked with companies such as Disney, Williams-Sonoma and United Airlines. In 1993, I helped pull together AT&T's first marketing campaign targeted to the gay and lesbian community. At that time, many big companies did not know how to engage with that community in a personalized way, so it was a great experience to be at the tip of the spear developing the marketing roadmap for engaging diverse audiences.
What attracted you to working at your next company, The North Face?
KALMBACH: AT&T was great from a foundational perspective, but I was ready for a change and wanted to more closely align my personal and professional interests. I love the outdoors – hiking, trail running, snowboarding – so The North Face was an exciting next opportunity and a natural fit. At that point, The North Face was evolving its customer base. It been a hardcore outdoor company focused on the "two percenters" but needed to gain awareness and adoption within the mass market. Maintaining the principles that built the company – "expedition proven" and "athlete tested" – was critical while engaging new customer segments. We had world-class rock climbers, mountain climbers, skiers and ultra-marathoners that helped ensure we stayed true to the passion, authenticity and quality that built the company.
For example, instead of a traditional approach to TV and radio, we created a television series on NBC called "The North Face Expeditions," hosted by Sting that documented incredible accomplishments by The North Face athletes on expedition. We were trying to find unique ways to bring the brand's authenticity to life. It was also great to work with people who believed enough in my team to say, "Sure, let's take a risk."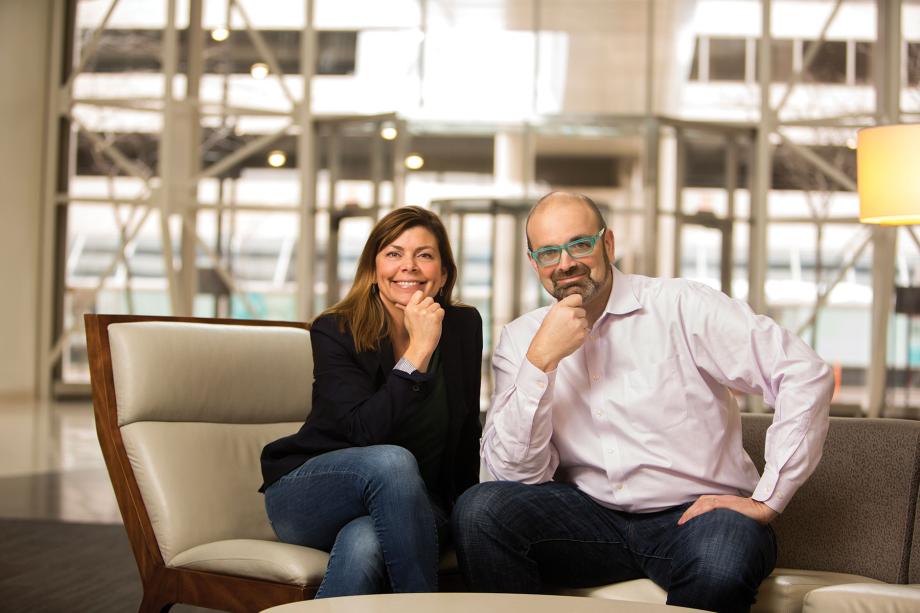 In May 2000, you left to join Amazon. Why?
KALMBACH: In 2000, Amazon was in the early years of its growth journey. I joined as director of marketing for Amazon's toy business. Within a few months, I flexed to lead their product management team. Our mission was to build capabilities to support third party sellers and other large retailers who wanted to leverage the platform. 
In addition to supporting small to midsize sellers on the platform, I led the product development and general management for Target.com on the Amazon platform with my technology partner [former Amazon colleague] Neil Roseman. 
Last year, Casey Carl, the former chief strategy and innovation officer at Target, said, "If there's one company to blame for Amazon's success as it relates to merchandising, it's Target." Is he right?
KALMBACH: I hadn't heard that quote, but what I will say is this: It was a really good example of two companies coming together with different expertise and leveraging those two strengths to do something really unique. Building it was a massive initiative for Amazon with many, many people involved.
The experience was foundational for me, personally. I learned the importance of building scalable products and, running Target.com at the time, I came to really understand end-to-end parts of a digital business. I built out the platform from a product development perspective, and after launching, I partnered with Target to run the site. That experience really amplified my skills in ways that directly tie to my role at Kroger today.
With a background in psychology, marketing and some art history, how did you become a product development leader?
KALMBACH: That's the amazing thing: I was not a technologist when I walked in the door at Amazon, but when I left I was leading product development teams. It all starts with understanding the customer and then organizing product development in a way that brings product management, product design and engineering together.
The whole idea of giant projects is, in many ways, very dated thinking now. It's all about putting together small teams that operate against specific customer or business missions, have a key business result that they measure and continue to optimize against, and then just letting them go.
Today, like Google, Kroger's digital organization operates in product pods and against OKRs [objectives and key results]. It's really very simple: "What's the problem we're trying to solve and what outcome will we use to measure the result?" It works. The benefits are not only to the business and the customer experience, but to the team as well. They have the autonomy to say, "Just give us some room to go figure out the right way to make it happen." You end up with much higher job satisfaction when people are clear on the contribution that they can make. We're really seeing it take off and work.
Do you still follow Amazon today?
KALMBACH: You always want to keep a pulse on what's happening. Walmart is reinventing and doing interesting things, too. The uniqueness about what's happening here at Kroger, and I say this to the team all the time, is that we're putting food and our customers at the center. This is about grocery … this is about food. None of those other companies have the passion around food that this 136-year-old company has. It's different than selling a book or a TV. Everyone needs to buy food; it's about inspiration, it's about how we come together as a family. It is about enabling customers to engage based on what is most important to them; health, budget, dietary preference. To be really, really successful in this space, you have to have the passion that a company like Kroger has.
Kroger has an incredible, invaluable legacy, and I think the role of its brand is implied trust. When you start asking customers to let us pick your groceries for you, to prepare a meal for you, or fill your prescriptions, or see your child when they have the flu, trust is at the center of it. What we are doing with "Zero Hunger | Zero Waste" also ladders back to the values and brand, too because as a society, people are starting to take their wallets to companies they believe are on the mission that they represent.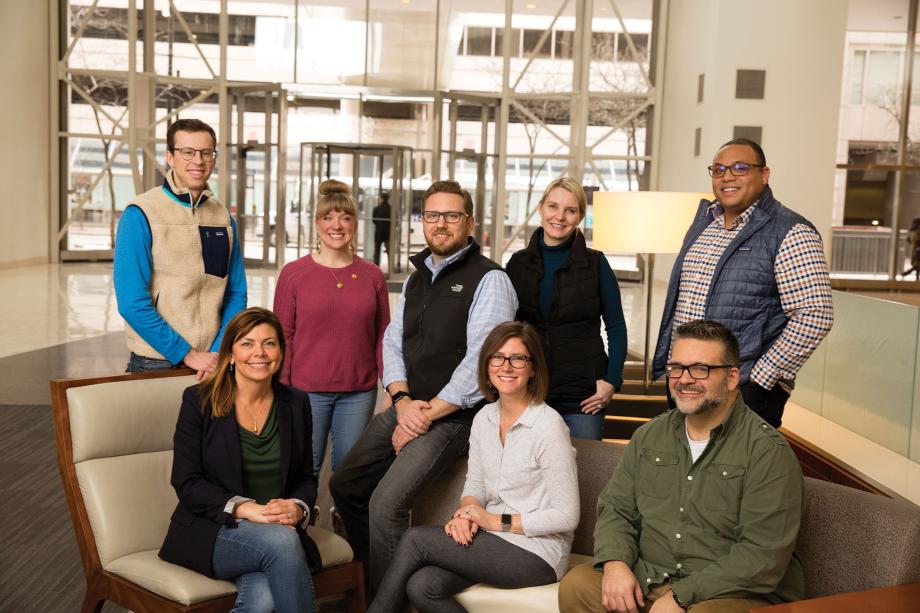 Top row (left to right): Hayden Huber, associate product manager; Becky Sroufe, senior user experience designer; Drew Whiting, digital strategy & planning; Erin Bunner, senior product manager, e-commerce; Steffan Howey, group product manager. Bottom row (left to right): Jody Kalmbach, VP, digital experience; Elizabeth Erby, senior e-commerce assortment manager; Jeff Hock, senior product manager, e-commerce.
After Amazon, you switched gears to manage some smaller businesses. Why?
KALMBACH: I'd moved to Florida to be closer to family and one of the other leaders that I'd worked with at Amazon became CEO of a company called EZPrints. It was a fun, small B2B company, and I was like an elder showing the way to a very young team.
I also worked for a health and wellness e-commerce business called Vitacost.com, which in August 2014 merged with Kroger. Pretty soon, I was spending about 50% of my time up in Cincinnati. In September 2015, I moved here to become VP, digital experience.
In 2014, every retailer seemed to be moving online and yet Kroger did almost nothing. Fast forward five years and now everyone's talking about Kroger digital. What happened?
KALMBACH: It's been quite a journey. We have moved very quickly over the past 4-5 years to meet customers as their needs have evolved. In this short period of time, I am proud to say we have hit approximately a $5 billion run rate.
Early on, digital was more of a separate, stand-alone effort known as ClickList. The thinking was: "We know we've got to be there … we can't disrupt brick-and-mortar ... we'll leverage the experience with Vitacost and Harris Teeter … then we'll build out our capabilities and talent."  When we merged Kroger.com and ClickList.com into one website in 2017, the customers just got it. This was the beginning of our "Seamless" experience.
It's been a great climb over the past four years and we hit an important pivot point two years ago from an incrementality perspective. We were starting to win share from other retailers, and the mindset just changed. Across the organization, everyone realized that digital isn't just about picking up orders via ClickList; it's about how people engage. Digital isn't a separate thing; it's the enabler and the accelerator of the overall business. Digital amplifies the in-store experience, pickup, delivery, ship-to-home – any touchpoint where a customer is engaging.
Some in the industry felt Kroger was coming late to the party. Did you sit back until the customer was ready for change?
KALMBACH: Kroger is such a customer-centric and data-driven culture. As soon as we dug in saw how customers were responding, it was suddenly, "Look at what's happening!" The combination of customer insights and data very clearly told us what we needed to do. Being an organization that's focused on making decisions with data really pushed us to accelerate.
Another key thing that happened was a shift away from a "Do it all on our own" mindset. We're creating an ecosystem where we lock arms with other companies, like the [UK-based online supermarket] Ocado deal, the merger with [meal delivery service] Home Chef, or the partnership with Walgreens. By letting ourselves be open to these opportunities and building an ecosystem, we can meet more of our customer's needs sooner.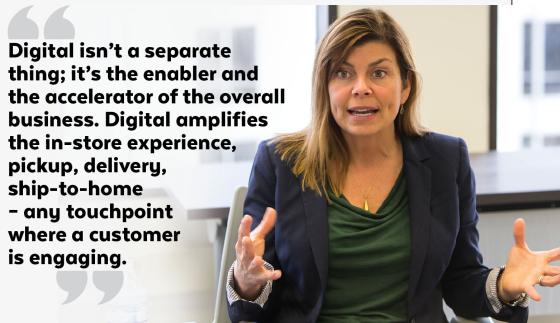 Could you tell us a little about your team size and responsibilities today?
KALMBACH: There are really two big pieces to digital: digital experience, which I lead, and digital technology led by Sriram Samu, vice president, digital technology. Our teams collaborate very closely to meet the always-evolving needs of our customers. My team is around 250 people and covers these specific functions:
Site experience, which creates and optimizes engaging, inspiring digital experiences including specialty shops, seasonal shops and department pages.
Product management, which sits between the business and technology and decides what customer and business problems we need to solve and the best ways to solve them.
Product design, which some people call UX (user experience) and others call UI (user interface), designs the experiences. Engineering sits within those product pods as well.
Digital analytics & business intelligence, which enables our continuous optimization by surfacing data and insights. When you launch something, you need to listen, look at the data and then optimize as quickly as you can. We launch updates to our app and to the web weekly. The only way we can do that is by having a steady stream of actionable analytics.
Digital merchandising, which is an extension of our core merchandising organization. We bring our assortment to life online and "extend the aisle." We might have three flavors of a certain potato chip on the shelf, but there are another 20 flavors we want to make available to customers. We want to be the food authority for our customers and the digital merchandising team figures out the right categories to go after. We've extended the aisle, for example, around international foods, unique niche products, and bulk or bigger pack sizes.
How does your digital merchandising team interact and coordinate with Kroger's traditional brick-and-mortar merchants?
KALMBACH: We have a lot of folks in merchandising with a history in brick-and-mortar, but everyone is open to embracing the new ways. The digital merchandising team we've created is a blend of legacy Kroger folks and people from other e-commerce companies, and they are teaching each other.
It's not about brick-and-mortar versus digital; it's all about how those channels work together for a seamless experience. We have to be nimble, and all of our "modalities" – pickup, delivery, ship and in-store – have to work in unison. You can't point to many other retailers who've done that this seamlessly.
Are the buying teams separate?
KALMBACH: The buying teams are together, but there is an assortment that's not getting bought by the core merchandising buying team because it involves new brands and new connections. Over time when you "extend the aisle," eventually you're talking about hundreds of thousands or even millions of items. When your offering that size of assortment, you can't follow the same process you use when you're handpicking items for a store. Technology-driven solutions for product set-up and managing relationships are indispensable at that scale. It's no longer just about your deep relationships with a thousand CPGs.
You mentioned all the fulfillment "modalities." Could you go into a little more detail on these?
KALMBACH: First, there's the "In-Store Experience." Digital does a lot to enhance our traditional brick-and-mortar experience. A great example of this is a new experience we're rolling out within our mobile apps. When location services are turned on, we launch an "in-store mode" and a key set of features that are important to a customer inside a store – aisle location, digital coupons, shopping lists, Kroger Pay, and "Scan, Bag, Go" – come to the forefront of the experience and less relevant features become secondary. The experiences we give our customers must always be relevant within the context of their day, where they are and what they need at that point in time. If a customer is at home, the app presents more of a traditional, transactional e-commerce experience.
"Pickup" (formerly known as ClickList), is placing an order online and choosing a time to come by the store where we'll come out and put it in the car. You can see that each of these modalities will continue to evolve and expand over time. While Pickup historically has been just at Kroger stores, we've announced a pilot with Walgreens that offers our customers the same experience there.
"Delivery" is similar: You go online, place your order, choose a time and it gets delivered to your house, office or wherever. We've done some interesting things to the model. The majority of our delivery business is delivered by Instacart, but we now have few other partners in the mix. We began testing autonomous vehicles with [self-driving car company] Nuro in the Phoenix area and recently expanded our pilot to the Houston market. With Nuro, you place your order and the bot drives up to your house. When your order arrives, you get a text message with a code, the door opens and there's your order. Who would have thought, four years ago, that Kroger would have autonomous delivery vehicles bringing you groceries?
The Ocado relationship also feeds into delivery. Right now, both Pickup and Delivery orders are picked from an individual Kroger store's assortment. We've announced that we're building "sheds" [customer fulfillment centers that use Ocado's automated technologies] in the U.S., so that delivery products would be picked there instead of at the stores.
The last modality is "Ship," which is the traditional e-commerce model where you have the extended aisle, order online and delivery in two or three days.
Those are the modalities we want to work seamlessly, which means that regardless of the device – laptop, phone, Google home, voice-activated assistant – they all deliver this one experience. For example, we've rolled out nationally with a Google Home experience. Imagine you've planned a pickup order and realize you forgot olive oil. "Hey Google; add olive oil to my Kroger order." Now, because of Kroger's personalization science, Google will ask, "Did you mean your Simple Truth Olive Oil?" Answer yes, and it gets added.
How soon before they're all available to all customers?
KALMBACH: Right now, the in-store, pickup and delivery experiences are rolling out, as we speak, and by April will be available in most places. So, we are very far along. Ship, the last piece of the pie, is now available even in areas where we don't have a footprint. You can move to New York or Boston and still get our [private label] products like Simple Truth. I think our ability to personalize with features like "Start My Cart" [which displays suggested products based on recent purchases] demonstrates that we know what's important to customers. We are very far down that journey, and you can see that each of these modalities continues to evolve and expand over time.
Creating a seamless customer experience seems to be a priority. How well is that going?
KALMBACH: Early on, we had to make some choices in order to accelerate. One of the trade-offs we made was to launch a separate experience outside Kroger.com. A good example of this is Kroger Ship. We're now at the point where consolidating our stand-alone experiences into a single seamless experience and our technology platform is a key focus. This year is going to be very important year for us from that standpoint. Beyond building the platform that will enable a great customer experience, we're also taking all of the data that we have through [data analytics subsidiary] 84.51 and personalizing the shopping experience at the individual level. What's important to one customer may not be relevant to another. When you factor in our curated specialty shops along with health and wellness, it's a very interesting formula and I'm extremely excited about what we're doing for customers. 
How does "Restock Kroger" fit into your work?
KALMBACH: Restock Kroger is our three-year strategic plan as a company, and one of the four key drivers of the plan is redefining the grocery customer experience. That's where digital really comes to life and is a key contributor.
What role has the digital team played in the overall health and wellness strategy?
KALMBACH: My team partnered with the health and wellness team to bring OptUP [a data-driven app that helps customers make more informed, healthier purchase decisions] to life. We leverage our data to do that and, when you look at it over time, you can see it become more and more helpful as it's integrated into the seamless shopping experience. Our customers are making healthy living a priority and we need to serve that need. Again, it's about presenting the right content and assortment for customers – be it a "gluten-free" specialty shop or a non-GMO product attribute.
There's talk about Kroger positioning its websites as media platforms for CPGs. How is that going?
KALMBACH: That is Kroger Precision Marketing, which enables CPGs to participate in the marketing platform in a very personalized, targeted way. We want to connect the right products with the right customers, and we have the data to do that. Rather than just put an ad up on a website and hope everybody's going to see it, which may not be a very efficient spend, [KPM] is much more efficient and targeted for the CPGs. We are off to a great start, and I expect that will just continue to grow.
How much further do you have to go with personalization?
KALMBACH: That's a softball: You are never done with personalization.
Okay, but at the NRF Show your CEO was talking about telling the shopper what she should make for dinner tonight.
KALMBACH: There's more that can be done from a discovery perspective and predictability. One shopper needs toothpaste every 14 days, and another needs it every 22 days. We know that, but how do we actually predict needs and make sure consumers never run out? Or if it's 4 p.m. on a Friday, let's make sure that when you open the Kroger app we are serving up the dinner options that can get delivered to your house. This is where the most progress needs to be made.
Is it possible that someday we won't have to visit physical stores?
KALMBACH: There are a lot of routine things that people buy every time they go to a store: paper towels, toilet paper, your favorite box of Cheerios. If those [transactions] can just happen, it takes the noise out of the customer's mind, and the stores can pivot to being much more experiential: Shopping on a Friday night with a glass of wine or sampling the local craft beers. It's not that you won't need to go to a physical store; you'll go for a different reason. It'll be much more inspiration-driven than functional.
What kind of help do you look for from product manufacturers and suppliers?
KALMBACH: The digital merchandising team is talking to CPGs all the time. We have great collaborative relationships with a core set of CPGs, and when we want to do new things online, they show up with ideas they've tested in some way and are willing to share their learnings.
Any advice for CPGs on how to approach you?
KALMBACH: If you've had a great business relationship from a brick-and-mortar perspective, become a part of where the company is evolving to and lean in to that. I know that some folks may say, "If the majority of my business is in-store, I need to focus there." No, it's going to be omnichannel and connecting all of that seamlessly. Lean in to the new modalities that we are rolling out because they are getting tremendous traction. We want to win this together.