04/01/2017
Hall of Fame Profile: Herb Smith
Herb Smith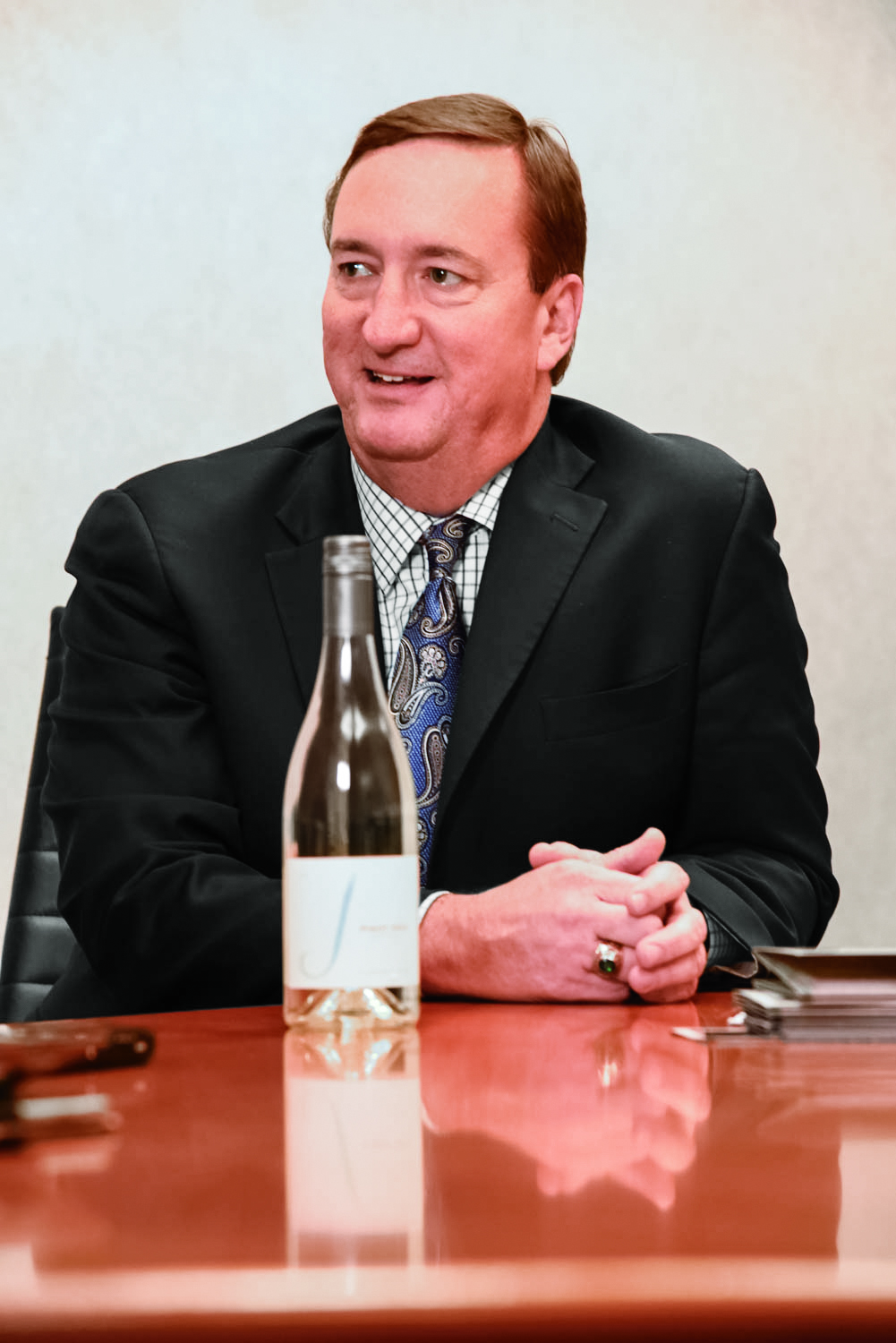 Title: Vice President, Off-Premise Customer Development & Category Management
Education: Bachelor of Arts, English/Business, California Polytechnic University, San Luis Obispo; University of Southern California's Marshall School of Business Food Industry Executive Program.
Career Path: Gallo Wine Co., Chain Division Sales Manager (1989–1998); E. & J. Gallo Winery, General Manager, Gallo Sales Co. (1998–2004); General Manager-Trade Development (2005–2010); National Sales Director (2010–2013); Vice President Off-Premise Customer Development & Category Management (2013–present).
If you look for Herb Smith's office at Modesto, California-based E. & J. Gallo Winery, you won't find it. That's because Smith's desk isn't at the world's largest winery's headquarters but rather tucked away inside a distribution facility up in Hayward, California. Why? It's closer to SFO and OAK, the Bay area's two main airports – a feature that matters most to the 28-year Gallo veteran and road warrior. Indeed, when we met for this interview, it was his first day back after three solid weeks of flights, hotel stays and account visits.
One might think that a quarter century-plus of walking stores would get old, but for Smith, currently serving as vice president of off-premise customer development & category management, it's just an extension of the founders' business credo: "Everything starts with the consumer." Responding to a challenge by its current CEO, the company has in recent years been formalizing its shopper marketing organization by embracing, for example, an enhanced planning process that integrates consumer, shopper and trade plans through insights and strategy.
Smith – along with Cheryl Williams, chief information officer, Wakefern Food Corp.; and Chris Witte, vice president, shopper and category development, Tyson Foods – was honored at the 24th annual Path to Purchase Institute/Shopper Marketing Hall of Fame induction ceremony, held in conjunction with the Shopper Marketing Effie Celebration, on March 28 in New York.
Smith was interviewed in early February by the Institute's Bill Schober and Steve Frenda.
Where'd you grow up?
Smith: In Southern California. I was born in Granada Hills and raised in Yorba Linda. My dad was a lawyer, my mom was a homemaker, and they still live in Yorba Linda today.
Did you ever work retail?
Smith: In high school, I worked at an independent grocery store in Yorba Linda. I worked in the meat department, cleaning up after the butchers and selling meat at the meat counter.
Did you think about the law as a career?
Smith: I did. As I progressed through my career choices, becoming a lawyer was my first choice. I was an English major at Cal-Poly, but then I progressed to my real passion: I wanted to be a coach.
Football?
Smith: I wanted to be the next Urban Meyer, believe it or not. I'd played center in high school, and played four years of college and I coached for Cal-Poly my fifth year. I actually coached with [now Washington State head coach] Mike Leach during his very first coaching assignment. But the coaching life didn't seem like the right career, and once I met my wife in college, I changed. I work hard today, but coaching? That's a tough profession.
I imagine that college athletics is good training for the hyper-competitive world of sales.
Smith: There are some direct parallels between coaching and sales and management. One of the things that they do a lot of at Gallo is mentoring, so when I was deciding on a career path, I was particularly impressed with their training program. Plus, it was a family-held company that promotes from within, so it just seemed like a great place to start.
So in 1989 you join Gallo.
Smith: I started as an entry-level salesperson with a territory in the Ventura-Camarillo area, calling on all the retail trade stores.
Any big life lessons come out of that initial experience?
Smith: I lost a lot of ties. We were all wearing ties back then, and I'd keep cutting them off with box cutters while opening cases. I also learned to never leave a route book on the hood of a car after I lost one of those as well. But it was a great way to learn the business from the ground up. I had 25 accounts; built product in the stores; figured out who all the decision-makers were. What you learn is the importance of selling the right amount of merchandise. Don't oversell an account; rotate the merchandise; move it around and get the best locations.
You progressed through various levels of management in eight years to the point where you were managing 100 sales territories.
Smith: That's a Gallo kind of progression: First-level managers train and develop five to seven sales people; second-level managers handle teams, and so on. When I became general sales manager, I handled all of Southern California – 100 territories – from the Mexican border up the coast to Paso Robles.
Did you ever meet Ernest & Julio?
Smith: I was fortunate enough to work with Ernest and had a tremendous relationship with the Gallo family. One thing that I learned very early was Ernest & Julio's philosophy: "Everything starts with the consumer." Ernest would spend a lot of time in retail stores, and was always curious about consumer behavior. There's a direct parallel between what we do in shopper today and what we did back then.
Before the interview started, you said that Ernest and Julio's relationship was competitive.
Smith: It's a great story of sibling rivalry. Ernest was in sales and marketing, so it was, "I'll sell more than you can make, Julio." And Julio was the winemaker and did the grape supply, so it was, "I'll make more than you can sell." It really was the foundation for the company.
What is Joseph Gallo [Ernest's son] like?
Smith: He's the patriarch of our company. I have a phrase: "The speed of the leader determines the rate of the pack," and Joe Gallo exemplifies that.
Eventually you became responsible for sales and local marketing for all of Northern California.
Smith: That was a big step. It really taught me how to collaborate with customers and build relationships, both personally and professionally. Eventually, I took some of these collaborative business partnerships on the road. Then in 2010, we reorganized, changed the name from "trade development" to "customer development," and incorporated all of our regional customers, basically going from 25 customers to the top 100.
You also have responsibility for the category management Center of Excellence.
Smith: Managing the categories is of the utmost importance in the wine and spirits business. You manage the category, assortment, provide suggestions, shelf methodology, cross-merchandising – all the pillars of good category management are incorporated into our recommendations for our customers.
In 2013, digital was added to your existing responsibilities.
Smith: The digital odyssey is a hot topic in this space and we think there's real opportunity to bring awareness to the category. For example, we're working in the app space in terms of education for the novice wine consumer. And while there are a lot of regulations state by state controlling where you can ship to, we're doing a lot of work around click-and-collect and personalized offers, which is a big priority with our retail partners.
When were you first introduced to the concept of "shopper marketing"?
Smith: Well, I can remember that from day one as a salesperson, they had me building point-of-purchase displays, handling coupons and placing bottle-neckers and various marketing techniques in-store. But about four years ago, we were challenged by Joseph Gallo to explore becoming a true shopper marketing organization. He's always been ahead of the trend and bringing that to our organization was probably one of the best things we've ever done. We've really evolved in terms of the path to purchase for the category and decision trees. We're doing a lot of work around aisle reinvention to increase awareness, penetration and conversion for the category. We changed our planning cycle. We developed a 360-degree integrated shopper plan. One of the strengths of our company is that we rally behind a goal and we've really come together in this whole effort.
Could you have done this shopper marketing evolution without Joseph Gallo's mandate?
Smith: Absolutely not. He was the visionary and the catalyst. We still meet regularly to update him on how we are doing.
If you had to give a tip to a company about making shopper marketing work, what would it be?
Smith: I think it is communication. You've got to get the right people in the room, and you have to listen to candid feedback whether it feels good or not. React to the journey and make adjustments.
Do the shopper marketing guys get out into the stores with you?
Smith: We are all out in the stores, which really helps drive opportunities. Senior leadership too – they get out into the stores on a regular basis. I think we are a unique organization in that way.
I hadn't realized until prepping for the interview that Barefoot has become the world's largest wine brand.
Smith: It was started by a wife and husband in the late 1980s. We purchased Barefoot in 2005, and this year it will do more than 20 million cases. It's a very approachable brand, with the iconic symbol of the foot, casual colors – and the wine itself really over-delivers for the price.
Is the American public getting acclimated to wine?
Smith: I think people are drinking better. Household penetration is still way behind Europe, so there's huge potential. The wine business has doubled the last 20 years, and we think it's going to double again in the next seven.
Am I correct in sensing that education plays a big role in wine marketing, and that it seems to be working?
Smith: Definitely. There are huge opportunities: food and wine pairings, wine dinners and, where demonstrations are legal in-store, sampling so people can learn what the various wines taste like. In wine, the taste profile can be a bit of a barrier at first [for newbies] compared to, say, craft beer.
Aside from sales, what metrics matter most to you?
Smith: I'll just say that I think that's still a large opportunity in the areas of ROI and how we analyze our spend, and we've come a long way in the last five years, but we still have a ways to go.
If we were at HQ and could take a group photo of you with your key colleagues, whom would you want in it?
Smith: Well it would be great to have Joe Gallo. It would be great to have Steve Sprinkle [now vice president, U.S. sales] who had my job before I assumed it in 2005. My current boss has been fantastic; his name is Tom Gillespie [vice president] and he's been extremely supportive. And then, of course, there's Ryan Martin, Rob Ruijssenaars and Beth Orozco [senior directors, shopper marketing] … they've all embarked on this shopper marketing journey with us, and I would be remiss if I didn't put them in there.
Last three questions … what do you like best about your job?
Smith: The people, both internally at Gallo and at our customers. I've fostered a lot of great relationships. You know, if you love what you're doing then it doesn't feel like a job.
What three words best describe you?
Smith: Passionate, friendly, funny.
What advice would you give someone just breaking into the CPG business?
Smith: I think the best advice is how we do things here at Gallo. You learn how to walk a store; see where the traffic flows; learn what's going on in the industry, and with each customer, and what they are focused on. Don't get stuck in an office and don't ever lose sight of what's happening in the store. I'm in a store every day.
Really? Every day?
 Smith: Every. Single. Day.
Who do you learn the most from: cashiers or store managers?
 Smith: The consumer.