H-E-B Gets Its Grill On
Get great content like this right in your inbox.
Subscribe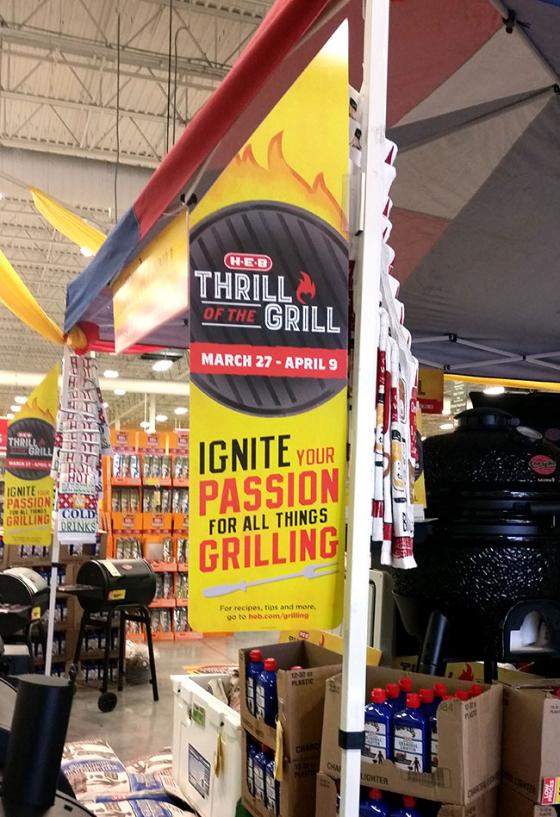 Texas-based H-E-B recently wrapped its annual, two-week-long "Thrill of the Grill" campaign, promoting all the means necessary for grilling season with a slew of deals and a sampling event.
This year, the campaign ran from March 27 through April 9, spanning offers on grilling essentials including 20% off grills, 20% off private-label Kodi coolers (often compared to the Yeti brand), 25% off cooking tools and utensils, and a number of BOGOF deals.
The deals were promoted throughout stores and online. Some were activated through H-E-B's typical in-store yellow coupons often clung to product displays, while others were instant savings automatically activated at checkout.
In stores, a spectacular drew attention to the seasonal category by uniting a plethora of essentials under a tent, including grills, lighters, coal and lighter fluid. Positioned upfront, the tent was outfitted with custom P-O-P materials including a Thrill of the Grill floor cling, violators affixed to the tent legs and other signage. The violators also directed shoppers online to heb.com/grilling for recipes, tips and more.
Nearby, a pallet stocking Clorox Co.'s Kingsford coal was outfitted in a corresponding Thrill of the Grill base wrap, while a tall, adjacent Bic floorstand stocked even more lighters. In the liquor department, a Thrill of the Grill stanchion sign dangled a "mix & match" deal offering 15% off all single-serve wine cans or multipacks with purchase of six or more. A corresponding banner above the interior "Welcome" sign also supported, while inviting shoppers to "ignite [their] passion for all things grilling." In addition to being unboxed and put on display up front, grills were also found boxed in the "Texas Backyard" section of the store.
Online support spanned a March 29 email dangling $11 in savings including digital coupons for $5 off a $20 purchase from the meat market (which expired on April 2) and $2 off a $6 purchase of BBQ sauces, marinades, steak sauces or wing sauces. The email also plugged the grocer's April "Primo Picks" issue, which serves to highlight "new limited-edition items and delicious products from Texas and around the world," and is full of grilling and other spring products from both national and its private labels.
Other online support spanned a dedicated web page that showcased a "Grill Guide," which entailed a shopping guide and related videos including grilling how-to videos. It also showcased "Featured Recipes" perfect for grilling season. Three 16-second YouTube videos additionally supported (view one below), while depicting the same "ignite your passion for all things grilling" slogan used in other marketing materials.
March 27 and April 3 circulars also promoted the event with a cover feature and a full-page interior feature each week. A segment on San Angelo, TX's KLST local news (view below) supported, with area community coordinator for San Angelo H-E-B's Stephanie Reisner also promoting the sale event.
The campaign closed with a grilling event on April 6 and 7 that included cooking demos, free samples and more, and was also promoted via the aforementioned circular features.
Thrill of the Grill has evolved substantially over the years. In 2007, the campaign primarily only entailed the sampling and grilling event, which then took place on two consecutive weekends. Since then, H-E-B has expanded the campaign and promotional efforts across channels. H-E-B ran a rendition of Thrill of the Grill under the tagline "Adventures in Grilling" in 2017, but since then has gone back to the event's original name. The retailer even trademarked the Thrill of the Grill phrase in 2016.