Guess Gets Social with Branded Content
Get great content like this right in your inbox.
Subscribe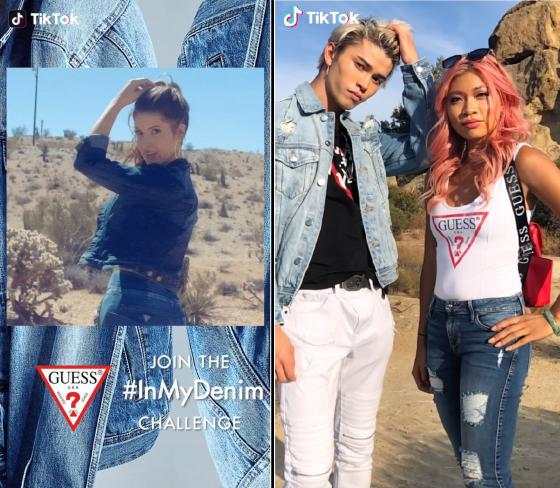 As the social media landscape becomes increasingly visual, Guess is working with TikTok to launch branded content in the U.S. and fashion-branded content globally.
TikTok's short-form video content app acts as an incubation hub for digital culture, and thus dominates the social platform space. In the first quarter of 2018, TikTok was the most downloaded iOS app, according to Sensor Tower.
"Discovery and innovation are part of Guess' DNA. We are excited to be the first major global brand to partner with TikTok in a truly organic and innovative way," said Edward Park, senior vice president of retail and digital at Guess.
"These digital natives' tastes and desires govern the future of social media and culture. A cluttered brand space demands unique, engaging content and integrated participation," continued Park. "Our partnership with TikTok is an exciting evolution within our digital marketing strategy."
The companies have come together to bring fashion content to the Millennial and Gen Z generations through their preferred medium: short-form video. On Sept. 1, Guess launched a fashion takeover on TikTok that led directly to TikTok's first promoted hashtag challenge in the U.S. As users opened the app during the brand flight, they were directed to the #InMyDenim challenge.
The phenomenon of hashtag challenges spreading across the globe has inspired millions of users to participate both organically and enthusiastically in viral calls to action, whether for a cause or just for fun. Guess kicked off the #InMyDenim challenge with popular content creators, including @ourfire (2.3 million fans), @madison_willow (983,000), @jammincammy (184,000), and @operamericano (380,000) participating in the denim transformation challenge.
"Trends often originate on TikTok and Guess is known for being ahead of the trends," said Matty Lin, director of brand partnerships at TikTok U.S. "One of the reasons we chose to partner with Guess ... is because [it is] a well-known international fashion brand that's very recognizable to our users, who are from all over the world. Guess is very tied into the TikTok audience and we are excited to see how the community jumps on the trend."