Georgia-Pacific Cuts Through Shelf Noise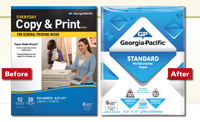 With the digital revolution and changes in how we access information, we've changed how we use paper in our daily lives. Home- and business-based inkjet and laser printers have increasingly replaced professional printers and copy centers, even for larger jobs. But while printing has evolved to make print jobs easy for consumers, the details on paper packaging have largely stayed the same, making it difficult for purchasers to quickly identify the right product for their specific needs.
Recent research by
Georgia-Pacific
, manufacturer of a wide range of communication papers, confirms the difficulty people have when purchasing copy and printer papers.
"Consumers want their paper purchases to be quick and easy, but not at the sacrifice of high quality and good value for a product that suits a particular need," says Bob Hieronymus, vice president of the uncoated freesheet category at Georgia-Pacific Communication Papers. "Research showed that people are confused by the many paper choices available and the attributes that distinguish one product from another on the packaging. Plus, product names are not very meaningful, adding further to the time it takes to make a selection."
To simplify and expedite the paper purchasing experience for consumers, Georgia-Pacific decided to re-launch its wide range of communication papers into three intuitive product categories that convey quality, with a new easily identifiable packaging design: Standard: Offered at a basic weight for routine documents like copies, drafts and other daily needs, this multipurpose paper also comes in a higher brightness option and a 30 percent recycled content option.
Premium: Extra weight adds thickness that makes this inkjet and laser paper appropriate for printing high quality reports, flyers and important documents that need to look appealing and feel durable. This medium-weight paper works well for documents printed on two sides because show-through is minimal. A higher brightness option is also available in this category.
Super Premium: A new ink jet and laser paper offering for Georgia-Pacific, this paper is the thickest, brightest and smoothest of the three paper categories for the most important presentations, resumes and brochures, where exceptional quality paper makes the document stand out.
Within the three tiers, other quality and purpose refining options are available.
Functional product features were also part of the new packaging philosophy. Most poly wrapped reams contain an easy open tear strip for quick opening, and select paper cartons feature a new EZ Access carton design. This design allows paper users to easily tear off the front of the carton for quick access to individual reams if the carton is not needed for a secondary use, like storage.
Simplification of the paper purchasing experience extends to a newly redesigned Georgia-Pacific papers web site (www.georgiapacificpaper.com), where users can easily filter and sort on parameters, like intended use, to find the right paper.  
---
FAST FACTS
"Consumers wanted their paper purchase to be clear and straight-forward, and the new category structure of our product portfolio, combined with the packaging change, bring them that value…"­
— Bob Hieronymus, Vice president, Uncoated freshsheet category, Georgia-Pacific
Consumer Insights Hit the Shelf
After gathering insights from thousands of business and consumer users of paper, Georgia-Pacific determined a need for a new streamlined packaging design and paper naming convention that would help to expedite paper purchasing.
Paper Confusion
In the past 50 years, printing media have changed from typewriters and printing presses to digital laser and inkjet printers. Consumers found themselves staring at store shelves of paper in packages cluttered with technical details and confusing names when many of them didn't even know or recall what type of printer they had.