08/28/2018
Forever 21 Adds AI-Powered Search, Navigation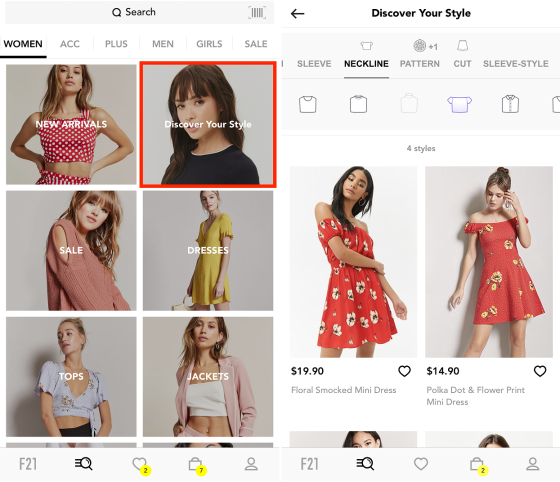 Fashion retailer Forever 21 is offering shoppers artificial intelligence-powered visual search and navigation through Donde Search.
Forever 21 shoppers will no longer be limited to text-based searches. The visual search and navigation function instead lets them search for dresses, pants, shorts, jeans and tops that will appear as a stand-alone "Discover Your Style" module on the Forever 21 home page (both mobile and computer-based). In addition, the company will leverage the technology for merchandising, product recommendations and lifecycle marketing efforts.
"Visual search technology bridges the gap between the convenience of online shopping and the rich discovery experience of traditional retail by enabling our customers to search for clothing in the same way they think about it: using visuals, not words," said Alex Ok, president of Forever 21. "Early data shows that this is one of the most important innovations in the e-commerce space in recent years."
Donde Search helps retailers solve product search and merchandising issues. The technology uses an algorithm that mimics the way shoppers think about products and provides more relevant recommendations for a better overall experience. It also helps retailers streamline and scale global merchandising and categorization efforts by removing local language barriers associated with text-based classifications.
"As e-commerce's share of retail sales continues to grow, it's more important than ever that retailers use a universal language that both shoppers and merchandisers can understand," said Liat Zakay, chief executive officer and founder of Donde Search.
Shoppers can now search items by simply clicking icons that represent the different features of an outfit, ranging from the length and fit of a skirt to the neckline and color of a shirt. The search feature debuted as "Discover Your Style" in the Forever 21 iOS app in May, and was initially available for the dresses and tops categories.
In the first month after launching the feature, the retailer saw an increase in sales conversion and a 20% increase in average purchase value for the two test categories. The initial success led the company to fast-track the large-scale integration of Donde Search, which uses AI, computer vision and natural language processing to deliver more relevant search results.