Elmer's Introduces Natural Glue Line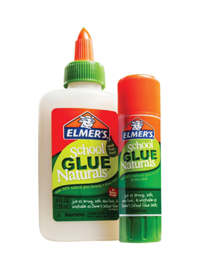 "Through consumer and industry research, we identified a demand for natural adhesive products from eco-conscious parents and teachers," says Lisa Singer, senior product manager for the Elmer's Stationery category. "While many people will still prefer our traditional white School Glue, we're proud to fill this niche need in the marketplace with the first and only natural adhesive for school use."
Elmer's pourable School Glue Naturals consists of 99 percent natural ingredients. The primary ingredient in the adhesive is plants, specifically American-grown corn — a rapidly renewable resource. The bottle is made from 25 percent post-consumer recycled materials and the label contains 20 percent recycled paper, is printed with soy-based ink and is applied with a natural rubber adhesive.
Also made primarily from corn, Elmer's Naturals Glue Stick formula consists of more than 88 percent natural ingredients. The sticks are made of 25 percent post-industrial recycled plastic. The labels are printed with soy ink on FSC-certified paper and the card is made from 100 percent recycled paper board.
Further, empty Elmer's School Glue bottles – both natural and traditional – can be recycled at home by consumers. In schools, the glue bottles and sticks can be recycled through the Elmer's Glue Crew Brigade with TerraCycle, an easy way for teachers and students to recycle and earn money and other rewards for participating in eco-friendly efforts.
Related Articles: