Editor's Note: Hello, and Goodbye, to 'Digital' Transformation
Get great content like this right in your inbox.
Subscribe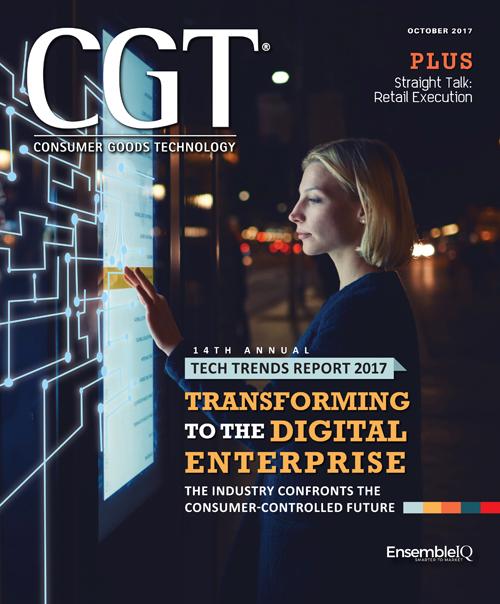 Read the full digital edition of CGT's October issue.
"We're in the first inning of a very long game when it comes to understanding how digital will change our businesses down the road," Joel Warady, chief sales & marketing officer for Mondelez International's Enjoy Life Foods, tells reporter Lisa Terry as part of our annual Tech Trends Report coverage.
The theme of this year's report is "Transforming to the Digital Enterprise," which refers of course to the numerous ways in which consumer goods companies are addressing the unprecedented changes taking place by rethinking and rebuilding their organizations and the systems and processes that drive them.
Warady might take issue with the wording of our theme, however. "Companies must remove the word 'digital' from the phrase 'digital transformation,'" he recommends. Instead, they need to "simply understand that all transformation must contain a digital component if they are going to be truly successful," he suggests.
The implication is pretty basic: Wholesale business transformation is required for CGs to remain relevant in a marketplace that's now driven more by consumers than brands or retailers. And digital tools and technologies are the only logical way to achieve that.
For our 14th annual Tech Trends Report, we departed from the format that we've used historically and instead fielded an original research study. (Our deepest gratitude goes out to Stephen Smith and Gartner for all the insightful analysis they provided as CGT's research partner over the previous seven years.)
The main objective was to get a clear perspective on the key issues facing CGT's own community of consumer goods companies, as well as to ensure that the data we used was as fresh as possible. That only seemed fair, since the need to develop a deeper understanding of the marketplace and operate as close to "real time" as possible are two of those key issues.
Another important issue is finding the right partners to help with the business transformation. We were fortunate enough to enlist Lora Cecere of Supply Chain Insights, a valuable long-time CGT contributor, who provided proprietary research and her own unique insights to the report's coverage of analytics, trade promotion and the supply chain. We are grateful for her participation.
Just as digital transformation has preoccupied the consumer goods industry's recent activities, so has the Tech Trends Report consumed most of the pages of CGT's October issue. So while you'll find our latest Straight Talk (debunking some myths about retail execution) on page 22, we've "gone digital" with two of this month's other features:

Who's Who in IT: In the latest installment of our ongoing series, CGT is proud to recognize 60-plus executives from more than 40 consumer goods companies who are leading much of the digital transformation covered in the Tech Trends Report — as well as keeping existing legacy systems running smoothly.
Supply Chain Execution Solutions: Our latest Tech Solutions Guide gives potential clients the lay of the land on 20 vendors offering software and services for building excellence in supply chain execution. (Editor's note: The guide will be available later this month.)
So once you're done digesting our Tech Trends Report and the rest of this print issue the old-fashioned way, visit www.consumergoods.com to read our other features online — consider it a little personal digital transformation.
--Peter Breen, Editor-in-Chief
To read the rest of CGT's October 2017 issue, click on the article links below:
Tech Solutions Guide: Supply Chain Execution Solutions