CVS Jumps on the CBD Train
Get great content like this right in your inbox.
Subscribe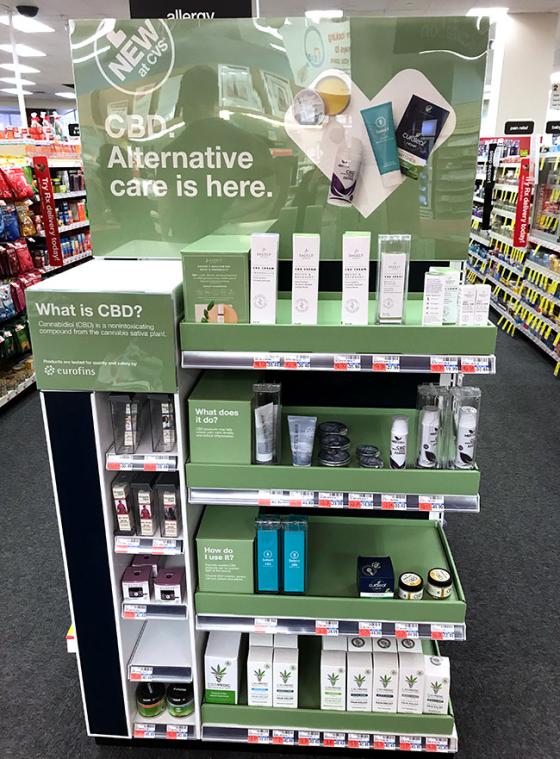 Just as the cannabis and CBD (or cannabidiol) industries are really ramping up, CVS/pharmacy is getting in on the hype by rolling out CBD topicals to more than 800 stores spanning eight states: Illinois, Colorado, Alabama, California, Kentucky, Tennessee, Maryland and Indiana.
Though CVS' CBD assortment excludes edibles and CBD-derived supplements (for now, at least), it spans lotions, roll-ons, sprays, salves and creams. "We are carrying hemp-derived CBD products in select states to help meet consumer demand for alternative care options," CVS Health spokesperson, Mike DeAngelis, said in a statement.
Since CBD is not yet regulated by the FDA, the drugstore chain has been rather calculated when choosing which brands to partner with for the initial rollout. "We are working with several CBD product manufacturers that are complying with applicable laws and that meet CVS' high standards for quality," the CVS spokesperson said. "We have also partnered with Eurofins, a third-party laboratory, to test all CBD topicals for THC (not to exceed a 0.3% threshold), CBD content and certain contaminants. Only products passing these independent tests are offered for sale in our stores."
Shortly after CVS made its announcement in March to sell CBD – which has become increasingly popular with consumers for treating such ailments as pain relief, sleep difficulties and anxiety – channel rivals Walgreens and Rite Aid followed suit. For CVS, however, the decision comes at a time when the drugstore chain is increasingly positioning itself as a health hub destination, a place to go for all health-related needs. And as CBD becomes more widely accepted for its potential health benefits, the decision to add topicals to its stores makes sense.
CVS Health chief executive officer Larry Merlo told CNBC during a sit down interview for Jim Cramer's "Mad Money" segment: "We're gonna walk slowly, but we think this is something customers are going to be looking for as part of the health offering."
CVS' marketing campaign for this rollout has yet to take full shape, and it may look different than many of its other new product launches. In the U.S., CBD brands are unable to advertise on social media. Even though it is now legal to grow industrial hemp after the passing of the Farm Bill just last year, the FDA in December also handed down a ruling that restricts sales of CBD-laced products. Despite the ban on social media ads, influencer marketing is still allowed and is likely to play a role in the retailer's efforts as CVS incorporates influencers in most of its marketing campaigns.
However, some brands still plan on promoting their products with clever digital activity. According to AdWeek, CVS CBD-supplier Medterra will use digital advertising to attract shoppers, marking the first time the company has used ads to drive consumers anywhere beside its own e-commerce website.
For the campaign, Medterra is working with mobile ad platform Cluep to geotarget ads to anyone within three miles of a CVS that might be interested in a limited offer coupon. The campaign will also retarget consumers near select CVS locations who have posted on public social media accounts seeking CBD product recommendations.
AdWeek reported that current sales of the brand's products are around $4 million, though the company expects that will expand to $92 million by the end of the year because of the large retail rollouts it has its sights on across the U.S. including in the grocery channel. Top executives at major grocers such as Kroger and Safeway as well as mass merchants including Walmart and Target have also been quietly meeting with CBD-infused product manufacturers, requesting samples, lab results and pricing information, according to the New York Post, which reported that the industry is "expected to more than double to $2.1 billion by next year as consumers pay premium prices."
Other brands rolling out to CVS stores with Medterra include Massachusetts-based marijuana company Curaleaf and Telford, PA-based Elevate Hemp.
In stores, pastel green endcaps stock CBD products from Elevate, Curaleaf and Medterra upfront. A number of circular features depicting the same light green creative also have supported so far. The features also direct shoppers to cvs.com/cbd, though the e-commerce shop does not yet exist. 
NOTE: For more on CVS/pharmacy, visit p2pi.org. Path to Purchase Institute members have access to more than 3,400 images and 400 articles of marketing and merchandising activity at CVS, along with a full Retailer Profile outlining the chain's operations and strategies.