Coca-Cola Endcaps Bring Shoppers Down Albertsons' Aisles
Get great content like this right in your inbox.
Subscribe
New York — Albertsons Cos. was having trouble getting foot traffic through its beverage aisles. In 2014, 40% of its shoppers were exclusively perimeter store shoppers and, as a result, the grocer's conversion rate with carbonated soft drink buyers lagged behind competitors.
"We had a multimillion dollar opportunity to close this gap," said Karen Sales, Albertsons vice president of shopper marketing, during a presentation at the 2017 Shopper Marketing Summit.
With a 93% household penetration rate, Coca-Cola Co. was the right CPG to help Albertsons in this mission.  As it celebrated the 100th anniversary of its iconic contour Coke bottle, the timing was also right for the manufacturer to leverage the power of the brand and the upbeat, cheery attitude that consumers know.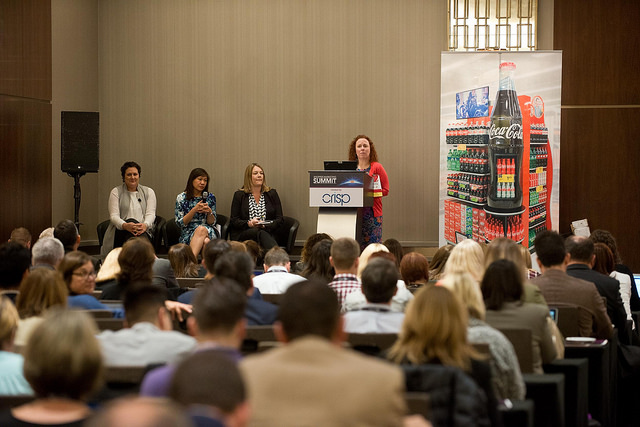 Coca-Cola and Albertsons brought together numerous teams within the two companies in order to gather key shopper insights and "ideate what was possible," according to Coca-Cola senior shopper marketing manager Liza Etu, who also spoke at the presentation.
Sales described the retailer's target shopper and focus of the initiative, "Melanie," a busy working mother who incorporates soft drinks into meals with her family and snack occasions, or while "chilling out." Aged 35-45, Melanie is value-oriented but also appreciates quality and variety.
"We needed to remind Melanie why she loves soft drinks and show her the range of choices," Sales said.
Image Gallery
Working with Los Angeles-based Chase Design Group, Coca-Cola developed a display that moved past price promotion to connect with shoppers in an emotional manner through equity colors and key design cues.
The Coca-Cola "Iconic" endcap, which won a Design of the Times gold award in the grocery/supermarkets category, infused the well-known bottle into the core of its design and employed optimistic imagery that depicted meal occasions associated with Coca-Cola soft drinks.
The display didn't carry traditional product sizes, instead stocking smaller transactional packages from multiple brands that intended to convert new customers and introduce them to the category. "The goal was to stop the pilot from their autopilot mode and drive them down the aisle through this [display]," Sales said.
Coca-Cola supplied endcaps to three Safeway locations in California and Arizona as part of the initial round of testing. Following positive results in the first 26 weeks of installation, the endcaps rolled out to an additional 247 stores across the U.S. in fall of 2015. Ultimately, the initiative delivered both increased spending and trip volume within 52 weeks of tracking results.
In 2016, Albertsons and Coca-Cola built on the success of the endcap by implementing a digital element that would further drive engagement. The Coke Digital Innovation team worked with Google's DoubleClick to add video screens to endcaps in 210 stores. The technology enabled the retailer to quickly push out content customized by key localized factors, such as chain promotions and sports affinities, and increased efficiency by allowing the updates to be made from a central location.
According to Etu, aligning all stakeholder goals was a key part of the overall process, allowing for joint investment. The development and implementation of the endcap was a deeply collaborative "journey" over three years that brought together merchandising, marketing, sales, insights and other teams, as well as suppliers, bottlers and various retailer divisions.
The success metrics for the program were clearly defined and benefitted all stakeholders as well. While the endcap naturally drove Coca-Cola sales, it also served Albertsons by boosting the entire soft drinks category and increasing household conversion.
Also essential was continuous learning and adaptation. In addition to adding new elements like the TV screens, the team also learned from its own mistakes: When they found that endcaps without coolers actually performed better, they were able to apply this knowledge to future endcaps in new stores.
Finally, the program's success hinged on insight-based solutions that put the shopper top of mind, Etu said.