CGT February 2019: Straight from the Sources
Get great content like this right in your inbox.
Subscribe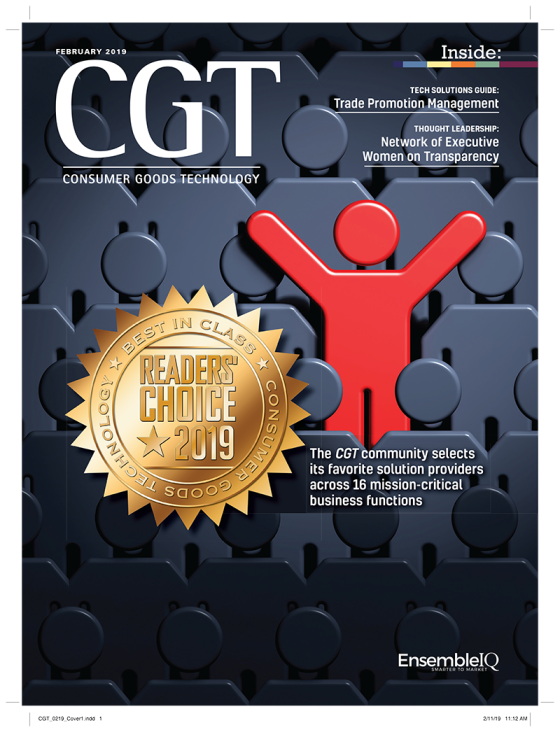 The full digital edition of CGT's February 2019 issue is available here. The table of contents can be found below.
Reading through the comments provided by the consumer goods professionals who participate in our annual Readers' Choice Survey is an enlightening experience. While these surveys are taken under a promise of anonymity, a quick look at what's being said without specific attributions might be a good exercise for the industry.
The positive evaluations that we receive are sometimes so effusive, we wonder if they might have been written by the solution provider's mom (or maybe its accountant); the negative reviews can be so harsh, we wonder if a stolen girlfriend might be the underling motivation.
Collectively, the comments present a pretty clear picture of an industry that now relies on information technology not only to manage daily business functions, but to drive future success. With that much at stake, the satisfaction bar rises significantly.
Most of the positive comments cover typical business topics, praising providers and solutions for cost-effectiveness, ease of use, flexibility, responsiveness, adaptability, integration potential and the like: "Does a good job," "Easy to use" and "Quality work at a fair price." Many of the negative responses cover the same topics just as succinctly: "Poor performance," "Difficult system to use" and "It's expensive."
The comments we like best are the ones that point to something more than a traditional customer-vendor relationship, that go beyond the platform capabilities and the software functionality — and the price — to address the growing need for consumer goods companies and their technology providers to establish more collaborative relationships.
Here are a few examples: "Trusted partner. Flawless execution" (see the Consulting category's "Customer Satisfaction" leader). "A strategic partner that has demonstrated value for more than 10 years" (see Outsourcing category). Here are our two favorites, garnered by the same company: "They are key partners and critical to our success," and "I get the feeling they really care about our business" (see the Demand Data Analytics category).
There were backhanded compliments as well. "It's not the easiest, but it is the best." "It meets our needs today, but it doesn't offer the opportunity for next-gen tools." And our favorite, a true testament to tolerance: "The package is complicated and expensive to upgrade. Support is expensive and slow. However, it meets most of our needs."
There were plenty of outright knocks, too, from users dissatisfied with the tools they've been handed, directors unhappy with implementation progress, or VPs still waiting for the promised results. "It's lacking functions." "Has not met expectations." "There have been some major challenges."
Granted, you can't please all of the people all of the time. Even the best solution providers will occasionally stumble with an account, and there most assuredly are a few clients out there that are pretty close to unsatisfiable. That theory is often clearly evident in the survey results, when a company that gets very high satisfaction ratings and positive reviews from most clients is absolutely shredded by one disgruntled user.
But there were some patterns evident, the most concerning of which illustrate cases of vendors that have little interest in being true partners: "We are forced to comply to their software." "The only time I hear from them is when our subscription is up for renewal." "They seem collaborative, but in reality are ignoring requests for improvement."
So, if we have any advice to give solution providers, it's this: Don't be complacent. Improve your products, but also improve your service offerings and, perhaps just as importantly, commit to being the real business partners your clients need. If not, they might end up looking for another company that will.
Finally, our hearts go out to that one industry professional who was forced to select Microsoft as his most valuable solution provider simply because, as he lamented, "We still live primarily in Excel." Here's hoping he can find a much more strategic solution partner in the very near future.
Peter Breen, Editor-in-Chief
To read the rest of CGT's February 2019 issue, click on the article links below:
Readers' Choice Survey 2019
Tech Solutions Guide: Trade Promotion Management
Guest Column: Network of Executive Women on Transparency
Industry Insights: Building Omnichannel Capabilities