Best Buy Modernizes Visual Merchandising Processes
Get great content like this right in your inbox.
Subscribe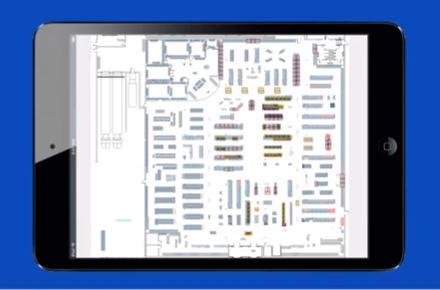 Best Buy has digitized another part of its business: its historically paper-heavy, time-consuming and headquarter-centric store merchandising system.
Best Buy has partnered with cloud-based visual merchandising software provider One Door to digitize its print-based merchandising system.
The retailer's new tablet-based digital map software replaces and substantially simplifies the cluttered 18-layered store maps and planograms that were difficult to read. Using embellished "colours and halos," the software tells employees exactly where to find products and displays. It also localizes all the information needed by in-store merchandising teams such as the store map, planograms and visual merchandising standards (all formerly found in separate places) so they can be accessed in the field, in real-time, on a tablet.
During a joint session at the National Retail Federation's 2019 "Big Show," Aaron Pyles, senior director of retail operations for Best Buy, said the retailer has heard for years that the 18-layered store maps and planograms are hard to read and require too many steps. The old, primarily print-based system was not only tough to understand but also required multiple trips out of the physical store and into the warehouse, taking up too much associate time that could be spent serving customers.
Employee feedback helped form a more efficient, system-wide practice that — like the electronic shelf labels (ESLs) Best Buy has introduced to 280 stores (with more pending) — allows for real-time access to data.
"Digital ends up giving everybody in the process a much higher level of visibility and confidence that things are being done properly, and ultimately, that stores are being set the way they want," Tom Erskine, chief marketing officer and senior vice president of product, One Door, told NRF's STORES magazine.
As a result, Erskine added that the new system addresses a number of pain-points, by driving:
Better sales results, "because when people can find what they're looking for in stores, the stores sell more."
Less cost in stores, "because associates know exactly what to do, in less time."
Less cost at headquarters, "because the application enables the visual merchandisers to be five to eight times more effective than they would otherwise normally be."
Creating merchandising processes that work for everyone required Best Buy to listen to employees at all levels — an idea that makes sense for the retailer as it continues to intently focus on employee needs and wants, as well as elevate their roles.
Just last year, Best Buy gave its logo — the iconic yellow price tag — its first makeover in over 30-years. In conjunction, the retailer unveiled a brand refresh supported by a marketing campaign highlighting its culture, expertise and employees, and offered a new vision and tagline: "let's talk about what's possible."
In alignment with that vision, Best Buy debuted ESLs from Pricer, reduced shelve space for CDs and introduced more products and services to help shoppers on their journey through the digital age, while also continuing to invest in and develop systems that improve the efficiency of employees and, in turn, create a better experience for shoppers.