Avocados From Mexico Sends IBM Watson to the Dogs
Get great content like this right in your inbox.
Subscribe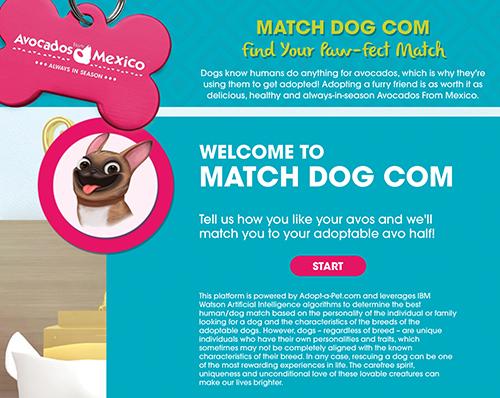 Avocados From Mexico hosted an IBM Watson-infused digital experience as part of a seasonal campaign that culminated in the brand's fifth annual Super Bowl TV spot on Feb. 3.
Dubbed "Anything For Avos," the effort centered on a dedicated digital platform containing more than 20 interactive content activations (including recipes) that underline the value of Avocados From Mexico. 
Activities included a partnership with news parody website The Onion to present "news" about technology that lets humans communicate with canines. Content was also shared across all major social media platforms including Snapchat, Instagram, Facebook, Twitter and Pinterest.
"Our idea for this year's Big Game campaign is that avocados are so desirable that people will go to great lengths for them and, as our fans have come to expect, we're displaying this with our classic humor," says Ivonne Kinser, head of digital for Avocados From Mexico. "This website will have many opportunities for people to engage with our brand and have fun with the idea of dogs being able to communicate."
Meanwhile, the "Match Dog Com" program seeks to help consumers interested in adopting dogs find ideal matches in their areas. The IBM Watson-powered platform makes the matches based on answers to questions regarding lifestyle preferences. Avocados From Mexico worked with dog trainers and IBM to establish the algorithms needed to identify ideal breeds as well as dogs available for adoption from Adopt-A-Pet's robust national database. 
In other digital components, Avocados From Mexico again joined with 2018 campaign partner Inmoji to let consumers turn selfies into clickable emojis and alter their pictures in various ways involving avocados through the Silicon Valley startup's Picmoji feature.
Elsewhere, the brand released a 15-second teaser of the Super Bowl spot, which stars Broadway/TV star Kristin Chenoweth helping to deliver the message that "Avocados From Mexico are Always Worth It." The full spot aired during the second quarter of the game's broadcast on CBS-TV.
Avocados From Mexico is a wholly owned subsidiary of the Mexican Hass Avocado Importers Association, which was formed to drive advertising, promotion, public relations and research for all related stakeholders. Under agreements, MHAIA and the Mexican Avocado Producers & Packers have combined resources to fund and manage Avocados From Mexico, with the intent of providing a focused, highly effective and efficient marketing program in the U.S.