April 2019: CGT is on the Rise
Get great content like this right in your inbox.
Subscribe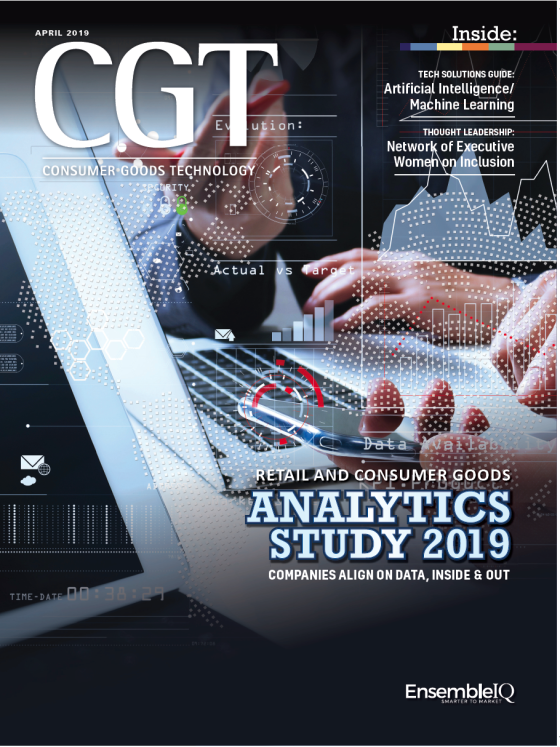 The full digital edition of CGT's April 2019 issue is available here. The table of contents can be found below.
Technically speaking, you're reading the final issue of Consumer Goods Technology. But we're not going anywhere. We've just decided to practice what we've been preaching for the last few years.
For the history buffs, CGT originally launched in September 1992 as Consumer Goods Manufacturer with a heavy focus on "technology partnering for supply chain management," as its tagline proclaimed. As technology became increasingly important throughout the enterprise, the Consumer Goods Technology name was adopted about 10 years later to more broadly cover "the intersection of business and technology."
Today, of course, we've entered an era in which discussing consumer goods technology as a distinct topic is a bit naive, since technology now provides the foundation for every aspect of the business. More importantly, the discussions about technology that CGT has covered in recent years have evolved from tactical examinations of function-level "management" and "optimization" to strategic, full-scale "transformation" across the enterprise.
At the core of this transformation is one critical need: Companies that were built through the methodical, efficient development of systems and processes that successfully created (and then fulfilled) consumer demand at scale must now reinvent themselves to become agile organizations that can nimbly respond to rapidly evolving, consumer-driven demand.
Put more simply, consumer goods companies must strategically shift from product-centric to consumer-centric. And to do that, they need to better align internally, collaborate externally, and implement analytics-driven, consumer-focused business strategies.
While CGT has been chronicling this need for the entire enterprise to better understand consumers, our sister publication, Shopper Marketing, has been chronicling how the marketers, insights professionals and brand managers within its community need to better understand the rest of the enterprise — because the consumer demand they now encounter is just as likely an issue of product sourcing, or manufacturing, or order fulfillment as it is about one of the classic "Four Ps" within their traditional job descriptions.
With both communities looking for many of the same answers, it seemed only logical to bring them together, for CGT and Shopper Marketing to undertake their own transformation and align themselves to better address the needs of this industry. Beginning next month, we will do just that through a combined publication called RISE: Retail Intelligence for the Strategic Enterprise.
Our goal with RISE is to guide the industry toward sustainable growth and operational excellence by identifying unique solutions to the challenges of a consumer-centric marketplace. We will cover every aspect of the business that impacts consumer purchase decisions, from product ideation and development through the manufacturing and fulfillment processes and right on to the various sales and marketing activities that now drive engagement.
Of course, we'll also continue to examine the existing and emerging technologies that companies are leveraging to make these transformations more efficient and more effective.
"Technology" won't be in the name anymore, but the topic will be present on every single page.
To that end, many of the well-known event and content initiatives you've enjoyed over the years will continue. We'll host the Retail & Consumer Goods Analytics Summit in Chicago later this month, and we'll again stage the Consumer Goods Sales & Marketing Summit — although at a new time and place this year: October, in Boston.
Correspondingly, we'll continue publishing an annual Retail and Consumer Goods Analytics
Study (as you'll see, below), and a Sales & Marketing Report — along with solutions guides for trade promotion, retail execution, supply chain management, digital marketing and other areas with key technology needs.
The consumer goods industry is facing more challenges than it ever has before. At the risk of sounding too corny, CGT wants to help you "RISE" to those challenges. We'll start proving that to you next month.
Peter Breen, Editor-in-Chief
To read the rest of CGT's April 2019 issue, click on the article links below:
Retail and Consumer Goods Analytics Study 2019
Tech Solutions Guide: Artificial Intelligence/Machine Learning