7-Eleven, Coca-Cola Tap into World Cup
Get great content like this right in your inbox.
Subscribe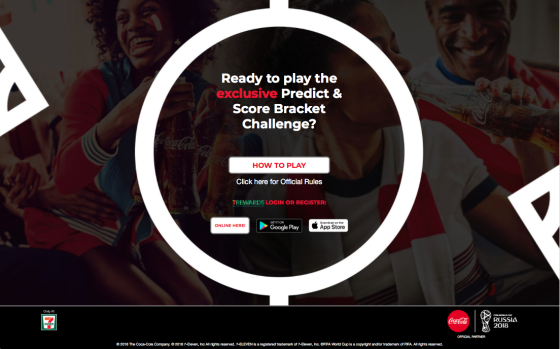 Coca-Cola Co. has teamed with convenience store leader 7-Eleven this summer to stage a "Predict and Score" game/sweepstakes, the largest FIFA World Cup promotion in the beverage giant's history. 
The sweeps is running across more than 61,000 7-Eleven stores in 14 countries, including about 9,100 U.S. locations. U.S. shoppers play by purchasing 7-Eleven-exclusive "Share a Coke" cans to receive unique codes found under the tabs. 
The U.S.grand prize is $50,000. Consumers can also win thousands of points for the 7Rewards loyalty program redeemable for select items through the retailer's proprietary app. The contest runs through Aug. 31. 
"This year, 7-Eleven's collaboration with Coca-Cola is bigger, better and more fun than ever," said Gurmeet Singh, 7‑Eleven's chief digital officer and chief information officer. "Integrated into the enhanced 7Rewards platform, Predict and Score brings a new way to engage with 7-Eleven while enjoying the summer games." 
Coca-Cola has been a global FIFA World Cup sponsor since 1978. The global tournament is staged every four years. In 2014, Coke joined with 7-Eleven for a promotion involving 35,000 stores, then almost doubled the total this go-round. 
"That's more stores than any other international retailer or restaurant," said Jerome Del Porto, 7-Eleven's vice president of international operations. "7-Eleven wanted to play big to match the enthusiasm of fans around the world. Thanks to Coca-Cola, 7-Eleven was able to take the field with the biggest international promotion in company history." 
In the U.S., Predict and Score works as follows: Each week through July 15, a bracket featuring upcoming games and teams appears in the app. To find the Predict and Score game in the app, participants click "Deals" and follow links to enter a code and then choose their picks to win that week. 7Rewards members earn 10 points each time they play and an additional five points for each correct prediction. Only one game code can be entered weekly.
Players who make correct predictions can also move up the leader board. The four players at the top of the leader board when the championship game concludes on July 15 will win prizes. First through fourth place prizes are a $2,000 Delta Vacations gift card, $1,000 and $600 Best Buy gift cards, and a year-long sports streaming package. The next five players in the rankings receive 10,000 7Rewards points. Thousands of 7Rewards points will be awarded to the remaining top 300 players. 
All Predict and Score winners, along with other eligible entries received, will be entered into the $50,000 sweeps. While the game ends July 15, the sweeps continues through Aug. 31. 
Other participating countries are Mexico, Japan, Thailand, Singapore, China, Malaysia, Vietnam, Taiwan, Korea, Norway, Denmark, United Arab Emirates and Hong Kong. Each country has its own spin on the promotion.
While Coke's promotion with 7-Eleven is the biggest, the c-store chain is not its only World Cup partner. The Home Depot, for one, is staging a soccer-themed sweepstakes with the manufacturer's Powerade brand that involves a $1,000 store gift card as grand prize and 10 first-prize portable soccer goals.
Coca-Cola is also partnering with McDonald's on an instant-win game called "Shout & Share a Coke." The initiative involves promotional cups with scannable icons and a social media component in which contestants post photos of themselves and their cups. Entrants can win one of more than 500,000 prizes instantly, including trips to see World Cup games.