2016 Readers' Choice Survey: Enterprise Resource Planning
Get great content like this right in your inbox.
Subscribe
By: Kaushik N Malladi, IBM Global Business Services — Retail & CP Center of Competence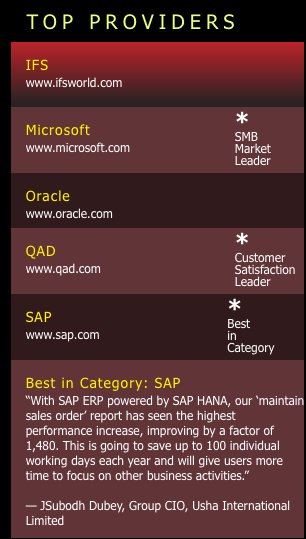 The ERP marketplace is highly competitive and faces significant challenges in the consumer products industry. The listed providers are the usual suspects. They bring to the table different perspectives and strengths in different segments of the industry. SAP is still the dominant provider in this industry while Microsoft is making strong gains primarily with mid-market companies using its cloud-based solutions. IFS continues to build on its core foundation and microvertical strategy for companies that are looking for very specific, niche capabilities. Best of breed providers such as Salesforce and Workday will continue to put pressure on the leaders to innovate and deliver cost effective solutions.

Consumer products companies are facing a very challenging business environment. Consumers are demanding high quality products and experiences, but are very value conscious. Companies require ERP providers to offer solutions that are relevant to them and are easy to adopt. The concept of "one size fits all" is a thing of the past. To support this dynamic marketplace, ERP applications will need to be easy to use, flexible, and quick to implement. In addition, ERP applications will have to provide a platform for easy integration with other applications and technology. This will enable companies to deploy new capabilities more quickly and easily, while laying a strong foundation for the future.

The needs of consumer products companies are rapidly changing as a result of the connected world. Social media, Internet, and mobility require companies to be "open" around the clock. These changes require companies to have a strong foundation to expand their reach to the consumer. ERP companies recognize these changes and are responding. ERP providers are leveraging their industry templates to bring best practices to customers and reduce the implementation timelines. Most ERP providers have cloud solutions and are increasingly focusing on the integration of analytics into their platforms. In order to improve the adoption of the applications, significant investments are being made in the user interfaces and functionality of the solutions.

ERP applications in today's world are critical for companies to perform, innovate, and lay a strong foundation for the whole enterprise. They also ensure that the employees' knowledge is institutionalized and competitive advantages are not lost by brain drain. These key success factors make a good ERP application a high priority for businesses to make an investment. This will allow consumer products companies to move beyond traditional ERP into areas like social media, mobility, cloud, cognitive computing, and omnichannel consumer engagement. Companies that do not recognize the need for a high performing ERP application will face significant competitive challenges and risk being left behind in this technology driven world.