Which Brands Won the Amazon Super Bowl?
Get great content like this right in your inbox.
Subscribe
The Patriots may have won the Super Bowl in 2017, but which packaged goods brands won over U.S. consumers as they planned their game-day parties?
In the two weeks leading up to Super Bowl LI on Feb. 5 (starting Jan. 23), Profitero's FastMovers reports, which monitor and benchmark Amazon's top 100 best sellers across key categories, identified the following sales winners in the Crisps & Chips and Soft Drinks categories on Amazon.com:
24 of Amazon's top 100 best sellers in the Crisps and Chips category were large packages (10 ounce or larger), with eight of the items explicitly labeled as 'Party Size' in their product title.

The average price of these products was $4.29, offering shoppers a "value" option to share with friends and family compared with the category's average price during the period of $7.42. (Average price during the two-week period is calculated by taking the sum of the individual average price of products and dividing by the number of products.)

PepsiCo's Lay's had the highest number of products to feature on Amazon.com's Top 100 Best Sellers in the Crisps and Chips category, but U.S. shoppers also embraced alternative options. Brands like Stacy's (with its pita chips) and Kettle Brand (with its natural potatoes) placed highly in the top 100, with eight and seven products, respectively.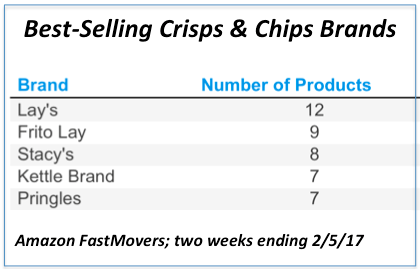 Super Bowl 2017 was also a good period for soft drinks brands at PepsiCo, which sponsored the highly anticipated Super Bowl halftime show featuring Lady Gaga. Pepsi had the highest number of products to feature in Amazon's Top 100 Best Sellers List with 14 products, ranking well above primary rival Coca-Cola's six.
While the big names in beverages dominated Amazon.com's best sellers, alternative brands also ranked highly. Antioxidants drink Bai accounted for 12 of the best-selling Soft Drinks products in the run-up to Super Bowl (which is being acquired by Dr Pepper Snapple Group.)

Bai also ran the highly praised TV commercial "Bai Bai Bai" starring Justin Timberlake during the game to raise the brand's profile. During the two-week period directly after the commercial aired (Feb. 6- 9), the number of Bai products on the Soft Drinks Best Sellers list increased from 12 to 14 products.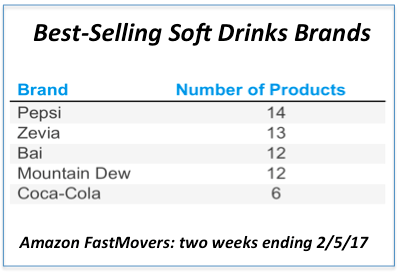 With Super Bowl Sunday ranking as the second biggest day of the year for U.S. food consumption (after Thanksgiving), it's no surprise that antacid sales were expected to increase by 20% on the following Monday. Leading up to the game, TUMS was the best-selling antacid brand on Amazon.com.
Consumers were looking for maximum relief after their Super Bowl feasting. In the two weeks leading up to the game, 33 of Amazon's top 100 sellers in the antacids category were 'Maximum Strength' related products. Keywords used by brands in their product titles included 'Maximum Strength' (16 mentions), 'Extra Strength' (nine), and 'Ultra Strength' (eight).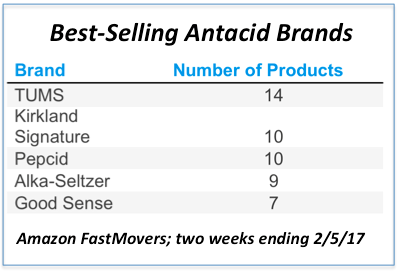 Post-Game Analysis
As with other categories for which prompted or impulse purchases and seasonal, event-driven promotions are key, there is an opportunity for brands to leverage periods of peak demand to drive sustained, incremental volume or share gains.
The unique dynamic related to "endless aisles" at Amazon.com and other e-tailers is that products with strong demand that are under-represented in physical stores often outperform online.
Whatever the desirable feature, benefit, or product attribute, niche or on-trend products are simply likelier to be in stock and easier to find on Amazon.com. And given how quickly and easily items can be listed and launched on Amazon, it's a great platform for emerging brands and new products.
During peak demand periods like the Super Bowl, it's also essential to stay in stock. Shoppers can't convert to buyers if an item is temporarily out-of-stock. And Amazon's algorithm rewards products that are relevant and selling well, while penalizing items that are relevant but don't sell well — including the occasions when they're out-of-stock.
Therefore, brands that have products that are in demand, with compelling content, and ample available stock, stand to build great momentum on Amazon.
Profitero's FastMovers report monitors Amazon.com's best-seller lists daily and analyze product performance over specific time periods to produce a cumulative ranking of best-selling products. Brands are ranked by the number of products that appear on the e-tailer's Top 100 Best Sellers during specific time periods. The reports are free. 
Jorge Castrejon is marketing insights analyst at Profitero.