What Blockchain Is, Why You Should Care
Get great content like this right in your inbox.
Subscribe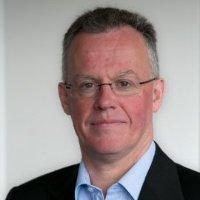 In this week's post, Michael's guest thinker is Peter Bambridge, who also works within Oracle's Industry Solutions Group focused on consumer markets. Bambridge's 35-year career has included work in retail at Marks & Spencer and with a variety of software/services organizations focused on addressing the needs of retailers and consumer goods manufacturers. He's been recognized as a thought leader while working with Gartner in industry advisory services, and also as an independent IT analyst covering area such as PLM, ERP, planning, supply chain and space/category management.
Michael Forhez: I keep hearing about blockchain as an exciting, upcoming technology. Could you please start by explaining what it is?
Peter Bambridge: Blockchain is a "distributed digital ledger." It consists of a series of blocks that each contain transaction data, a date and time stamp, and a reference to the previous block. Because the ledger is distributed across all the nodes in a network, it is highly resistant to modification.
The power of blockchain comes from the ability to mine these blocks in the chain and provide the resultant information and insights. By focusing on areas where value is exchanged, blockchain technology can help to establish trust that would not otherwise exist.
Blockchain can be used to simplify, accelerate and dis-intermediate traditional business processes. It is the underlying technology behind cryptocurrencies such as Bitcoin, which continues to grow in popularity and value.
MF: Where has blockchain been adopted?
PB: There have been a wide variety of applications of the technology, ranging from driving efficiency in the area of truck logistics, to managing global shipping, to ensuring provenance of diamonds, to tracing pork across China. The key to success in consumer markets will be to identify and prioritize the specific use cases where blockchain technology can best be applied, to prove these use cases, and to ensure smooth rollout at scale.
MF: So where in consumer markets might we see blockchain being adopted?
PB: For retailers and consumer goods manufacturers, there are a range of potential use cases in addition to regulatory compliance, ranging from supply chain visibility and logistics to payments/settlements, demand planning and forecasting, product provenance, traceability and countering counterfeits. We'll cover this subject in greater depth in a later entry in this blog series.
MF: Is this more than just simple technology tests in "proof of concept"?
PB: As with any new technology, it's important to assess the business opportunity while also ensuring risk mitigation. As a result, there have been a wide variety of early pilots and proofs of concept across a wide range of application areas and platforms. Some of these are now starting to roll out as part of production solutions.
In the financial services and insurance industry, where early trials have been running for over a year, we're starting to see adoption. In consumer markets, there has been some interest and there have been some proof of concept trials.
MF: What is holding back these proofs of concept?
PB: In addition to proving the capabilities of the technology, work is also progressing on the potential use cases where it could help realize significant business benefits.
As with any new enabling technology, establishing common standards will be critical to adoption at scale. With all enterprise solutions, it's important to ensure security, access control, reliability and scalability — not just the ease of development, maintenance and deployment.
Consumer markets is a connection of business processes that span many partners — from suppliers to manufacturers, to distributors, to retailers. Bringing everyone together on a new technology like blockchain is a difficult thing to achieve, and understandably takes time. The answer here is to have a technology "intermediary" to play quarterback and bring the right parties together.
MF: You mentioned anticipated future posts, what will these focus on?
PB: Upcoming topics will include addressing the following questions:
What are the implications for the consumer markets industry?

What are the right use cases to focus on in the consumer markets industry?

What is the right approach to adopting blockchain, and where should you start?

How will standards enable adoption?

How can blockchain and the internet of things align for maximum business benefit?