03/27/2018
Paris Goes Smart 'Phygital'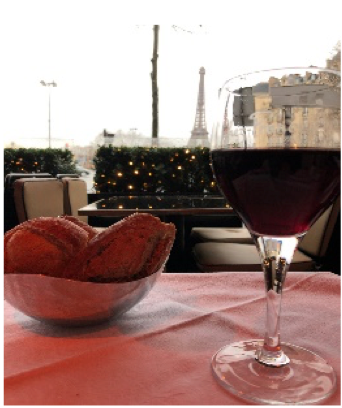 Earlier this month, I met in Paris with five of my colleagues based around the globe to discuss evolving retail trends. I thought I might take this opportunity to share some thoughts from our various store visits.
Founded by Celtic tribes in the 3rd century BC in what is now called France, Paris is today a global center for art, fashion, gastronomy and high culture. A city with over 2 million inhabitants, Paris has been a center of culture and commerce for over 18 centuries. Wide boulevards and the River Seine crisscross the "City of Lights." Landmarks such as the Eiffel Tower, the 12-century Gothic Notre-Dame and the landmark art museum, The Louvre, are the most featured and visited sites. Paris is also a city known for its cafés and designer boutiques along the Rue du Faubourgh Saint-Honore.
If you happen to serve the consumer markets as we do, and while doing some shopping for yourself and your family, you'll also have your eyes on what's new, what's working and what matters here, where shopping goes with seeing. One could  — I will — very easily describe Paris in three words: "It's an Experience!"
On Paris Retail: Some Research, Thoughts and Observations
Global advertising agency Havas conducted a survey with 1,024 respondents in France last April concerning their preferences for a "retail experience." Findings were illuminating:
Nearly three-quarters of the population suggested they're not ready for an exclusively automated relationship with brands/retailers.

Still, 66% would like brands/retailers to spontaneously offer them products that correspond to their tastes.

Add to this, 70% of 18-24 year olds want major pure-plays (Amazon, Vente Privee, Cdiscount, Le Bon Coin) to open physical stores.
Our Thoughts:
Retailers are (or should be) experts in sensing and responding to customer-driven trends.

The "survivors" have an unfailing — perhaps uncanny — ability to anticipate and adapt.

The retail model is changing from "inside out" to "outside in" thinking. Savvy retailers no longer try to sell what was bought; rather, they will buy what they can sell while doing so with unique twists of their own design.

The French retail direction is heading toward Smart Phygital, or the melding of pure-play with brick-and-mortar retailing, enabled by technology and sophisticated data platforms.
Smart Phygital means that, while CRM, omnichannel and bots define the path to purchase, data, customer insights, virtual/augmented reality, machine learning and predictive analytics can all enable retailers to add a dimension of purchase experience, or live retail, as a manifestation and accelerator for a more authentic, humanized transactional relationship with the customer.
Our Observations:
Paris is obviously an urban environment, with stores designed to fit into available, old-to-retrofitted spaces. Footprints range from the relatively small (Picard and Monopo) to the larger, still traditional (Galeries Lafayette). In each, you see something new, something old, something … evolving.
The pop-store Etam + Undiz, right off the Champs Elysees, represented one of our most interesting experiences. Walking in, one is greeted by an engaging staff who introduce shoppers to a world of digital displays. All products are equipped with RFID tags. An item of interest is held close to a digital display, resulting in the product being viewed with a wide range of fashion options.
In selecting a size, for example, the backroom receives a request to send that product to the floor, accomplished through an ingenious and visually intriguing system of pneumatic tubes running along the ceiling and throughout the store. This request for a specific product can be done from several kiosks, front and back, but also while in dressing rooms. Products are then pulled in the backroom, put in a plastic tube and sent to the shopper's location via the delivery system. Returns happen in similar fashion.
And all this happens within about a minute to 90 seconds — from the backroom into the hands of the shopper! At the same time, the digital display will suggest related items that combine well with the chosen item. In the back of the store, still on the shopping floor, one finds a social media wall where previous shoppers' selfies are posted, with catchy, playful tagged messages. Experience, complete!
That's not the full story, though, because despite all the apparent tech, this isn't really about tech at all. It's really about interactions and the interconnections between the physical store, the digital world, the backroom, connected-store associates, and between and among shoppers themselves. All these players combine to provide a seamless, transparent and high-service brand experience with shoppers who find the whole affair "fun and fabulous," as one young woman conveyed to us.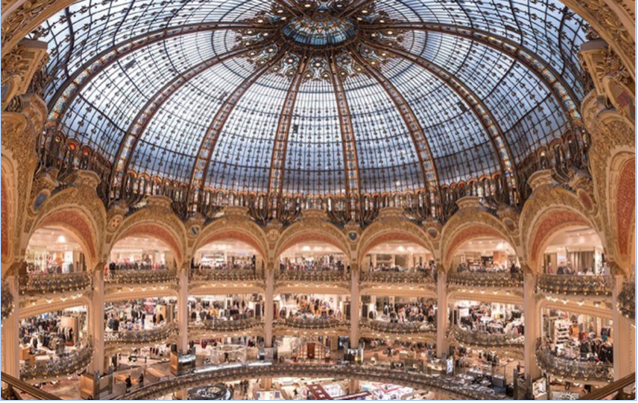 The "Big Takeaway," then: French retailers are attempting to preserve something of the past, with a bit of the present, all while adapting to and creating the future.
Héler Le Consommateur!