Trends in Experiential Marketing
Get great content like this right in your inbox.
Subscribe
Agency executives identify engagement content, mobile apps, Millennials and technology as driving forces in this evolving discipline
Experiential marketing – an evolving, loosely defined marketing strategy meant to immerse consumers in a live brand experience in a physical space – is booming both in terms of budget and creativity, thanks to smart digital, mobile and social extensions and a growing focus on connecting experiential campaigns to shopper insights. "Experiential is becoming a more important part of the marketing mix because it allows for impactful, deep, micro-reach engagement, but also fosters content creation to reach a broader audience," says Matt Miller, VP of experiential marketing at Minneapolis-based agency Periscope.
Spending on experiential marketing is on the rise. According to the Event Marketing Institute's 2015 EventTrack study produced with Mosaic, spending on experiential campaigns was up 4.7% in 2014. In addition, a 2014 industry report from Crossmark and the Path to Purchase Institute found that three out of four brand marketers rated experiential marketing "very or somewhat" important. Additionally, 88% of shoppers said that if they enjoyed an experiential interaction with a product away from a store, they would add it to their shopping list.
"We mapped out major grocery stores in these areas carrying Chobani and saw on average a 15% lift, including in outlying trade areas. We were able to demonstrate a bottom-line return on investment for an out-of-store campaign."
— Holly Meloy, SVP of clients services, Marketing Werks
"We're big believers in not just what happens in the store, but what happens outside and on the way to the store," says Dee Hall, EVP, group management director, FCBX. "That's where we think experiential and shopper merge nicely together and close the loop."
As an evolving practice, experts say there are several important trends currently keeping marketers stretching the experiential possibilities:
360-degree experiential content. More brands are generating an entire campaign's marketing mix from live engagement content. "We've evolved from the old model of shooting a TV commercial on a closed set to a content factory model which uses real consumer experiences and turns those into content," says Jennifer Shankman, VP, client service, for the Bud Light business at Mosaic. "It's not just about the consumers who attend the event. It's about the millions of consumers you reach from the content that's produced out of it."
Mobile apps. One of the fastest-growing areas in the event landscape, according to the EventTrack study, mobile apps provide a powerful way to boost event management, deliver engaging information and content, and capture data and analytics. With Target's "Back to College" shopping experience at 40 campuses, for example, Bullseye Badge was a QR-activated, gamified mobile app that delivered changing content and incentives to students before, during and after the events. "It was sort of a digital shopping assistant before they got to the store," says Miller.
Millennials are front and center. Brands are working overtime to reach a young generation that wants authentic, personalized, relevant experiential marketing where they can co-create, collaborate and socialize with others. "Millennials really value experiences beyond anything tangible or material," says Shankman. "It's the currency they leverage on social media; it makes a brand impact on them."
Technology. New technology is poised to pop everywhere in the world of experiential marketing, says Mike Paley, SVP, shopper marketing & experiential, The Marketing Arm. Wearables are hitting the mainstream, he explains, thanks to fitness bands and Apple Watch. Biometrics is close on the horizon, with thumbprint scans that serve up a code to deliver emailed custom content in real time. 3-D printing (such as the 3-D-printed Oreos available at the South by Southwest festival last year) is also becoming an element of experiential solutions, while hands-free and eye-tracking technology is beginning to change the way experiences are developed and delivered.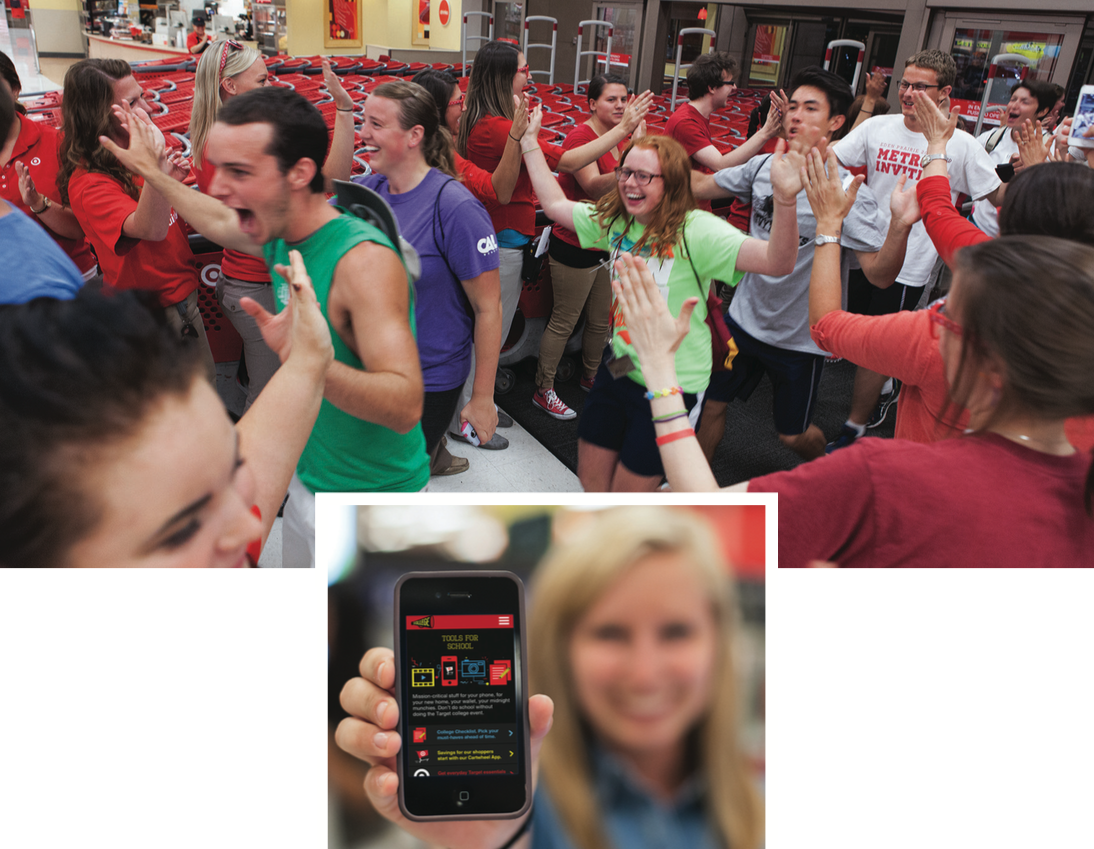 Target "Back to College"
Agency: Periscope, Minneapolis
Talk about a direct path to purchase. To gain a captive audience and boost the brand loyalty of college-aged Millennials, Target's annual "Back to College" campaign has bused up to 95,000 freshmen from 70 colleges right to Target stores for an after-hours shopping spree. Complete with a DJ, games, contests and plenty of freebies and incentives, the chaperoned activity is promoted by up to 2,500 on-campus ambassadors during "Welcome Week" on participating campuses.
It's about making experiential marketing relevant to Millennials, says Periscope's Miller. "It's a unique experience that introduces them to Target on their terms – not as their mom's store."
Not surprisingly, Back to College taps heavily into a college student's best friend: their smartphone. A mobile Web experience allows students to connect with fun content and receive incentives for social sharing while they shop. "It's a peer-to-peer message coming from the voice of other college students, so it's authentic – which is important to Millennials," says Miller.
Other benefits include a text-to-win program with vendor partners, such as the opportunity to win a mini-fridge with Coke Zero. Students leave with a gift bag filled with product samples, but vendors go beyond that: When Bic was a sponsor last year, the company offered a $50 gift card on the spot to anyone who would shave their head – including girls. "That's the kind of thing that is disruptive enough for students to share socially – driving content creation," says Miller.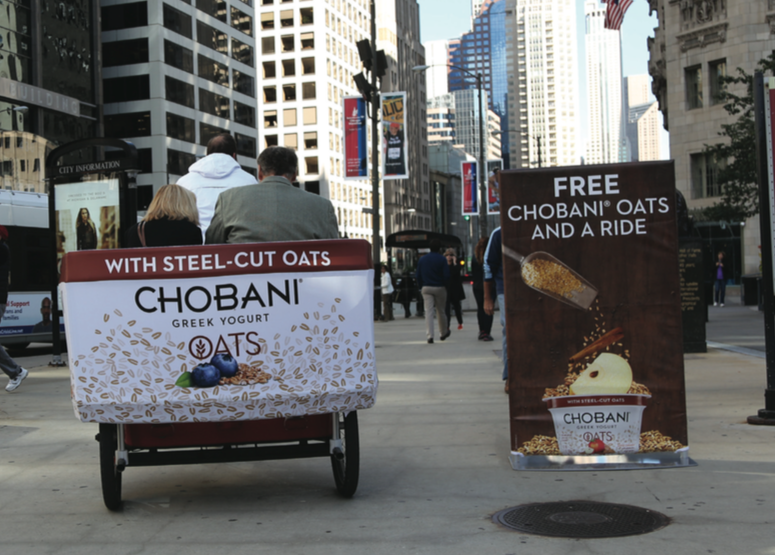 Chobani Oats "Stop Sad Breakfast"
Agency: Marketing Werks, Chicago
Chobani targeted busy, on-the-go professionals with its new breakfast solution, Chobani Oats, which combines Greek yogurt, fruit and steel-cut oats. Previously, these consumers have created their own do-it-yourself options but Chobani Oats gives them the same experience in a single package.
The "Stop Sad Breakfast" campaign was a "mix of a traditional sampling event and out-of-store, reaching the right consumer in the right place at the right time," says Holly Meloy, SVP of client services, Marketing Werks. The campaign, which engaged with commuters in high-traffic locations in Washington, Chicago and Boston, included pop-up breakfast locations outside of train stations and commuter hubs as well as wrapped pedal wagons and pedicabs. Consumers were able to enjoy a free ride to work as they sampled the product. On-site brand ambassadors distributed manufacturer coupons and samples to all consumers.
"Suddenly Chobani Oats was part of their pre-shopping consideration and already on their shopping list when they entered a store," says Meloy. "We mapped out major grocery stores in these areas carrying Chobani and saw on average a 15% lift, including in outlying trade areas. We were able to demonstrate a bottom-line return on investment for an out-of-store campaign."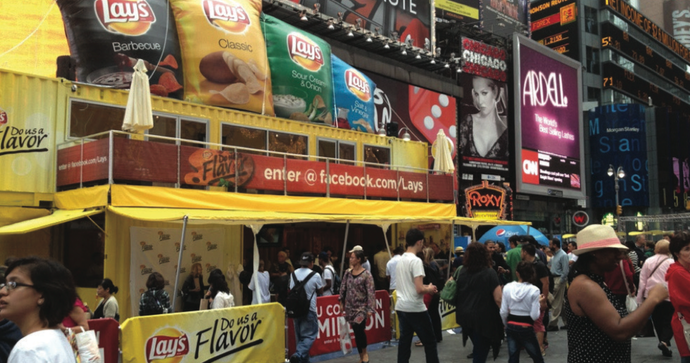 Frito-Lay "Do Us a Flavor"
Agency: The Marketing Arm, Dallas
In 2012, PepsiCo/Frito-Lay launched its now-iconic "Do Us A Flavor" campaign, which asked snackers to come up with the next great Lay's potato chip flavor with the chance of winning a $1 million prize. A Lay's pop-up store in Times Square welcomed 10,000 tasters who could see the $1 million prize inside a bulletproof-glass case. Three flavors are chosen and created each year, and consumers vote for the best. Last year's contest boasted more than 14 million submissions.
In addition, unique shopper engagement is developed for key retailers, with special regionally specific programs that boost consumer engagement in both flavor submissions and voting. "It is an opportunity to find out which shoppers at a specific retailer like which flavors," says The Marketing Arm's Paley.
This year, as part of the "Do Us a Flavor" 3.0 competition, the brand launched "Flavor Towns," which focused on highlighting a select city and the flavor that makes that town so special. Four different cities had finalist flavors created: For example, a team went to Sandwich, Massachusetts, to celebrate a custom-made, Lobster Roll chip. Local residents were invited to a party to try the Lobster Roll chip and other flavor inspirations, as well as to submit their own flavor inspirations.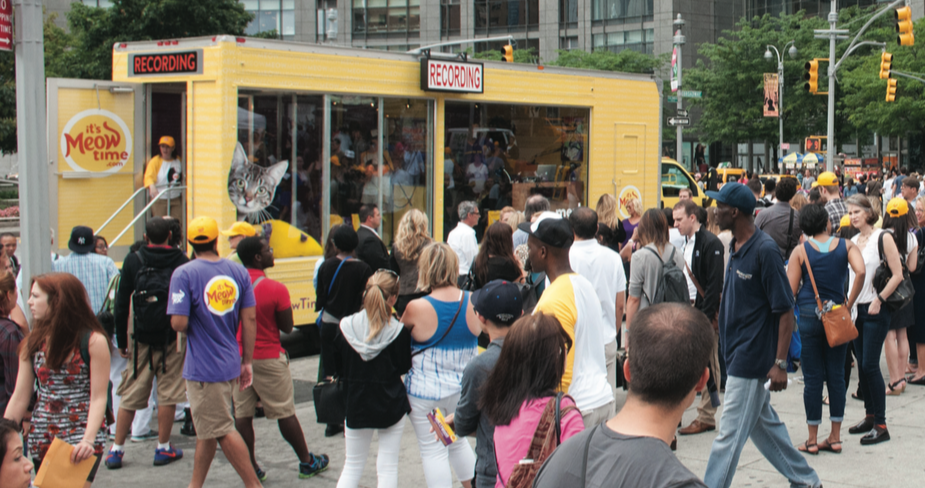 Meow Mix "Meow Time"

Agency: FCBX, Chicago
Del Monte Foods' Meow Mix competes in a very competitive category with no real brand loyalty, but its jingle, studies have shown, is more recognizable than the national anthem. So, after a successful campaign featuring an in-pack coupon that played the unforgettable jingle, agency FCB wondered what else it could do with the catchy tune.
Experiential agency FCBX created a portable professional recording studio on wheels in New York City at Columbus Circle, where they brought a celebrity "meower," singer Kellie Pickler, to record her own take on the jingle. Then, hundreds of people on the street were invited to create their own versions, choosing among several genres including EDM (electronic dance music) and country. "Our average engagement on the street was 15 minutes, which was mind-blowing compared to engagement with digital content," says Dee Hall, EVP, group management director, at FCBX. Of course, social platforms were then tapped to spread the news, while consumers also had online options to share recorded videos.
To continue the journey at retail, custom activations were created for key customers. For example, Walmart featured exclusive "singing pallets," while the original impact coupon in the singing bag was passed out to shoppers. The campaign reported a 15% sales lift, says Hall, who adds that one of the best ways for experiential marketing to get quantifiable results it to be integrated within a shopper program. "I think the onus on experiential marketing is connectivity back to sales lift," she says.
"Our average engagement on the street was 15 minutes, which was mind-blowing compared to engagement with digital content."
— Dee Hall,  EVP, group management director, FCBX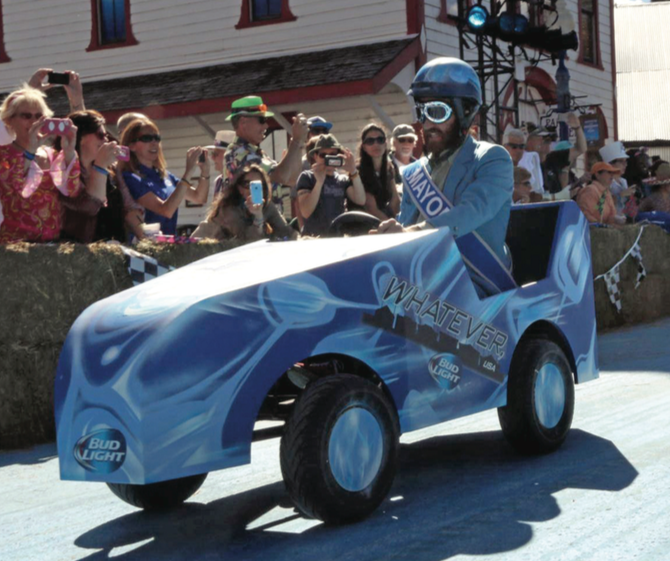 Bud Light "Whatever, USA"
Agency: Mosaic, Chicago
Anheuser-Busch's Bud Light faced a challenge targeting Millennials, so in 2014 it launched an ambitious new marketing platform, "Up for Whatever," which was dependent almost entirely on live experiences to generate the excitement that informed the rest of the marketing mix. The experiential element – the "Whatever, USA" contest, party and town takeovers of Crested Butte, Colorado, and Catalina Island, California – has turned into a content powerhouse that has generated far more impressions across channels than a standard Super Bowl ad.
Bud Light held some 22,000 events, mostly in on-premise locations but also at some 7-Eleven stores, allowing more than 200,000 people to audition for a spot even though they didn't know the prize, payoff or the destination. At 7-Eleven, consumers engaged through a kiosk, where they watched a quick animatic video about "Whatever, USA" and had 10 seconds to provide their best "Up for Whatever" answer.
For the launch of "Whatever, USA" in 2014, Bud Light flew in more than 1,000 contest winners to Crested Butte for a weekend of interactive and immersive experiences, including free beer, games, concerts and a parade. This year's Catalina Island contest also included about 1,000 winners. Most parts of the town were fully integrated into the campaign; even the local ice cream shop had an "Up for Whatever" flavor.
"The 'Up for Whatever' campaign became a content factory driven by the 'Whatever, USA' events, including TV ads, social sharing, videos and digital," says Jennifer Shankman, VP, client service, for the Bud Light business at Mosaic. "The point is that the event was only the beginning. We wanted it to be an incredible experience for the 1,000 people who attended, but the true point of the campaign was to have those 1,000 people create their own unique content to share with the rest of the world through their networks."
As a result, Bud Light brand impressions grew for the first time in years, as did brand usage. "For the first time, Bud Light was at the forefront of Millennials' minds," Shankman says.