01/02/2017
Study: DTC Still Not an Option for Many CGs
Although the need for a direct-to-consumer sales strategy would seem to be a foregone conclusion for the consumer goods industry, many individual companies are apparently still on the fence.
According to the "Shopper Marketing Trends Report 2017," 56.2% of consumer product manufacturers still "have no plans to sell directly" to consumers, while 27.4% are already doing so and 16.4% are currently working on a strategy.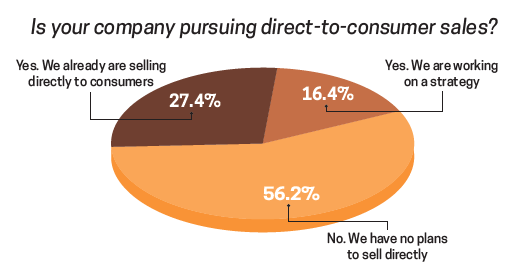 Not surprisingly, response totals varied significantly based on product category: 75% of non-consumer packaged goods manufacturers said they're already selling directly, versus just 18% of CPG respondents.
However, the ranks of non-believers are not as flush as they seem to be based solely on the percentages. Several respondents clarified their response by noting that, while their company literally has "no plans" for direct sales," it is, in fact, investigating the possibility. One even noted that the corporate website actually facilitates direct sales as a way to gather shopper information, but the effort doesn't reflect a true strategic direction.
Respondents whose companies have more definitively dismissed direct sales as a strategic option (at least for now) cited general fulfillment costs, category-specific obstacles (such as refrigerated-food distribution hassles) and regulatory constraints as the reasons behind the decision.
Shopper Marketing is a sister publication to CGT. Published each January, the magazine's annual Trends Report surveys hundreds of brand marketing executives to identify the key opportunities and major challenges facing the path-to-purchase marketing industry.