06/25/2019
Sherwin-Williams Quizzes Shoppers on Color 'Personality'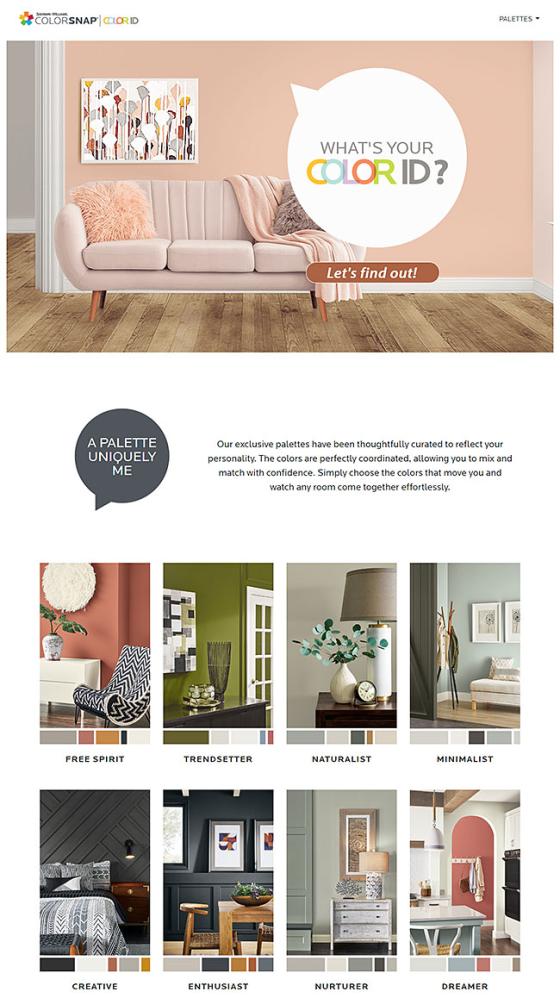 Cleveland-based Sherwin-Williams has launched a new digital tool that helps shoppers determine a paint color for their homes using a personality quiz.
Spanning eight "personality-based" color palettes, the Color ID quiz is made up of 10 multiple choice questions, including what couch a user would choose and what type of movie they'd watch on it. The tool considers the answers and deems a Color ID palette and corresponding colors based on the results. The palettes are: Creative, Dreamer, Enthusiast, Free Spirit, Minimalist, Naturalist, Nurturer and Trendsetter.
Consumers can take the quiz at SWColorID.com or visit a Color ID in-store display at any of Sherwin-Williams' 4,300-odd locations across the U.S. and Canada.
"Everyone wants their home to feel personal, but when it comes to expressing themselves through paint color, making a decision can feel overwhelming — especially for less-experienced DIYers," said Sue Wadden, director of color marketing for Sherwin-Williams, in a press release. "Color ID helps these aspiring decorators confidently find the colors that move them, build a palette that feels personalized and watch as their house transforms into their home."
Color ID is part of ColorSnap, which is a comprehensive suite of Sherwin-Williams color selection tools including:
ColorSnap Match: a mobile application enabling users to scan a piece of furniture or decor to match it with the closest Sherwin-Williams color.

ColorSnap AR: a tool that virtually paints a room in real time using augmented-reality technology.

ColorSnap Visualizer for Web and Mobile: a tool that can virtually paint the walls of an uploaded photo.