05/02/2018
Sherwin-Williams App Lets Consumers 'Try' Colors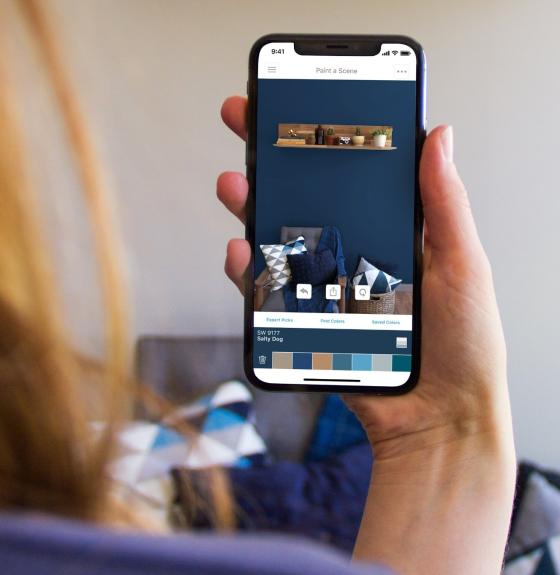 Sherwin-Williams has updated its ColorSnap Visualizer smartphone app with "Instant Paint," an augmented reality function that lets consumers rapidly "test" paint colors by tapping their screens.
With Instant Paint, smartphone cameras instantly recognize walls in a three-dimensional space. App users tap on a wall in their camera view to "try" any of the company's 1,500 colors in real time. Users can also create custom palettes and share results in a variety of ways.
"Using emerging AR technology, this new feature virtually transforms a space before picking up a brush," said Meghan Vickers, Sherwin-Williams' e-business marketing director. "Instant Paint provides a fast, seamless way to build confidence during color selection." 
Instant Paint is available to North American consumers with an iPhone 6 (or newer model) running iOS 11 and to Android users with AR-compatible smart phones. Users access Instant Paint by downloading the ColorSnap Visualizer app. Consumers using older smart phones, PCs or iPads can still see how a color will look by uploading a photo of the space and digitally painting the walls with an on-screen "brush," also available through the ColorSnap Visualizer.
Sherwin-Williams is not the only company that has developed digital tools to help consumers and professionals choose colors. Benjamin Moore offers a tool called Capture, Behr has one named ColorSmart, while Olympic Paint features the Paint Color Visualizer.
Among retailers, home improvement chain Lowe's offers the Paint Visualizer on its web site; competitor The Home Depot has Project Color. And BlindsGalore has an online tool that lets consumers match the color of window coverings with paint shades from Sherwin-Williams and four other paint makers.
Like the ColorSnap Visualizer, many use augmented reality to help consumers better match colors. AR is also increasingly being employed by furniture and other home décor companies. At this year's Consumer Electronics Show, Steve Koenig, senior research director at the Consumer Technology Association, predicted that AR will bring dramatic changes to the interior design market.
According to digi-capital.com, more than $3 billion was invested in AR/VR products and services across various industries in 2017. By 2021, some estimates predict AR/VR spending will reach $215 billion, with AR becoming bigger than VR.