Sam's Club Now Tests Enhanced Scan & Go Tech
Get great content like this right in your inbox.
Subscribe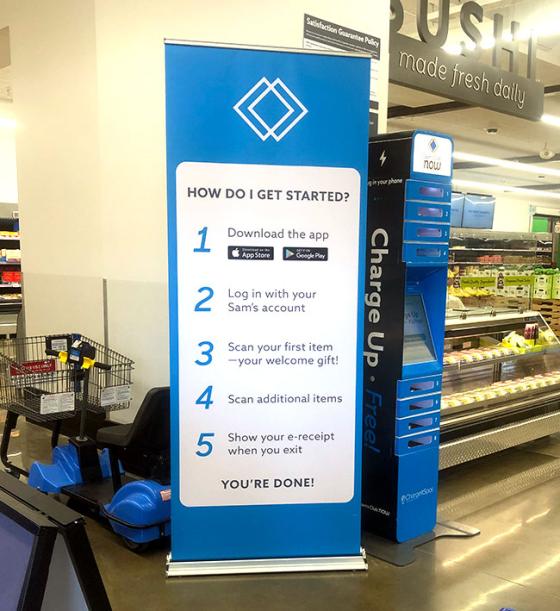 Sam's Club has developed and filed a patent for new technology linked to its Scan & Go service that will be tested this spring at the Sam's Club Now store/innovation lab in Dallas, Texas.
The new technology uses computer vision and machine learning to make scanning products through the Sam's Club Now app easier and more efficient. The goal is to provide a simpler shopping experience for members by quickly identifying products from package scans taken from any angle rather than requiring them to search for barcodes, which often takes more time. According to a blog post by Eddie Garcia, Sam's Club vice president of product and member experience, the new tech cuts the time it takes to scan an item by more than half: from roughly 9.3 seconds to 3.4 seconds.
"Rather than having to locate the barcode and scan it just right, the camera in the app will identify the product with a simple hover and add it to the member's shopping list," according to Garcia. "It's as simple as that."
"More than 90% of members who try Scan & Go use it again on their next trip, and regular use is up 40% this year. That's because it makes shopping easier and members like that," according to a blog post calling the tool the foundation of the new Sam's Club Now app.
Store employees may also reap some benefits from the new tech as the retailer anticipates integrating it into their tools to free up more time to serve shoppers, according to Garcia's blog post.
Sam's Club Now opened last October to serve as a testing ground for shopper-facing innovation before it rolls out nationally. The retailer calls the 32,000 square foot store "the epicenter of the company's commitment to continuous innovation" and a "technology lab that doubles as a live, retail club."
The retailer says its next steps in this space, after these tests, will be focusing on machine learning and artificial intelligence to help manage shopping lists. Sam's Club Now has so far tested augmented reality, wayfinding and navigation, as well as one-hour club pickup.