Sales & Marketing Report 2017: Building a Smart Digital Enterprise
Get great content like this right in your inbox.
Subscribe
The digital mission of consumer goods companies is to create and deliver engaging experiences at scale for consumers (the end user) and customers (mainly retail). It's not enough to meet the needs of consumer segments; companies must meet and exceed the needs of individual consumers, both in ways they expect and ways they have not yet imagined.
Innovation excellence needs to be emphasized in terms of the success of new products and the number of items that will be required; the ability of the supply chain to manage different engagement models; and the ways in which both consumers and customers are engaged (and how that engagement gets funded). Consumer and customer expectations will make this strategy mandatory, but implementation success and efficacy will determine profitability and competitive differentiation.
Engaging successfully, and repeatedly, with the consumer is the central imperative for the consumer goods company — one that becomes much more complex and nuanced when dealing with digitally savvy consumers. Engaging with the ultimate user of a product with varied experiences and services over the usage life is not a trivial undertaking, and substantial investment is required to achieve that goal.
In conjunction with that effort, it must be recognized that consumer goods companies engage with extensive retail customer networks that serve both geographic areas and consumer segments (grocery, drug, club and mass market). These traditional partners, as well as new digital partners, will have to be connected (see Figure 12).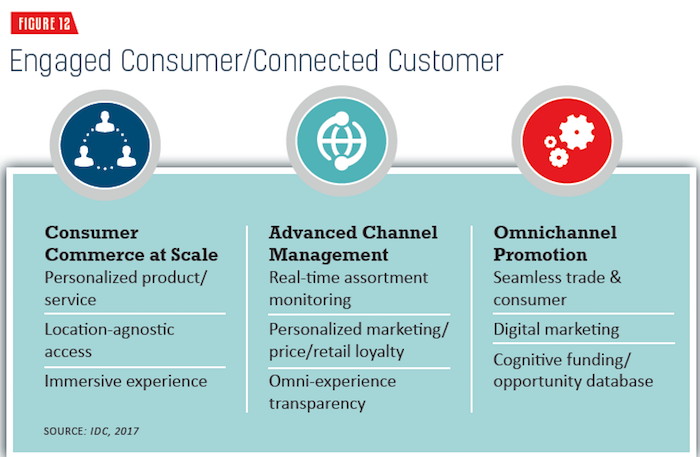 Each of the three domains within the Engaged Consumer/Connected Customer model above has further granularity, but broadly speaking:
1) Engaging successfully with consumers will be what distinguishes winners from losers in the digital marketplace. Offering digital or digitally enabled experiences to individual consumers at scale is the challenge. In part, it's about the ability to deliver personalized products and shopping experiences, but it's also about creating that experience when and where the consumer wants it, and in an immersive way that meets or even exceeds expectations. Having the right technologies in place to profitably deliver these capabilities will be a key to successful programs.
2) The role of the retailer has been largely defined as making the original sale, working with the consumer goods manufacturer on promotions, and being the place for occasional returns. Although this is changing, the retailer is often the "face" of the brand owner to the consumer. In light of the strategic priority to directly engage with consumers, consumer goods companies need to change how they interact with their retail customers.
3) An important component of engaging with consumers and connecting with retail customers is the way consumer goods companies handle promotions as the marketplace transitions from "analog" interactions to digital ones. Whether they are consumer promotions like coupons, or trade promotions like temporary price reductions, the ability to manage them in the context of omnichannel commerce becomes critical. This is particularly noteworthy as direct-to-consumer commerce looms on the horizon. Thus, the ability to seamlessly move funds across promotional vehicles, and the ability to engage digitally and be smarter about fund allocations, are key capabilities.
Additionally, the digital mission will rely on a steady supply of new products. Indeed, the ability to both introduce new products that meet new or unmet consumer needs, or the necessity to "beat the fade" by offering changing flavors or fragrances for existing products, is at the heart of the success. 
Implementing a coherent, extended process innovation platform is the first step, but it's not enough. In the digitally enabled marketplace, the ability to source new ideas from all quarters will be essential, as will the ability to transparently manage all products through the full lifecycle (see Figure 13).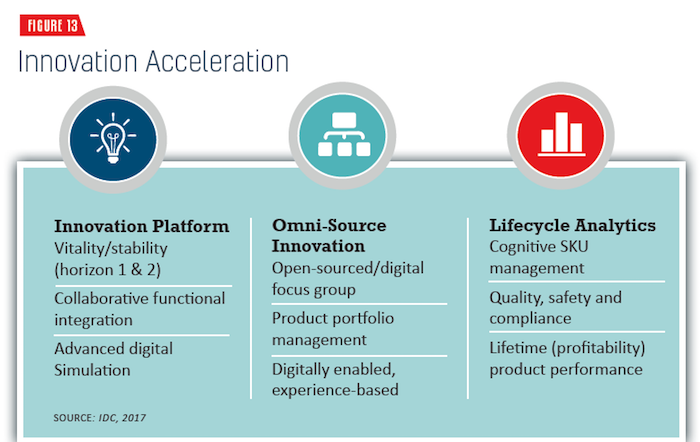 Each of the three domains within Innovation Acceleration (above) also has further granularity, but again speaking broadly:
1) One key objective for consumer goods companies is to take more input from, and collaborate with, the entire ecosystem — customers, suppliers, and partners — on product and service offerings in order to both improve success rates for new products and to generate greater numbers of net new ideas. Organizations must also create realistic digital models of the product and packaging components to support process engineering and logistics requirements, while also enabling faster development cycles as well as the ongoing improvement of quality, function and performance. These requirements will dictate the investment in a new generation of design and product lifecycle capabilities that IDC collectively refers to as the "product innovation platform."
2) The inability of many consumer goods companies to develop and bring to market new products of acceptable quality or frequency is a sizable problem. By 2020, many categories will earn as much as 70% of revenue from products less than three years old. In the digitally enabled marketplace, the ability to source new ideas from all quarters will be essential, and the old ways of understanding appeal and purchase intent will become archaic and ineffective.
3) Although they've come more recently to product lifecycle management, consumer goods companies have become fervent advocates. This is mainly due to the rapidity with which innovation churns through many categories, and companies often are not as good at retiring products as they are at introducing them. The management of products (stock keeping units), quality maintenance, and an eye toward lifetime profitability are part of this effort.
There are other elements of the digital enterprise, including the digital supply chain and smart manufacturing, but our focus here has been sales and marketing so we'll leave those be for now. Suffice it to say, the digital enterprise is the top priority for consumer goods manufacturers in 2017.
_____________________________________________
To read the rest of the report, click on the links below:
Building a Smart Digital Enterprise 
To download the full report, click here.