Sponsored Content
Report from ai.now: The Tech Takeover
Get great content like this right in your inbox.
Subscribe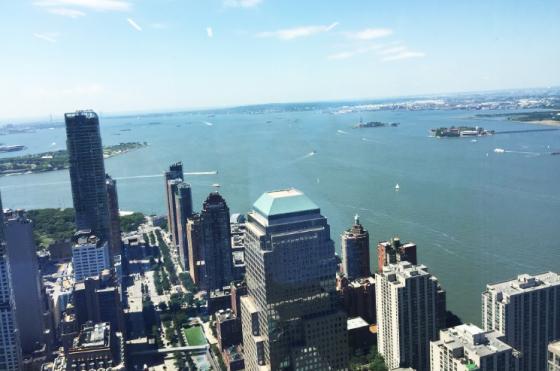 There's no doubt about it: Artificial intelligence and automation are outpacing humans in a range of sectors, from education to law, agriculture to healthcare, management and beyond. Based on the presentations and discussions held in July at the 2018 ai.now Workshop hosted by Fractal Analytics, AI is the robot of the future.
So what makes IT different from prior technologies? For starters, its exponential growth and cognitive capability (which Google has mastered), and the fact that it's a general purpose technology. IT has evolved to scale everything and become a utility that no one can escape – it's enormously disruptive across the board.
According to Keynoter Martin Ford, futurist and author of Rise of the Robots: Technology and the Threat of a Jobless Future, new industries are becoming increasingly less labor intensive. For instance, compare GM in 1979 to Google in 2012: GM had 840,000 workers with $11 billion in earnings; Google had 38,000 workers with $14 billion in earnings. Technology has allowed Google to become an experiential disruptor with only 5% of the workforce that GM had to employ. Over time, the entire economy can look more like Google and less like GM – creating jobs for elite, specific roles.
In the last five years, AI has transformed daily life. Notably, two-thirds of trades are now driven by algorithms — the day-to-day impact is small, but the long-term impact is significant. Non-routine jobs will see great growth, but tasks that can be done in one minute or less can be automated using AI. Access to data assets will be far more important.
During a panel discussion titled "AI and the Future of Work," Matthew Keylock, head of data and analytics, connected solutions for Mars Petcare; Dennis Becker, director of global data science for Visa; Natwar Mall, chief executive officer of Cuddle.ai; and Ford explained how there must be a focus on utilizing the data in multiple ways, but also how to make consumer life easier. For example, organizations face lots of opportunity both internally and externally to leverage chatbot interaction. The more complex the input or the mission, the greater the need for humans to interpret that complexity. For example, there's a reason that self-driving cars and automated healthcare are both failing.
Leveraging AI to automate day-to-day management tasks will aid both the human component as well as the organization. AI is too complex to eliminate humans, but it will serve as an aid for humans to quicken routine tasks. To truly succeed when implementing an AI strategy, governance is key. Companies must be nimble and adaptable to opportunities in order to remain relevant.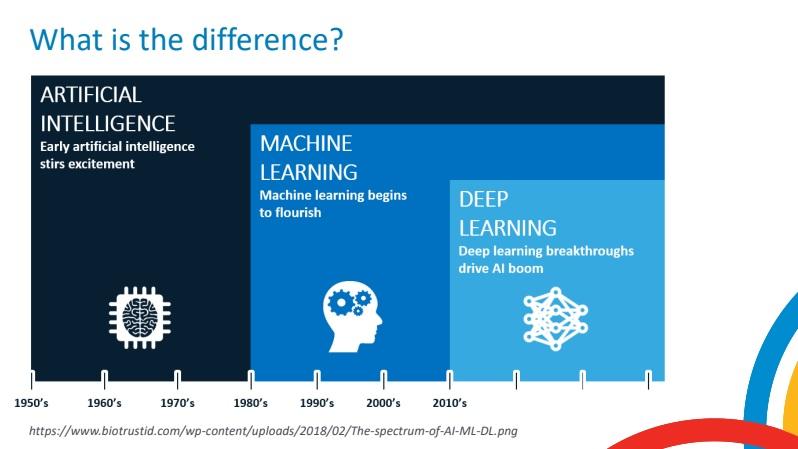 David Dittmann, director of business intelligence and analytics services for Procter & Gamble, explained how to "Give Vision to AI" with Pranay Agrawal, co-founder and chief executive officer of Fractal Analytics. By 2020, 80% of the data created will be unstructured, which offers immense opportunity to analyze images and videos — new data brings new signals.
"No matter what your vision is, your data is key," says Dittmann. Early AI stirs excitement, but if companies jump in too soon, they sometimes realize they don't have that data needed to truly drive value. Once the data is in place, machine learning will begin to bloom, and then deep learning breakthroughs will drive an AI boom. "A beautiful world of possibility awaits for AI," says Agrawal. "There is tremendous power in AI to make this world a better, more meaningful place for all of us."
AI is helping us to go deeper than ever before by identifying the right problems to actually solve. A panel discussion on "AI in Action" with Kjell Carlsson, senior analyst at Forrester; Dr. Steven Goldberg, vice president of medical affairs, population health and chief health officer for health and wellness at Quest Diagnostics; Christopher Jasensky, area IT director for North America at Reckitt Benckiser; and Sankar Narayanan, chief practice officer for Fractal Analytics, explained how companies must move away from on-premise data management to the cloud in order to stay competitive.
How can companies go after functional data sets and break down siloes? The truth is, not every department is ready to implement AI. One of the big divides between teams trying to get AI buy-in and executves saying "no" is the lack of data. Challenges fall into two buckets:
Don't know what to do with AI.
Don't know how to use it or know its capabilities.
Rather than thinking of AI as a disparate technology, companies should realize that it brings all departments together. Managers who don't focus on AI will be replaced by managers who do.
Srikanth Victory, global director of enterprise analytics and artificial intelligence at Kimberly-Clark, explained how analytics has evolved over the last several decades from a capability that impairs your organization, to one that transforms it. In a session titled "How to Accomplish AI Transformation," Victory and Eugene Roytburg, managing partner for Fractal Analytics, took a deep dive into how analytics as a function is not as mature as other business functions. "Analytics has been around for 20 to 30 years in corporations and just now are we thinking of its efficiencies," says Roytburg. "We spend the last 20 years focusing on analytics development instead of activations, yet activation is the main driver of analytics value."
To realize AI value, companies need to balance advantages with limitations and not over-generalize. A few best practices to use AI to accelerate analytics value are included in the chart below.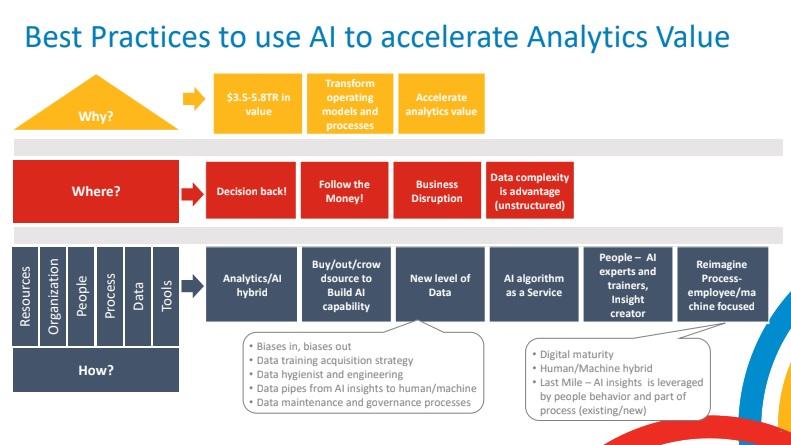 Denise Saldana, director of strategic opportunities for people, consumer and market insights North America at Colgate Palmolive, and Biju Dominic, co-founder and chief executive officer of Final Mile Consulting, closed out the summit with a presentation on "Getting the Brand's Emotion Right." What saves more lives than any modern medicine? The emotion of fear. Emotions are involved in all human decision-making, but how does AI understand emotions? AI can help understand preconscious response. But marketers must link emotions to a clear goal or job to be done in order to optimize the impact. 
But identifying an emotion isn't enough. You must also identify how to transform something with that emotion, understanding how the brain works to anticipate reactions from individuals. Emotions not only change intentions, they also change behaviors.
The current belief that emotions have universal facial fingerprints is wrong. The crucial processes that led to the emotional output are being ignored by AI. The importance of emotional connectedness is what the nuclear energy industry forgot — let's not forget history, but learn from it. "Human intelligence without emotions will always remain artificial," says Dominic. "Artificial intelligence must get more human, more real, and more emotional."