02/21/2019
Readers' Choice Survey 2019: Supply Chain Planning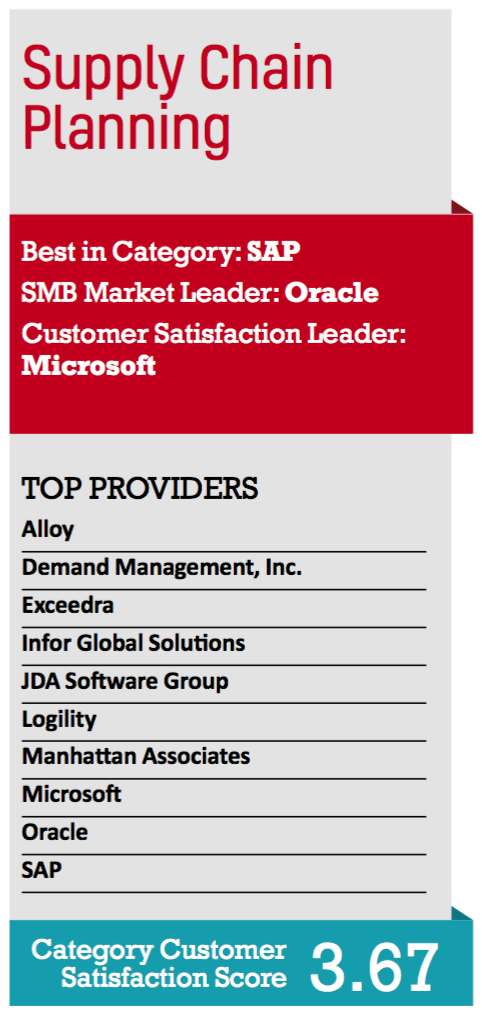 The CGT community's preferred solution providers for supply chain planning including demand forecasting and inventory optimization.
Best in Category: SAP
The IT solutions leader has had a long hold on the Supply Chain Planning category, where it has enjoyed "Best in Category" status since at least 2007. New functionality announced in fall 2018 is designed to enable users to plan in real time across key corporate functions and align both retail customers and suppliers in an intelligent digital supply chain.
That includes new capabilities for networked supplier collaboration through SAP Ariba, machine learning automation and self-regulating replenishment, as well as enhanced sales forecasts and delivery performance using ML and predictive analytics. SAP also initiated a "farm to consumer" blockchain pilot with 10 customers that will seek to improve materials tracing and product tracking.
SMB Market Leader: Oracle
Clients including Ainsworth Pet Nutrition and candy maker Arcor turn to Oracle for its supply chain planning assistance. "We are a small to mid-size company with limited resources and they are an excellent integrated partner," explained one Readers' Choice Survey respondent, who selected Oracle as her most valuable IT provider. The Oracle Supply Chain Planning Cloud enables users to interactively balance demand and supply through collaboration and visibility tools that facilitate improved responsiveness. The global client roster also includes Kuwait Food Co, Sunny Fields/Li le Freddie Trade (Shenzhen) Co., Ltd. and Tramontina USA.
Keys to the future will be personalization and frictionless commerce. This translates into making it easy for consumers to shop when and where they like, and tailoring products and services to their needs, Mario Vollbracht, Oracle's Global Director, Consumer Products, recently told CGT.
Customer Satisfaction Leader: Microsoft
Having earned SMB Market Leader status in three of the last four surveys, Microsoft this year captured Customer Satisfaction honors with a rating of 4.0/5. Several survey takers cited the company's good customer service, with one adding that, "They handle a lot and are reliable." Acknowledging the breadth of the Microsoft Dynamics 365 suite, another respondent praised the company for having "the most comprehensive set of products."
Recent and planned improvements to supply chain capabilities include enhanced planning engine functionality (which includes support for the consolidation of planned orders), refactoring methods for calculating and reporting on-hand inventory, and performance and flow improvements in warehouse functionality.
Noteworthy: Manhattan Associates
Released in 2017, Manhattan Associates' Active suite is helping consumer goods companies (and retailers) address the new realities required for effective supply chain planning. The company boasts that Active is the first tool to deliver multi-channel, multi-echelon optimization that lets planners place inventory exactly where it will be most needed to meet the demands of digitally enabled shoppers.
Brooks Brothers is using the platform to integrate order management and store fulfillment on a single platform; Adidas is employing it to standardize systems globally, enhance control and visibility, and improve inventory accuracy. Other clients include Papa John's and Nature's Best.