Readers' Choice Survey 2018: Customer Relationship Management
Get great content like this right in your inbox.
Subscribe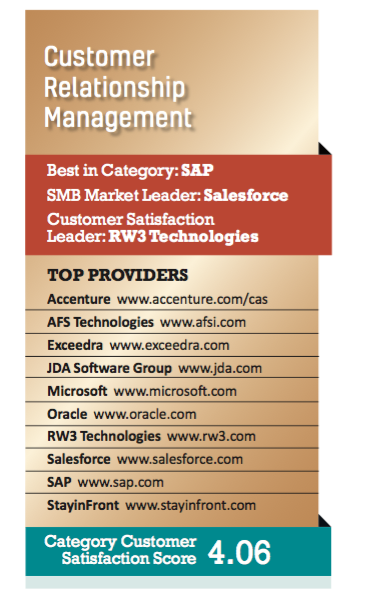 Best in Category: SAP
The clear-cut segment leader among large enterprises, SAP has been steadily rolling out client-requested functionality updates to the SAP CRM platform. "Overall comprehensive, integrated and a good value," said one client.
The SAP Sales Management platform aims to deliver value throughout the buying journey by providing sales teams with all the tools needed for collaboration, including visibility into insight and analytics and intuitive mobile apps. Recognizing that the buyer-seller relationship is changing dramatically in the digital world, AI-enabled SAP Hybris for Sales aims to expedite delivery of critical data to the field. Elsewhere in 2017, SAP kicked off a digital transformation partnership with IBM that uses near real-time data to improve store planning and execution.
SMB Market Leader: Salesforce
A regular Readers' Choice standout, Salesforce earned "Best in Category" honors in two of the previous three years. Its first recognition as SMB Market Leader illustrates the company's efforts to truly serve CG companies of all sizes — down to the $25-per-month "Out of the Box CRM" it markets to mom-and-pop businesses. Last fall, it unveiled Salesforce Essentials, the first product for SMBs that runs on the same platform used by larger customers.
Among 2017 releases with wider appeal, Einstein Account Based Marketing was designed to help marketing and sales teams better target key accounts, personalize campaigns and engage with prospects at scale.
Customer Satisfaction Leader: RW3 Technologies
Having already earned the Customer Satisfaction nod in both 2016 and 2017, RW3 Technologies outdid itself this year by achieving a near-perfect score. "Great products and great staff with amazing service," said one respondent. "Great product and very reactive to our needs," said another. The client list includes Jennie-O, Energizer, Sony, Timex and Kimberly-Clark.
The company's solutions range from BI analytics to competitive pricing to field sales, all supported by mobile apps. In addition to the software and direct services, RW3 seeks to help clients respond to industry trends such as order-to-shelf technology and single-source retail service.
Noteworthy: Microsoft
A leading CRM solution provider on both the large and small side of the CG industry, Microsoft continues to upgrade its offerings. The company released version 9.0 of Microsoft Dynamics 365 last July, upgrading capabilities across its five individual apps for sales, customer service, field service, project service automation and marketing. The modular structure lets companies of various sizes deploy the entire package or just the apps that fit their current needs — then add others as they grow.
Recent initiatives have sought to bring more AI-driven analytics into the planning process and "more authentic and personal engagement" (according to marketing materials) through an alliance with the LinkedIn Sales Navigator.