P&G Goes Native with Latest Acquisition
Get great content like this right in your inbox.
Subscribe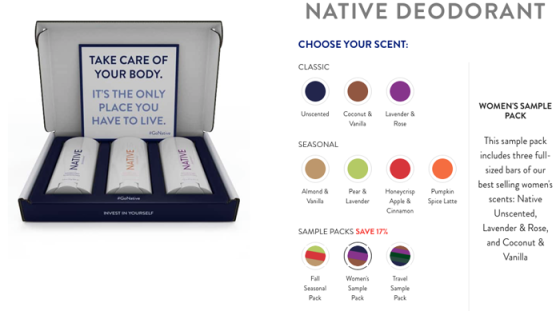 Procter & Gamble has acquired Native Co., a 2-year-old direct-to-consumer personal care brand. Although terms of the deal were not disclosed, some media outlets reported a price tag of $100 million in cash.
In announcing the deal, P&G touted Native as "one of the fastest-growing deodorant brands in North America" and "the category leader in the direct-to-consumer space, cultivating a connection with millions of consumers via their distinct product propositions and offerings."
"Native is a great strategic match for P&G, building on our leadership in the deodorants category and broadening our portfolio to reach consumers who have preferences to avoid certain ingredients," said Bill Brace, P&G's vice president of North American personal care. "Native is a leader in this fast-growing segment."
Native markets deodorant for men and women through a subscription model that discounts the standard single-purchase price of $12 by $2. Subscribers select their preferred scent (or a scentless option), replenishment frequency and delivery date. Shipping is free. The company currently ships to Canada, Australia, France, Germany, and the UK as well as throughout the U.S.
The products are made without such standard deodorant ingredients as parabens, phthalates, talc and aluminum. Their composition makes the products "feel cleaner and simpler" than other options. Products are tested on "humans who volunteer to try Native" rather than animals, according to the company's website.
"I couldn't be more excited about joining the Procter & Gamble family of brands," said Native founder and CEO Moiz Ali. "I've long admired P&G's commitment to product innovation … and I'm excited to leverage their expertise as we continue to grow Native." Ali will continue as CEO of Native, which will remain based in San Francisco. The company currently has only 10 employees.
P&G's existing deodorant portfolio includes Old Spice for men and Secret for women; men's grooming brand Gillette also markets some deodorant SKUs. P&G is, of course, a personal care powerhouse through a stable that also boasts Always, Crest, Gillette, Head & Shoulders, Olay and Pantene, among other brands.
P&G ranks second on CGT's list of the Top 100 Consumer Goods Companies, with 2016 revenue of $76.3 million.