PepsiCo, Ocean Spray Expand Beverage Agreement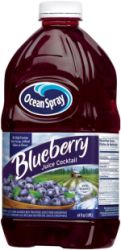 Pepsi-Cola North America Beverages (PCNAB) and Ocean Spray expand their long-term U.S. sales and distribution agreement to include a broader array of single-serve juices and juice drinks.
Beginning in February, PCNAB, a business of PepsiCo Inc., will produce, distribute and market, under license from Ocean Spray, several more flavors of Ocean Spray beverages. The agreement includes five Ocean Spray brand juices - 100% Apple; 100% Orange; Ruby Red Grapefruit; Pineapple Peach Mango; and Strawberry Kiwi. In conjunction with Ocean Spray's 2010 blueberry innovations, PCNAB also will distribute a 15.2-ounce Blueberry juice cocktail, the first nationally distributed of its kind.
PCNAB and Ocean Spray teamed up in 2006 to forge a successful strategic alliance that brought Ocean Spray's single-serve cranberry juice products to Pepsi bottlers. The net affect of the addition of these other flavors, according to Tom Silk, vice president of marketing for hydration and juice brands, Pepsi-Cola North America Beverages, will bring more healthy Ocean Spray products to a greater consumer audience.