07/17/2018
Nike Concept Store Melds Digital, Physical Engagement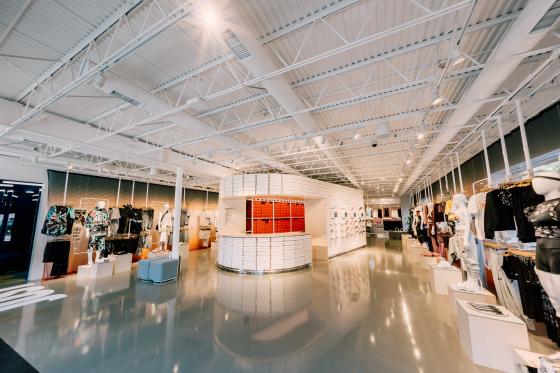 Nike this month opened its first "Live" store, a new retail concept that melds physical and digital shopping elements.
Located in Western Los Angeles, the Nike by Melrose store caters heavily to members of the NikePlus loyalty program, as well as to the local community. Members get personalized shopping and convenience services that complement their subscription to NikePlus, a proprietary technology package.
The store also boasts digitally driven, premium service offerings for active neighborhood consumers and will showcase frequent new product introductions. The 4,557 square foot is one level. In determining the location and product assortment, the company relied on insights from NikePlus member activities and buying patterns across a suite of digital touch points (Nike.com, the brand's app, and several other apps).
"Nike Live stores are a service hub for local NikePlus members," explained Heidi O'Neill, president of NikeDirect. "We're bringing the best of Nike offerings selected for this community. As well as being the first Nike Live destination, we will also test services that can then roll out to other Nike stores, combining digital features with a unique physical environment to create the future of Nike retail."
Men's and women's offerings are influenced by local and Nike.com favorites. Popular items will be available alongside a bi-weekly delivery of fresh arrivals – a first for Nike. The assortment will also include a select level of city-exclusive merchandise and curated seasonal picks.
Special departments include the Nike Sneaker Bar, where shoppers can talk with a "Nike Expert" about available lifestyle and performance footwear, try on items, purchase and go. It is billed as the fastest shoe buying experience that Nike offers.
There is also a Dynamic Fit Zone, which is outfitted with a lounge, rooms for styling and a "Nike Trial Zone" (with treadmill) to test products. Additional services like bra fitting and alterations for tights and pants will also be available.
Services for NikePlus Members include:
The NikePlus Unlock Box lets them scan their passes every two weeks to find unique products.

Swoosh Text, an SMS messaging system, connects them to Nike by Melrose employees through the Nike App.

Curb Services allow members to contact the store in advance using "Swoosh Text" and return or exchange goods curbside.

A new "Nike App at Retail" service lets members reserve product to in-store, scan product barcodes to learn more (i.e. product availability elsewhere or available colorways) and access new features and content through the app.

Nike Express Sessions offer bookable appointments. The sessions provide one-to-one personal service.
NikePlus is a proprietary software program that tracks a runner's performance through a wireless connection. It requires several components: the NikePlus sensor, compatible shoes, and a tracking device (which can include Apple devices). The system uses the NikePlus website to store each user's personal information and running history and serve as a social media hub for runners. The NikePlus sensor tracks time, distance, pace, calories burned and other details.