Nestle, Coke Make Bolder Moves into Coffee
Get great content like this right in your inbox.
Subscribe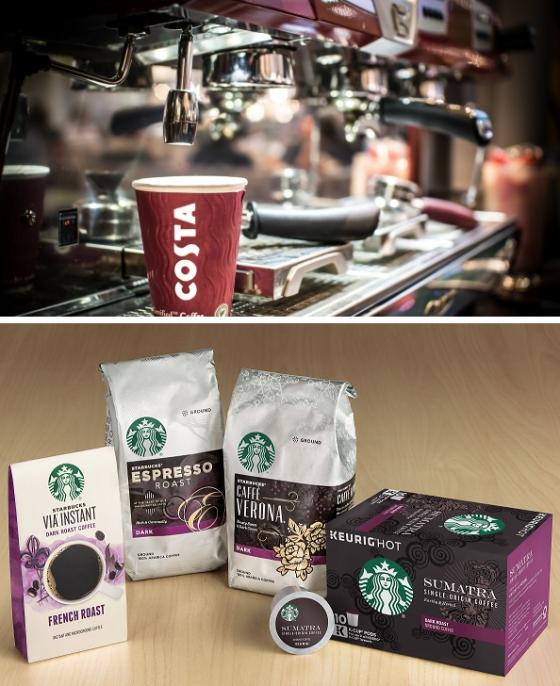 Nestlé and Coca-Cola Co. have both signed deals that will give them an expanded global presence in the coffee category.
Coca-Cola will purchase Costa Ltd. from Whitbread PLC for approximately $5.1 billion. With operations in Europe, Asia, the Middle East and Africa, London-based Costa operates roughly 4,000 coffee shops, a vending operation and several home-consumption formats. The deal is set to close in October.
Meanwhile, Nestlé closed a previously announced agreement with Starbucks that grants the consumer goods manufacturer perpetual global rights to market the retailer's packaged goods and foodservice items outside Starbucks' own coffee shops. Nestle began marketing, selling and distributing Starbucks products in the U.S. in May under the $7.2 billion upfront cash deal. It is taking on roughly 500 Starbucks employees as part of the pact.
The partnership brings together three humongous coffee brands: Starbucks, Nescafé and Nespresso. "This partnership gives Nestlé an unparalleled position in the coffee business with a full suite of innovative brands," said chief executive officer Mark Schneider.
The two companies will work closely on marketing the existing Starbucks assortment of roast and ground coffee, whole beans, and instant and portioned coffee. Nestlé and Starbucks will also leverage their respective innovation capabilities.
"The alliance is a significant milestone for the growth of Starbucks," said CEO Kevin Johnson. "Bringing together the world's leading coffee retailer, the world's largest food and beverage company and the world's largest and fastest-growing installed base of at-home and single-service coffee machines helps us amplify the Starbucks brand around the world."
The agreement covers Starbucks packaged coffee and tea brands, including Starbucks, Seattle's Best Coffee, Teavana, Starbucks VIA Instant, Torrefazione Italia and Starbucks-branded K-Cup pods. It excludes ready-to-drink products and all sales of any items within Starbucks coffee shops.
Starbucks first brought its coffee to retail in 1998 through a partnership with Kraft Foods that ended acrimoniously in 2011: Starbucks claimed that Kraft mismanaged the brand and breached the contract, while Kraft denied the charges and demanded that Starbucks pay fair value for the business (which brought in about $500 million in annual revenues for the CPG). Ultimately, Starbucks was ordered to pay $2.2 billion in damages plus $527 million in prejudgment interest and attorney fees. Since then, Starbucks has handled the retail business internally.
Coke and Costa
The Costa acquisition will give Coca-Cola a well-known brand in the global coffee market. With a strong presence in the U.K., Costa also has a growing footprint in China and other markets. The business encompasses various formats, including Costa Express, which targets on-the-go locations such as gas stations, movie theaters and travel hubs. The deal also includes supply chain expertise in sourcing, vending and distribution.
Coca-Cola's existing global coffee business is limited, although it does market products in several countries, including the Georgia brand in Japan. 
"Costa gives Coca-Cola new capabilities and expertise in coffee," said Costa CEO James Quincey. "Hot beverages is one of the few segments of the total beverage landscape where Coca-Cola does not have a global brand. Costa gives us access to this market with a strong coffee platform."
Nestlé is the largest consumer goods company in the world with $86.4 billion in revenue, according to CGT's "Top 100 Consumer Goods Companies" for 2017. Coca-Cola ranked 49th with $41.9 billion.