Manolo Blahnik Steps Up PLM
Get great content like this right in your inbox.
Subscribe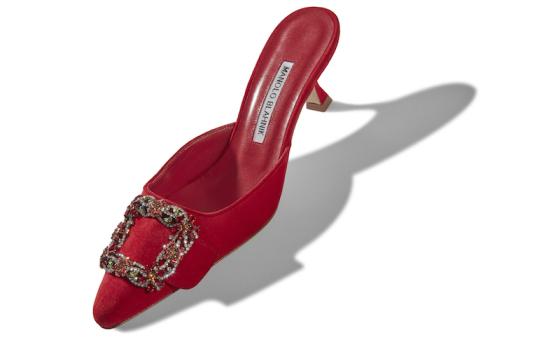 Luxury shoe designer Manolo Blahnik has developed a more streamlined product lifecycle management process by implementing solutions from Centric Software.
Company founder and namesake Manolo Blahnik began making and selling shoes in London in the early 1970s, ultimately becoming one of the most influential footwear makers over the course of his 50-year career.
Today, Manolo Blahnik is a worldwide brand sold in boutiques and department stores in roughly 40 countries. While the company's core business remains women's shoes, the brand also produces bags, belts, socks, accessories and men's footwear.
True to the early days, Blahnik still hand sketches each shoe design and perfects the last details manually. However, unlike this tried and true design process, his company's product lifecycle management processes needed to be streamlined in order to meet the demands of a global supply chain.
"Our team grew significantly within a short period of time," said Bruno Oghittu, Blahnik's digital and logistic director. "We wanted a PLM solution that could seamlessly integrate with our accounting software, PIM system, inventory management platform and wholesale ordering system. The right PLM system would also automate processes, reduce duplicate data entry and share data efficiently with suppliers."
In 2016, Blahnik selected Centric Software as its solution provider and implemented core modules of its Centric 8 PLM platform to help boost productivity and efficiency, as well as to achieve strategic and operational goals for digital transformation.
"We selected the system primarily because of its flexibility," said Oghittu. "It's possible to set up the system exactly how you want, and there's no hard coding involved, so the software can be updated without any major issues. So far, Centric has never said 'No, it's not possible.' [The vendor] is used by many major shoe brands, including luxury brands, which gave us confidence that they truly understood our industry."
Interestingly, Manolo Blahnik chose to undertake a back-to-front implementation, starting with the production side and supplier portal, before tackling product development and design.
"The Centric team were able to adapt the implementation to our exact needs," continued Oghittu. "They also created some specific tools we requested. For instance, it's now possible for factories to log into the PLM supplier portal, see their purchase orders and click on a link that automatically generates a report with printable barcode stickers for that order. This automated feature is a great time-saver and makes order fulfillment more accurate. In the first year after we went live, Centric also helped us to rationalize our color system and switch to a Pantone-based library."
Eighteen months after implementation, the company has reduced manual data entry, duplication and related errors; improved collaboration with suppliers; and developed a more streamlined process for dealing with product data.
"We no longer have to enter the same data in different ways in lots of different systems," explained Oghittu. "We enter data once in PLM, [which] shares the information wherever it is needed. Centric PLM has linked all of the various technologies we use from design to retail, completing a digital transformation across our operations."
"Centric provides solutions that are tailored to genuinely support us and our needs," said Oghittu. "We have exciting plans to do more with PLM, from utilizing the full capabilities of the supplier portal to automating image uploading to digital catalogs. Our relationship with Centric is direct, collaborative and productive."
"When Manolo Blahnik chose to implement Centric PLM, we were delighted," said Chris Groves, Centric's chief executive officer. "Months later, we are proud to note that [the company is] experiencing very positive results and expanding their use. We look forward to continuing to partner with Manolo Blahnik as the company embarks on future growth."