05/23/2018
Illy, OrderGroove Brew an AI-Powered Coffee Subscription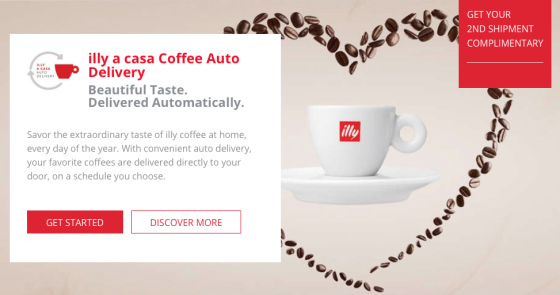 Coffee supplier illy has joined forces with relationship commerce provider OrderGroove to create a coffee subscription program that uses data-driven insights to determine when customers should subscribe.
The program leverages OrderGroove's Anticipate AI Engine, which analyzes consumer and product data to optimize subscription offers so that consumers never have too much or too little of a product. 
Consumers are given the option of enrolling in the "illy a casa" home delivery subscription program when they purchase an illy iperEspresso machine. Currently offered in eight countries, illy a casa offers a selection of espresso machines at a reduced or complimentary price with opt-in to an 18-month subscription. The goal of the service — and that of OrderGroove's concept in general — is to create ongoing buying relationships.
"With OrderGroove's technology, data-driven insights and consumer expertise, we're able to pursue a deeper, longer relationship with customers," said Andrea Vitale, senior director of e-commerce for illy Caffee, North America. "We're making it easy to enjoy illy coffee through a premium subscription program. In return, we're experiencing increased customer satisfaction and lifetime value."
This type of subscription program, which allows customers to choose from optimized refill cycles, bypasses over-shipping problems that many subscription-based product refill services face. Generally, consumers are automatically sent (and billed for) merchandise on a regular basis—the timing of which they have little control over. This can be problematic, since consumption patterns vary and are subject to change. Shoppers may not, for example, use the same amount of product during different times of the year. To avoid paying, they must often return merchandise or cancel membership; product is not refilled on a demand basis.
Other programs initially lure shoppers with attractive free gifts if they agree to order product for a certain length of time. This often attracts people who forget to pay bills or are financially unable to keep their commitment.
Since launching OrderGroove's relationship commerce capabilities in June 2017, 44% of illy subscribers added in the U.S. have chosen the illy a casa program. The company experienced an 88% increase in customer spending compared to when the coffee machine is purchased by itself.
"[Illy is] using an annuity approach that is effective with categories that combine an ongoing consumable purchase with a machine or appliance," said Greg Alvo, OrderGroove's founder and chief executive officer.
OrderGroove's Relationship Commerce concept is also used by other companies whose products are frequently replenished, including Walmart, PetSmart, Vitamin Shoppe, L'Oreal, Nestle and Fruit of the Loom.