12/27/2016
HarperCollins Spreads the Word Via Amazon Alexa
HarperCollins Christian Publishing began testing a new marketing channel this month by providing daily inspirational messages through the Amazon Alexa "intelligent assistant" voice control system.
Through the new "Devotionals" app, the book publisher is releasing a daily audio clip culled from the works of its stable of Christian authors, which includes Jefferson Bethke, Shauna Niequest, Judah Smith, Lee Strobel, Lysa TerKeurst, Ann Voskamp, Rick Warren and Sarah Young. 
"This is an unprecedented opportunity to gain new exposure and awareness around our authors' great content, in short form, with a simple voice command," says Sally Hofmann, senior vice president of direct-to-consumer sales and marketing for HarperCollins Christian Publishing.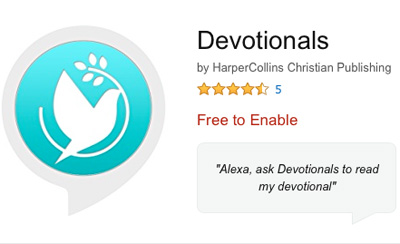 Users who are especially inspired by particular clips can simply tell the transactionally capable Alexa to add the related books to their Amazon.com shopping carts. "All the user has to do is select the format," says Catherine Zappa, director of audio sales for HarperCollins Christian Publishing.
The Amazon Alexa service is available for users of Amazon Echo, Tap, Dot or Fire devices. Topic-specific apps that expand Alexa's capabilities are called "skills." The service already has more than 1,500 skills.
A number of consumer goods companies are already using Alexa to either help promote products or enhance their capabilities. Alexa users can order pizza from Domino's, car service from Uber or an insurance quote from Liberty Mutual, for instance; owners of Fitbit health-monitoring wearables can now "hear" their personal information from Alexa. 
HarperCollins Christian Publishing has two key business groups, Thomas Nelson and Zondervan. The company already operates a "Devotionals Daily" e-mail newsletter and blog that has roughly 500,000 subscribers.