General Mills Touts Its Shopper-First Strategy
Get great content like this right in your inbox.
Subscribe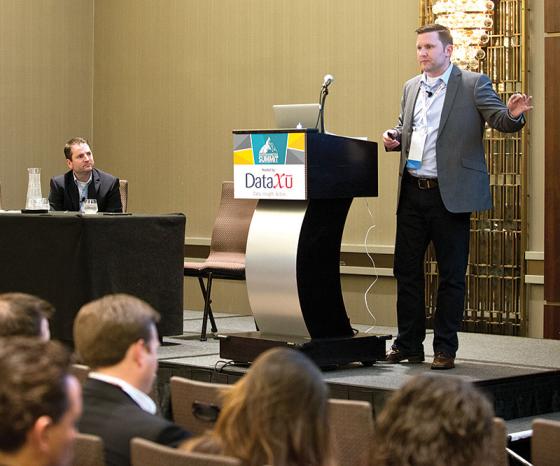 New York — Data-driven personalization has helped General Mills customize marketing campaigns at retail. The tactic was used when the company launched gluten-free Cheerios in 2015.
The challenge was creating a national marketing program that addressed the 30% of shoppers who are adversely affected by gluten while still catering to the 70% who aren't, said Jay Picconatto, director of integrated shopper marketing, in March during a Shopper Marketing Summit presentation. "We wanted to amaze and delight the 30% with the news that Cheerios are now gluten-free," he said.
At the same time, General Mills wanted to reassure current users that the Cheerios they love still taste just as good. To accommodate both groups, General Mills decided on a universal message: "Cheerios: Oats Every Body Can Love." "We wanted to inform consumers that the Cheerios they grew up loving are now a viable gluten-free option," Picconatto said.
General Mills supported the program with its newly launched integrated planning approach. While its shopper marketing teams once worked separately from its brand teams, they now work together. "We make sure that the shopper teams are on equal footing with brand teams as we go into the planning process," Picconatto said.
The campaign included an ad featuring Phil Zietlow, an engineer in General Mills' research and development group, who championed for gluten-free Cheerios and helped design a machine to remove the grains that contain gluten.
The integrated planning team used data-driven personalization – including behavioral, demographic and geographic information – to customize the campaign at retail using a shopper-first strategy.
At Kroger, for instance, shoppers significantly over-index on gluten-avoidance relative to national preferences, so the gluten-free message was heavily emphasized with the tagline, "The Cheerios You Love are Now Gluten-Free."
"We make sure that the shopper teams are on equal footing with brand teams as we go into the planning process."
-- Jay Picconatto
But at Cub Foods in Minnesota, the gluten-avoiding audience is small, so the gluten-free message would not have been enough to drive shoppers to the store alone. That's why General Mills instead focused on a "Cub Loves Minnesota" ad theme. Ads were customized based on the city, such as "We [Heart] Alexandria" and "We [Heart] Shorewood." The words "Gluten Free" were printed inside each heart.
The program is a good example of a shopper-first marketing approach focusing on personalization, experience, convenience and information, said co-presenter Bill Akins, senior vice president of business innovation at digital marketing agency Rockfish. Digital is a key enabler of shopper-first strategies at retail, Akins said. "Digital is truly our driver in national brand marketing."
Marketers today have an evolving digital marketing mix at their disposal. Akins cited how marketers can engage through many new disruptive devices like the Samsung Family Hub, a Wi-Fi-enabled refrigerator; and the Amazon Echo, a voice command device. "The marketing mix is now the Wild West," he said. "This is the Golden Age of how we figure out how to organize content."
Digital is making an impression at the retail shelf. Marketers should consider incorporating curated content from social media sites at the shelf, Akins said. "We need to look at the shelf not just as a delivery mechanism, but as an inspirational point where we can close the sale differently than with traditional methods."
Another form of disruption is partnerships like those between Instacart and Allrecipes.com. The Allrecipes site now features a button that lets readers automatically order ingredients for top recipes to be delivered in under an hour. "Shoppers are dictating how they want to shop," Akins said. 
Channel exploration and explosion like click-and-collect services are also creating marketing opportunities. Take Walmart's grocery pick-up service. Marketers should find a way to reach shoppers as they wait in their car while their order is being processed and loaded. "The shopper has about six to eight minutes of idle time, so there needs to be more engagement here," Akins said.